Five Years Later…
Volume CX, No. 10
October, 2010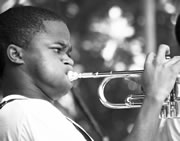 A young trumpeter practices in New Orleans.
Photo: Kefuoe via Flickr.com
As a sister city of live music, New Orleans shares a musical connection with New York City. Allegro's correspondent in New Orleans gives us her annual update on the fifth anniversary of Hurricane Katrina.
As I write this, I am surprised to feel my own disbelief that I am still here in this city. This is my home, yet it does not resemble the place that I mourned in the early months following the catastrophic failure of the levees here.
Most Americans have a central misunderstanding – perpetrated and promoted by the mass media – that Hurricane Katrina wiped out New Orleans.
Instead, the true story is that the hurricane overwhelmed our levees, which were shoddily constructed by the U.S. Corps of Engineers.
The levees breached and collapsed upon failing, causing the subsequent inundation and ruin of so much of the city and surrounding suburbs.
For a better understanding of this truth, I would highly recommend Harry Shearer's new documentary "The Big Uneasy."
I was at its premiere here and was able to shake Shearer's hand and tell him thanks for investing so much of his own capital and energy into this effort. It is scheduled for a national release soon.
Many of the older neighborhoods that were affected have been demolished, sometimes without warning or notice to the owners.
What has been constructed in most cases to replace the Creole cottages and elegant "shotgun" houses has none of the character and artisan refinements of the originals.
Sometimes, I feel like I am walking through a Hollywood set, instead of my city. There has been an influx of new faces from everywhere, many of them lured by promises of tax breaks/incentives and lower cost of living.
The music scene is still very vibrant and expanding; sadly, many of our most talented and inspirational cultural heroes and icons have either passed on or moved away, too sick and tired to return and rebuild.
I am currently calling the new look of New Orleans "nouveau-unique." This place will always be a one of-a-kind destination and its residents and artists will always contribute greatly to its essential allure.
I personally have gone through a number of life and career changes. Thanks to the N.O. Musicians' Clinic, I am finally having some surgery done on a critical problem area in my hip. I am deeply grateful to them, for all the excellent care and attention I have been receiving in the past four months, as I have not had any health insurance since Katrina.
We have a new mayor (who is very pro-arts) and a new governor (who could care less).
Mitch Landrieu has inherited the thankless task of correcting Nagin's administrative faux pas, and Jindal has cut the arts education funding by 82 percent, removing most of the school programs that had been assured by Act 175, which had been passed by the previous Landrieu-led government.
I am disheartened, but do not feel defeated.
My own solution has been to do more and more touring, both locally and beyond. When I have recuperated, I plan to continue with this plan of action.
The recession has hit us very hard – and the Gulf oil spill didn't help – but we are still New Orleans!
Please e-mail me at NanetteLedet@aol.com if you want to learn more about New Orleans today and its music scene. I am happy to provide Allegro with annual updates about what the musical life is like here.