FOR OUR COURAGEOUS WORKERS
Experimental composition brings musicians together to say thanks
Volume 120, No. 6
June, 2020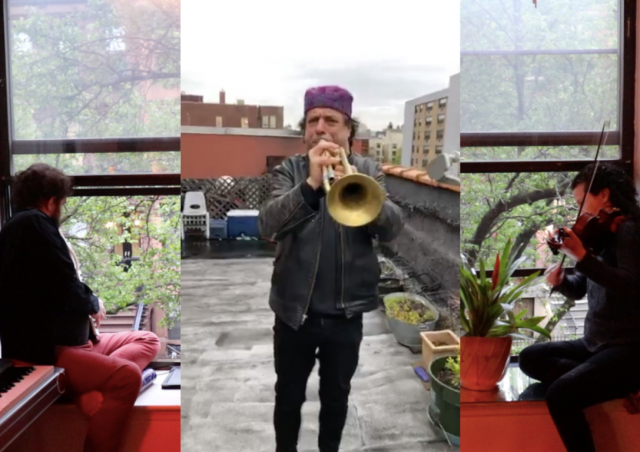 As the quarantine was entering its second month here in NYC, it became clear that the need for musical connection was stronger than ever, and I was eager to find ways to plug into the various efforts to help out. Frank London, a phenomenal trumpet player and friend, reached out to my husband, the composer and pianist Dorian Wallace, with an idea to create a musical response to the nightly 7 p.m. "cheer" that had been organized for essential workers in New York. It would be an experimental composition that could be performed from windows and rooftops, all while observing social distancing. As Dorian and Frank began discussing, they asked me to come on board to plan and help with carrying out the idea.
Together with Dorian, I run a concert series and musician collective called Tenth Intervention, which focuses on presenting community-driven modern music in New York City. The idea for this city-wide fanfare fell perfectly in line with our mission as an organization. We saw this as a really special opportunity for musicians to be able to contribute to frontline workers by performing a coordinated collective work.
Working together with Frank to create the score, we discussed the musical ideas, what the themes would be (cheering, reflecting, catharsis and gratitude), how long each "movement" would be, and the playability of the score. We felt strongly that this piece should be accessible to musicians of all ages and abilities, from students who play the recorder in their elementary schools to professional players, and everyone in between.
Once the work was finalized, we reached out to our respective networks to aid in getting the word out to musicians through mailing lists, social media, and word-of-mouth. We were met with an outpouring of support from major institutions including Local 802, Jazz at Lincoln Center, City Winery, Kaufman Center, WBGO, Joe's Pub, Make Music New York, — and the list went on, with over 30 co-sponsoring organizations. We felt tremendous affirmation from people's desire and sense of urgency to connect musically while honoring essential workers.
Dorian and I set up a live stream of our performance at 7 p.m. on Wednesday, April 29, sitting in opposite window sills in our apartment. He played the melodica and I played violin. We moved through the score using a clock, at times syncing up with each other's responses and interpretations of the music, while other times we found ourselves in deep concentration of our individualistic ideas. Some people passing by on the sidewalk were surprised to hear instruments other than the commonly heard cheers, pots and pans, and stopped to take video of two musicians hanging out of their windows playing loudly in the "cheering" section of the work. After the 10-minute performance was over, we spent a few hours watching the videos tagged on Facebook, Instagram, and Youtube with our hashtag #playbecausewecare. You can watch a cut of the final video at www.tenthintervention.com/workers and also download a copy of the "score" (you'll be surprised!)
We are in the process of collecting footage posted by people who took part in the piece, creating a composite video as a lasting tribute to an event that brought so many musicians together from all over the city and tristate area. E-mail me if you took part in it.
It's a move of solidarity to be able to participate with musicians of all abilities, whether or not you can hear each other playing from borough to borough. We are all in this together, and contributing to the outpouring of gratitude with joyful noise, that is a huge part of what brings meaning to this time in solitude.
Violinist Hajnal Pivnick has been a member of Local 802 since 2014.