For the People
Once upon a time, musicians helped society recover. Could it happen again?
Volume CX, No. 5
May, 2010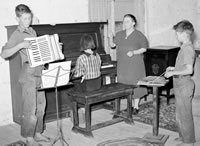 The wife of a homesteader with her WPA music class in Pie Town, New Mexico. These children walked eight miles for their music lessons.
Photograph by Lee Russell (1903-1986); Library of Congress
The year was 1935, and the United States was still reeling from a Depression that would last until it joined the Allied Forces of World War II six years later.
Just to set the stage even more, Chiang Kai-shek was named president of China; Clifford Odets had three plays running in New York; "Porgy and Bess" debuted; the rumba was the popular dance; Braddock beat Baer for the world heavyweight title; movie theatres were showing "Mutiny on the Bounty" and "The 39 Steps," and radios played "Begin the Beguine," "I Got Plenty o' Nuthin'," and "Just One of Those Things."
Likewise, Franklin Delano Roosevelt's New Deal was in full swing, and like most government programs, it begat spinoffs.
One of these was the Works Progress Administration, which begat the Federal Music Project. And that's what this story was about.
The WPA was employing thousands of out-of-work Americans, mainly in farming, construction, and other blue-collar work.
But the white-collar world – and the professional world with its writers, artists, actors and musicians – was also suffering.
Attendance was down at the theatres; concerts and dances were considered luxuries; school budgets were being slashed and teachers of the arts let go; live bands were being replaced by the radio and the phonograph. Sound familiar?
Federal Arts Project No. 1 was the cultural arm of the WPA, and its music division, the Federal Music Project, was headed by Nikolai Sokoloff, who had been the founding conductor and music director of the Cleveland Symphony.
The FMP received well over $9 million as its portion of the $27 million federal arts project.
In her capacity as curator for the Bienes Center for Literary Arts in Ft. Lauderdale, Florida, Margaret Bing's overview of the FMP is worth repeating here because it gives such a good summary:
Organized into educational and performing units, the Federal Music Project hired teachers to direct choruses, bands and orchestras, conduct classes in both vocal and instrumental music, and direct amateur community productions and group sings.
The performing units formed symphonies, orchestras, concert bands, and ensembles that gave performances in schools, community centers, settlement houses, orphanages, prisons, hospitals, public parks, and rented halls in urban and rural areas.
Several states…collected and recorded folk music, while other units provided copying, research, and other services for the performing units.
Approximately 15,000 musicians were employed during the FMP's peak in 1936, and 10,000 musicians were still working at the beginning of World War II.
As Bing notes, big cities were not the only beneficiaries of the program – it reached into rural areas as well, and smaller cities like Memphis, Tennessee.
But in Memphis, a bastion of the Deep South, people had their own ideas about how the program should be run.
It seems apparent from the archival photos available that in Memphis, all of the FMP band members were white males.
Such a practice not only misrepresented the musician population, but was also in direct conflict with one of the stated goals of the Federal Music Project – that of racial equality.
As Lindsay Cloud remarks in a paper titled "The Government's Child: the WPA Band in Memphis":
Memphis is significant in that it was the only city in Tennessee that created a WPA band. However, the band did not fully represent the diverse population of the city or coincide with the nation's diverse payrolls or the stated national diversity goals of the Federal Music Project. Perhaps the city was too deeply rooted in their segregated ways to allow black musicians to perform in the WPA band.
Though it may not have trickled down as far south as Tennessee, the FMP's goal of equality would seem to have been born out in Nikolai Sokoloff's early career.
During his tenure as music director of the San Francisco People's Philharmonic Orchestra from 1916 to 1917, he had insisted on not only hiring women musicians, but also paying them the same salaries as the male musicians – and this was before women had the right to vote!
The FMP under Sokoloff's direction lasted until 1939, when Earl Vincent Moore took over and the Federal Music Project became the "WPA Music Program."
Lasting until 1943, these New Deal programs were able to catalogue 5,500 works by 1,500 composers, and perform every one of them.
In a paper titled "New Deal Cultural Programs," researchers Don Adams and Arlene Goldbard point out that workers in the program served not only as musicians and composers, but also as copyists, arrangers, librarians and archivists.
Much attention was devoted to the area of folk music.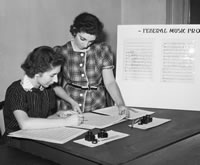 Copyists from the Detroit Music Project, 1938.
Photograph from the Walter P. Reuther Archives
The program's assistant director was pianist/composer Charles Seeger, who was the father of folk musician and activist Pete Seeger.
In gathering information for this article, I was able to reach Pete on the phone, and he obliged me with some fascinating reminiscences.
One of his stories may explain the origin of his father's lifelong dedication to community music-making.
It seems that Charles and his wife Constance, a violinist, had decided to take their act on the road.
They outfitted a trailer with an organ, sleeping bunks, and other necessities, and took off on an unplanned "tour" with baby Pete and his two older brothers in tow.
Their intention was to bring their music to the people, by traveling to various towns and putting on spontaneous concerts featuring Charles on organ and Constance on violin.
One morning in North Carolina, however, they arose to find their trailer surrounded by angry farmers who demanded to know what the Seegers were doing on their land.
Mr. and Mrs. Seeger quickly whipped out their instruments to prove they were musicians and meant no harm.
While the ensuing music was appreciated, the farmers then instructed the Seeger clan to wait right there, while they assembled the musicians of their little town. All kinds of instrumentalists showed up.
Charles Seeger came away with the distinct impression that his musical services were perhaps not so desperately needed as he previously thought.
Moreover, he came to the conclusion that getting a whole community to make music was more powerful than witnessing "the virtuosity of a fraction of it."
As members of the professional music world, we may or may not agree with Seeger's premise that the music of many is more important than the music of one.
We tend to believe, perhaps selfishly, that quality is sometimes more important than quantity.
Moreover, some of us may object to the idea of increased government involvement in our industry.
Regardless, I think we all would agree that music must be an essential component of any society.
It is a resource of beauty, inspiration, expression, healing, communication and culture that is vital to nations, and to individuals.
American music is loved the world over, making it a financial resource for our country as well.
Lest one be tempted to idealize the past, we must recall that history does repeat itself, and many of the issues our union faces today are the same issues we've always faced.
These include government budget cuts of music programs; appropriation of arts funds to other resources; and strikes and disputes over admission fees and cover charges, to name a few.
Allegro welcomes your opinion on whether we should bring back a federal music program. If so, how would such a program best address the needs of today's professional musicians, and our audiences? E-mail Allegro@Local802afm.org.
In the meantime, let's enjoy the fact that at one point in history, musicians were considered crucial to the economic recovery of society.
COPYISTS OF THE WORLD, UNITE!
It wasn't just instrumentalists hired by the WPA
Given the number of performing groups that were established around the country during the 1930's, there would not have been enough music for them all.
Although the WPA could have used its funding to purchase music for these performing groups, it chose to put more people to work by hiring men and women to copy existing music, both conductors' scores and instrumental or vocal parts.
Once the individual pages were copied, they had to be bound together, thus necessitating the hiring of music binders.
Each state had its own cadre of copyists and binders. The Music Copying Project created these copies during the period 1935 to 1943 to provide the conductor's scores and instrumental parts for the WPA performing groups.
Each page of this music was copied by hand and signed by the copyist.
The WPA music copies include historically important compositions by American and European composers, as well as compositions by women and composers of color whose contributions had long been neglected. These copies represent a unique moment in the history of the United States in which federal assistance for the unemployed resulted in support for the arts.
At the end of the WPA in 1943, all of the music was given to local state and city libraries and orchestras.
Text above from the WPA Music Manuscripts Project, a collaboration between the Detroit Symphony Orchestra and Wayne State University. See http://dlxs.lib.wayne.edu/w/wpaic/info.html.