A tribute to François Grillot
Volume 121, No. 8
September, 2021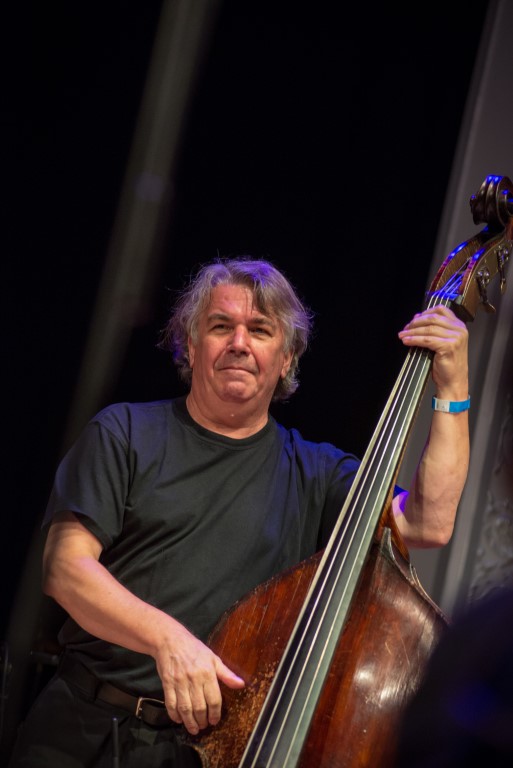 Bass player, composer, arranger, and music copyist François Grillot, 66, passed away on June 5, 2021. He had been a member of Local 802 since 1983. Highlights from his early musical career in France include several years with Edition Spéciale, a leading progressive fusion band, and Strave, a progressive jazz big band led by drummer Serge Bringolf. While in Strave, he met his wife, flutist Mary Cherney, and together they moved to New York City in 1980. Throughout the 80's and 90's, François continued to develop his style and artistry, performing in a multitude of clubs and bars throughout NYC, working with Bill Bickford, Harold Danko, Mike Clark, Ken Hatfield, and others. In 1994, he met Matt Lavelle who had a major impact on his musical direction. The two began a fruitful musical partnership which lasted until his death. François developed his own approach to playing standards that stretched the music nearly into free improvisation, but always came back to the theme. This process of rigorous, disciplined, yet soulful experimentation remained a salient characteristic of François' artistry. In 2001, François joined the free Jazz and improvisation community in NYC. He hosted hundreds of sessions in his kitchen in Hell's Kitchen.
François collaborated with many of jazz's most creative and distinguished practitioners including Daniel Carter, Roy Campbell, Robert Dick, Jason Hwang, Sabir Mateen, Dom Minasi, Bern Nix, Steve Swell, Matt Lavelle and the 12 Houses, and Giuseppi Logan. François recorded his own music on a release called Contraband, as well as recording stellar work with many artists, most notably Giuseppi Logan and Bern Nix. In addition to performing in local clubs, François' festival performances include repeat appearances at New York's Vision Festival, Hell's Kitchen Festival, The Montreal Jazz Festival, and throughout Europe, most recently at the Umea Jazz Festival in Sweden.
François' career as a music copyist included working with the New York Philharmonic, Jazz at Lincoln Center, New York City Ballet, Boosey & Hawkes, Reggie Workman, John Tolliver and Terrance Blanchard.
François is survived by his daughter Charlotte Grillot, son from his first marriage, Vincent Grillot, his wife Mary Cherney, as well as three grandchildren, and four siblings in France. He was preceded in death by his daughter Danaë Farr. François will be loved and missed dearly by all those who had the good fortune to know him.
The family suggests donations to the Jazz Foundation's Emergency Fund.
Obituary submitted by Mary Cherney. For additional tributes to François Grillot, see here and here.