A tribute to Frank Gant
Volume 122, No. 2
February, 2022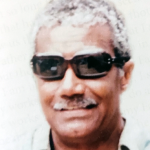 Frank Gant, 90, a drummer and a member of Local 802 since 1960, died on July 19, 2021 in the Bronx after a highly esteemed 60-year career in jazz.
Mr. Gant was born in Detroit and was the eldest of two children born to the late James and Lois Gant. "Sonny," as he was affectionately called by his family, attended Detroit's public school system, where he developed a passion for the drums. After graduating from Pershing High School in 1949, Mr. Gant attended the Detroit Conservatory of Music.
In 1952, Mr. Gant served in the Army in Korea. It was there that he found his passion for jazz when he joined the 10th infantry division band as a drummer.
Mr. Gant returned to Detroit and started collaborating with top names. He played a recording date with the Billy Mitchell band in 1954, and soon after recorded with saxophonist Sonny Stitt and starting accompanying Billie Holiday. He also served as the house drummer at Detroit's Club 12, where top-tier touring musicians quickly learned of his talent. He scored gigs with Miles Davis, Red Garland and Reggie Workman and recorded with Donald Byrd, J.J. Johnson and Yusef Lateef.
In 1955, Mr. Gant married his high school sweetheart, Barbara Oldham, and together they raised three daughters. Five years later, after Mr. Gant played a gig at the Apollo Theatre, he decided to move his family to NYC to pursue his career.
In 1966, Mr. Gant joined the Ahmad Jamal Trio. Together they played all the top jazz venues — plus Carnegie Hall. They traveled the world and recorded extensively for over 20 years. Along the way, Mr. Gant won sponsorship by Sonor Drums.
Mr. Gant stayed active in jazz all the way through the 1990s, as he toured and record with Monty Alexander, Ernestine Anderson, Al Haig and George Coleman.
Mr. Gant leaves behind a vast catalog of music that will enchant all generations of music lovers. He is survived by his daughters Robin and Joy (his daughter Kim pre-deceased him), grandson Cody, great-grandson Ross, sister Myrtle, niece Stephanie, nephew Aaron, great-nieces Nina and Nicole, and many friends and fans.
The Jazz Foundation presented a memorial service for Mr. Gant in August 2021.