From Strike to Smiles
Midori Teachers Win New Contract
Volume CVI, No. 5
May, 2006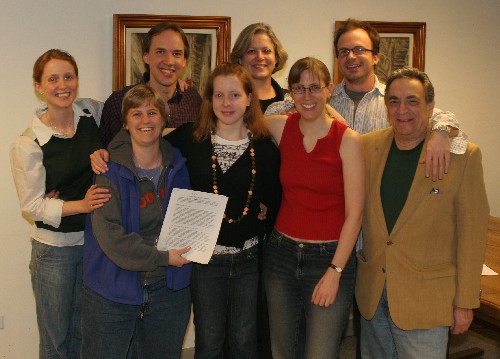 Midori teaching artists hold a copy of their new contract.
Sometimes you have to fight to win. After 10 months of negotiations and an eight-week strike, teaching artists at the Midori and Friends Foundation have finally ratified their second contract.
The new three-year contract provides for an immediate increase in the minimum per-class rate to $45 (up from the current $40), which rises to $48 per class in the third year of the contract. The new $45 rate is retroactive to July 1, 2005, when the first contract expired, so many teaching artists are looking forward to getting a lump-sum payment for the classes they taught before the strike began Jan. 19.
"After not working for so long, who isn't looking forward to that retro check?" violin teacher Sarah Loveland told Allegro. But, she says, "The biggest thing is, I am happy to be back doing my job, showing kids what I know about music. I had a really special and great relationship with them. Now I'll have to work to renew and rebuild that relationship. My students have been so supportive, offering to have a bake sale — or protest themselves!"
Loveland and her fellow teaching artists are sent by the Midori foundation to public schools, where they provide instruction in brass, woodwinds, strings, percussion, and general music. They also run after-school band programs.
The negotiations deadlocked over the minimum teaching rate, which had not increased in 10 years, and over the lack of pension benefits for first-year teaching artists.
Despite the relatively low cost of providing pension for new teaching artists, management refused to compromise on this point, declaring a "philosophical objection" to the idea.
Against such a stance, teaching artists voted to strike.
After enduring the strike for eight weeks, Midori management finally agreed to pay 8 percent pension for first-year teaching artists, but only if they satisfactorily complete the year.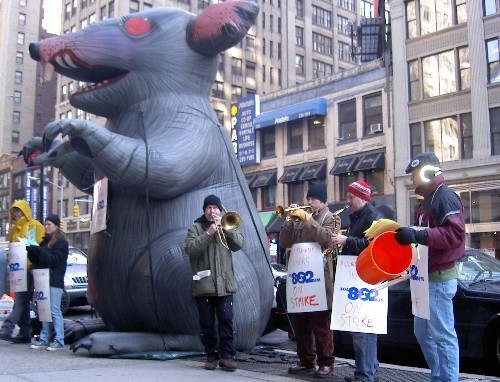 Teaching artists jazzed up their picket line with music during their 8-week strike.
"With the trend of many American businesses to take away employees' pension benefits, acquiring 8 percent pension for new teachers stands out as an exceptional gain," said violin teacher Brenda Vincent. "We paid the high price of one week of picketing — in nasty weather — for each percentage point of pension gained for new teachers, but it was worth it. When contract negotiations come up again in two years, I would like to work toward ending the provision of making pension 'retroactive' after teachers pass one year of probation."
Other increases won in the new contract include per-class health payments rising to $7.50 (from the current $5) and pension going to 8.5 percent (from the current 8 percent), in year three.
Additionally, improvements were won that will enable the teachers to deliver better-quality classes, such as a ban on mixing instruments in beginner classes — for example, having novice saxophone students and clarinet students in the same class.
Morrie Sherry, a clarinetist and teaching artist, is serving on the committee to negotiate a new contract at the Kaufman Center, another educational organization with an 802 agreement set to expire this fall. "The Midori faculty are an example of what we as teachers can achieve through solidarity," says Sherry. "Pension, health benefits, better wages and working conditions: these are all issues that we'll be seeking to address in our upcoming negotiations at the Kaufman Center. The Midori teachers have raised the bar on improving standards in our industry."
Those improvements were won through a difficult but well-organized fight. Midori teachers reached out to their network of colleagues for letters and calls of support, as well as to prevent musicians from scabbing. Several musicians called the union to report that they had been asked by Midori management to scab.
Additionally, several of the high-profile musicians on Midori's "Artistic Advisory Committee" supported the teaching artists in their strike.
The Council of School Administrators and Supervisors (CSA), the union that represents principals (and other public school supervisors), also spoke out in support of 802 and the teaching artists, which was influential since the principals decide which arts organization to engage to provide services in their schools.
Ultimately, the invaluable support by the New York City Council, in particular Speaker Christine Quinn and Councilmembers Robert Jackson (chair of the Education Committee) and Domenic Recchia (chair of the Cultural Affairs Committee), was critical in resolving the strike. We are deeply appreciative.
Supporters and the press were also kept up to date with a Web site and blog dedicated to the Midori strike, designed and maintained by violin teacher Tanya Kalmanovitch. Creating a Web site for a single contract campaign has proven to be a successful strategy in several recent campaigns for building awareness of teaching artists' issues.
(As Allegro went to press, the teachers' Web site was still active, at http://MidoriAndFriends.typepad.com.)
Upon returning to work, Sean Lyons, Midori woodwinds teacher, told Allegro, "Seeing the kids' happy faces again made me realize how much they love music and how much they love me too. I really missed them. But I'm proud of the stand we took for this contract. All the unpaid hours of hard work are worth the satisfaction of knowing that you have had a hand in improving your own life and the lives of fellow musicians now and in the future."
The Midori agreement was drafted on March 17 and teachers ratified it on April 13.
Summer Smith, 802's senior organizer, was the point person for the Midori campaign.