Bringing full services back to Local 802
Fixing the union's database problem
Volume 122, No. 3
March, 2022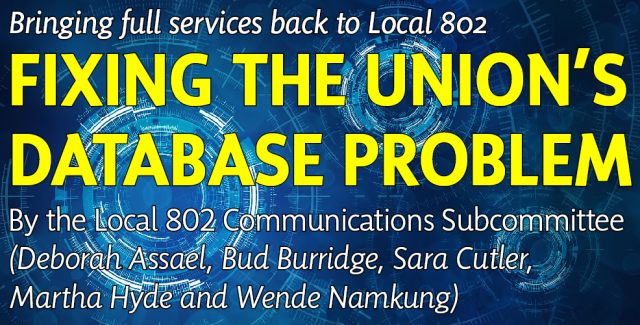 By the Local 802 Communications Subcommittee (Deborah Assael, Bud Burridge, Sara Cutler, Martha Hyde, and Wende Namkung)
Members have been asking: What's up with Local 802's membership portal? Why can't I see my complete work history or health fund eligibility? And why am I having trouble reaching anyone on the phone?
One answer to these questions is that our new database system is not fully functional. The vendor chosen to fulfill all our database needs has not delivered on its promises. A process that was supposed to take a few weeks has already taken six months with no expected date of completion.
As with most other businesses, database management is the cornerstone of the ability to record revenue, keep track of expenses, provide an interface for communicating with "clients," and to offer a platform for both the business and the clients to manage their accounts. Virtually all of the work product (and workflow) at our union is dependent on a functioning database system.
Unlike other businesses, Local 802 does not provide a single list of goods or services, all with similar parameters, nor are members' employment opportunities located under one contract. Even among unions, 802 is unique in the sheer number of contracts in use by its members, each with different wage scales and health and pension contribution rates.
This requires any database vendor we choose to design a database system specifically for us. That entails the use of custom "modules" designed to accommodate each contract and each department with its own proprietary needs. Our union administers hundreds of contracts, each of which has to be custom-coded and its module uploaded into the system.
It is, inarguably, a huge task.
This is where our own problems begin. Local 802 clearly needed a database upgrade. There were certain things the old system could not do or could not do inexpensively (convert to a cloud server and create an 802 app were two of these).
The union contacted several vendors and began a bidding process.
A firm was hired to design a system and migrate all our data. They offered all we needed at a much lower price than we had been paying. The data migration to their system began in August 2021. Unfortunately, when the new system went online, there were missing modules (particularly among recording contracts) and malfunctioning glitchy modules (like the member portal). The new firm is currently unable to provide any timeline for the resolution of these problems.
At the same time, a new telecommunications system called Jira was installed at Local 802. Its goal is to make internal and external communication more efficient. It involves the creation of a "ticket" for each phone call or message that comes to the union or goes from department to department. That ticket is routed to the appropriate receiver of the message and allows that person to respond directly. Though most current staff are trained and know how to use Jira, the staffing level is so low there often aren't enough people available to answer calls and do the other work that has piled up since staffing levels went down. This is a primary reason calls are going unanswered.
On Feb 1, the Executive Board voted to terminate the contract with our new database firm and re-hire our former database provider, KMR. There was broad agreement that the new firm has not been able to deliver on its promises of a better, less expensive system. With no reliable timeline for fixing all the issues we face, the board decided it was time to revert to a system which did, at least, work. The board is optimistic that the reverse data migration will be complete by the end of March and that our database issues will be behind us.
Unfortunately, the cost to the union for this return to KMR will be substantial, about twice as much. Our I.T. advisor reported that price tags from other vendors would be similar to that of KMR's, but additionally, those vendors would have to design a customized system for us from square one. KMR, however, still has our modules and they understand our infrastructure. Hoping to restore online and communication services to the membership as quickly as possible, the board decided that KMR was the best option to ensure our return to a fully functional database system.
Going forward we will publish updates on restoring 802 to full functionality. These include hiring more staff, fully reopening the building and fixing the tech problems.
We'd like to acknowledge that the staff we have has been working non-stop under very difficult conditions to resolve all these issues and we appreciate their enormous efforts. We also want to thank the members for their patience through this lengthy process. We know it has been as frustrating for you as it has been for us.
(A note about reaching the staff by phone: the phone number for the union is still 212-245-4802. You can reach individual officers, reps and staff members by using our staff directory. If you want to reach our checks department, press 3 when you call the main number during normal business hours. If you want to reach our membership department, you have to press 2 and leave a voicemail. Each voicemail is returned in the order it was received. A faster way to reach the membership department is by sending an e-mail to Membership@Local802afm.org. Once 802 hires more staff, there should be fewer delays in returned phone calls.)
If you have questions for the Local 802 Communications Subcommittee, please send an e-mail to allegro@local802afm.org