Gentleman of Jazz
Bob Cunningham's Life in Music
Volume CX, No. 4
April, 2010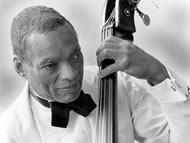 I interviewed Bob Cunningham late last year in his house in the Victorian Flatbush section of Brooklyn. The master bassist, who recently turned 75, has been a collaborator, composer and arranger in performances and on recordings with some of the greatest names in jazz, including Dizzy Gillespie, Max Roach, Betty Carter, Abbey Lincoln, Freddie Hubbard, Art Blakey and Sun Ra. In the symphonic world, Bob has performed with the Detroit Symphony Orchestra, the Cologne Radio Orchestra, the Symphony of the New World, and the Collective Black Orchestra, among others. Always the consummate gentleman, Cunningham is an articulate social critic with a keenly honed sense of humor. What follows is an excerpt of Cunningham's responses to my questions, woven together to form a narrative.
– Todd Bryant Weeks
I started out in Cleveland, Ohio. I was playing professionally – and joined the AFM – by the age of 16. I've been a paid up member ever since. I grew up in a house that my grandfather owned. I lived there with my mother. My grandfather was a Blackfoot Indian, who was born in Ottawa, Canada. He came to the states and ended up buying three houses and lost them all during the Depression. My mother's sister was the first black registered nurse in Cleveland, Ohio. My father had been a night watchman at a major black hotel – the Majestic – in Cleveland. He died when I was a baby.
There was always a piano in the house, and I took lessons from the time I was about seven. My mother was serious about me studying so I could play in church. But every time I got good enough, I'd just up and quit, much to her chagrin.
I went to John Hay High School, on the east side. During that time, I wanted to play trumpet or saxophone, but there were no horns available. One of my buddies, a sax player named Willie Cray, said "Get whatever you can get, and next year they'll have a horn for you." So I did. And I selected the bass.
Later on, I played with my cousin, a pianist of renown named Bobby Few, who now lives in Paris. And Bobby's father helped us form a little youth band. He taught us things that he had heard at a country club where he worked: Cole Porter, Paul Whiteman, songs that the hoi polloi wanted to hear.
Bobby's father had a fantastic record collection – all the big bands – Basie, Ellington, Lucky Millinder, Cab Calloway, plus singers like Ella Fitzgerald, Sarah Vaughan, and Dinah Washington.
Even when Bobby and I were only four or five years old, I can remember sitting in his living room listening to this fine juke box, and hearing all these bands with musicians like Charlie Parker and Billy Eckstine. It was the Eckstine band that I remember most. That band had Parker, Fats Navarro, Gene Ammons, and on and on. That was a dream band.
Cleveland was always very segregated. I left before the riots in the 1960's, but when I grew up, there were certain areas you knew that if you went into then you'd have to watch out for a fight.
At 17, I got married. I was a father by 18. I went right into the work force. It was either go into the work force…or the "go-to-jail-force."
I had met some touring musicians in Cleveland, and many of them told me I should be in New York. I had been working with the African Jazz Trio, which was on a par with many groups that came from the East Coast. We were working at a club called the Cotton Club – later changed to the Modern Jazz Room – that booked groups like Cannonball Adderley, Max Roach, and Miles Davis. This was around 1955.
One of the musicians I met was Morris Edwards, a bass player. He had played with Illinois Jacquet, and he told me to call him when I got to New York City. A lot of others said the same thing.
I came to New York City on Oct. 11, 1960, at 10:30 p.m. When I arrived, I called some of them and said, "Remember me? I'm Bob Cunningham, and you said to call when I got to New York?" And they'd say, "Bob who?" And I'd say, "Don't you remember me from the Modern Jazz Room, the band that played at intermission?" And it'd be: "Yeah, I guess so." And they would hang up. It was a little rough at first.
Finally, I sent for my wife, and we went to see about finding our own place. We finally found one at 97 Park Place in Park Slope, Brooklyn. It was nice. We used to walk to the library, take the children to the museum, walked to the botanical gardens and the zoo. It was really a wholesome neighborhood.
One problem I remember was that the landlords were often very skimpy with the heat in the winter. In one place I lived, the landlord would go out of town every weekend: Friday through Sunday. And by Saturday it'd be cold and they'd have turned the thermostat way down. So I found out where the thermostat was, and I'd get a bag of ice and hang it there. And pretty soon the radiators would be bubbling.
Along the way, I studied with several masters including Jacques Possell, Art Davis and Homer Mench – and at the Cleveland Music Institute and also at Juilliard.
Not long after I first arrived in NYC, I had an opportunity to play with Babatunde Olatunji and he had a couple of players with him, Pat Patrick, and John Gilmore, who played very extemporaneous things on top of the rhythm section. They were also working with Sun Ra. So through them I had a chance to play with the Sun Ra Arkestra. This was in 1963 or 1964.
I'll never forget the wild costumes we wore with Sun Ra. I had one and held onto it for a long time. Mine had a little cap with glitter on it. It was very freeing, wearing that kind of stuff you'd never wear otherwise. You'd have anywhere from ten to 20 guys all wearing the same type of far out clothes. It was like theatre. With Sun Ra, there was always a theatrical concept. You were traveling through space and "space is the place."
I played with Sun Ra here in NYC, for the most part, at [the famous Lower East Side club] Slug's and a few other places. Saint Mark's Church was one. I remember some people who were futuristically thinking hired the band for a wedding. We marched and played outdoors in the churchyard. I thought it was so slick that somebody would enjoy having that music for their wedding. And Sun Ra definitely had serious jazz roots. Fletcher Henderson. Duke Ellington. That was all part of it. "The second stop is Jupiter…"
A lot of my work was under the radar. At that time, the union was almost like a nonexistent entity as far as jazz was concerned. You paid them their dues, you know. In all the dives I worked in, there was a guy who came around from 802 and checked your card to see if "contributions" were being made – work dues. This is what people don't understand when they talk to jazz musicians about organizing today. The union was a barrier that you had to deal with when you came to the city. That was all it represented to us.
Another great association I had was with the pianist Junior Mance. He's one of the nicest people I've met. He's also a great a musician. We toured from New York to California with Johnny Hartman, the vocalist, "Mr. Velvet." He was like the jazz version of Barry White.
With Junior, I did another tour with Jimmy Rushing, "Mr. Five by Five." He was quite a performer. We traveled by car from here to California. That was a whole different bag. But Junior had been with Dinah Washington, whose repertoire included the gamut of styles, so he had it covered.
Then I got a gig with Yusef LaTeef, and I worked for him for about seven years. We toured Africa, South America and the Caribbean. We would also do California once or twice a year.
As far as meeting Dizzy Gillespie – that happened through a gentleman I knew from Cleveland named Reginald Green – he had said to come to New York and look him up. (He was one that did remember me). And through the grapevine I ended up having Dizzy Gillespie come by the place where I was working. On Milt Hinton's recommendation. Dizzy, he came and listened, and talked, and took my phone number…. and a few days later, there I was at Dizzy's house, rehearsing. It was a quintet. I was the replacement for the great Art Davis.
The first rehearsal, I was supposed to be there at 12 noon, and when I got there it was like two minutes after 12, and Dizzy looked at his watch and said, "You know, you're in the rhythm section and time is of the essence." He had a way about him.
My first tour with Dizzy, we took a flight to Buenos Aires. My first time on an airplane. It was 18 hours of being in the company of a gentleman who was treated like a superstar for the whole flight, start to finish. They wined us and dined us and gave us anything they thought we might want. And when they came by with the drinks cart, they didn't simply pour us a glass of wine – they gave us the bottle.
We were in Buenos Aires about four or five days. We went on to Uruguay, and we went to San Paulo, Brazil. And from there we went to Rio, and that was quite a wonderful experience.
My compositions "Echoes of Blue" and "Samba de Amor" have been recorded by Freddie Hubbard, Yusef Lateef and Cynthia Holiday, among others.
Nowadays, almost every Sunday I play at the Meridian Church in Manhattan, 127th Street and Third Avenue. I drive there from Brooklyn. I've also been performing regularly at the Jazz Foundation's Monday night jam Sessions here at 802. And that's been a blessing for me, something I can depend on. I also work with the Central Brooklyn Jazz Consortium.
One of the things that has really helped me to continue performing…is just the joy of playing creative music. To be able, as we say, "to stretch out," and to be reaching for places that you can see on the horizon or hear in your head. When you do that, there's always a kind of energy in the air. New horizons, new forms. This is one of the things that many of these creative musicians have been trying to do, people like Cecil Taylor and Sun Ra. It's been important to me to have been able to experience that. That kind of life, that kind of awareness.
Bob Cunningham will be performing at Jazz 966 at 966 Fulton Street, Fort Greene, Brooklyn, on Friday, April 9. For more info, see www.jazz966.com