Goin Green on Broadway
Keeping an eye on the environment is an art
Volume CX, No. 4
April, 2010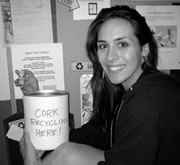 What do Wicked, South Pacific and Billy Elliot have in common? They recycle used corks from wine bottles! So the next time you finish a bottle of wine, throw the bottle in the recycling can and drop your cork off at one of these shows. Above, "Wicked" cast member Nova Bergeron collects corks backstage.
Earth day is April 22, and Broadway is on board. Two years ago, "Wicked" producer David Stone hosted a town hall meeting at the Gershwin Theatre. The topic? How to "green" Broadway.
Stone approached the League and found out that fellow producers and theatre owners were also concerned about Broadway's environmental impact.
Stone and the League formed an ad hoc committee, called Broadway Goes Green, later renamed the Broadway Green Alliance.
The alliance is composed of theatre owners, producers, businesses, unions and union members. Local 802 joined the BGA soon after its founding, and I am the current Local 802 rep to the alliance.
It's chaired by Susan Sampliner, company manager of "Wicked," along with Charlie Duell, CEO of Clark Transfer, the largest theatrical transportation provider in the country.
There are several subcommittees, including production, venues, touring and education/outreach.
The alliance also works closely with the Mayor's Office of Long Term Planning and Sustainability and with Dr. Allen Hershkowitz, a senior scientist at the National Resource Defense Council, one of the largest environmental action groups in the country.
Since the alliance was formed in 2008, some of the accomplishments on Broadway and the road have been:
adding more recycling bins
providing the cast and crew with reusable water bottles
washing costumes in cold water, using plant based organic detergent
switching interior and marquis lights to LED's
rechargeable batteries for microphones
using bags of frozen peas instead of chemical ice packs
using green cleaning products
purchasing energy from renewable sources
using low VOC paints
recycling or reusing stage sets
purchasing carbon credits to offset the pollution created by trucks transporting sets across the country.
All but 3 percent of the theatres on Broadway have switched their marquis lights to energy efficient LED's and 84 percent of scenery from closed shows is recycled, reused or stored for further use.
The Touring Green program has offset 4,000 tons of carbon emissions from purchasing carbon credits.
In 2009, the Broadway Green Alliance worked with Radio City Music Hall and the American Theatre Wing to green the Tony awards.
Improvements included providing hybrid limousines, printing the playbill using recycled paper that contained 30 percent post consumer product, using 100 percent recycled material with a 49 percent post-consumer product to make the red carpet, and installing low flush toilets and faucets.
The Broadway Green Alliance will continue to research and educate the industry on how to reduce our carbon footprint.