HALT THE HIKE!
Volume CIX, No. 5
May, 2009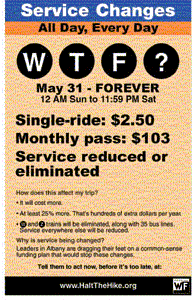 Do you take the subway? The MTA has voted to raise fares by at least 25 percent on New York City subways, buses, Metro North and the Long Island Railroad. It took this step because our state legislators in Albany failed to pass an alternative that would solve the MTA's budget crisis without these painful fare increases.
Subway rides would cost $2.50. A monthly pass would cost $103. The W and Z trains would be eliminated, as well as 35 bus lines.
Luckily, there's still time to halt the hike. If Albany can get its act together before May 31 (when the higher fares go into effect), they can prevent this crushing blow to New Yorkers already struggling with the economic downturn.
The clock is ticking, and your voice can make the difference. Here's how you can help:
1. Go to www.HaltTheHike.org and tell your legislators to save transit riders and halt the hike!
2. Then, you will be able to download the Halt the Hike poster. Print it out and post it at your workplace, your apartment building, your co-op message board — anywhere others will see it and take action too!
This campaign is sponsored by the Working Families Party.