'Hamilton' is Huge
Volume 116, No. 4
April, 2016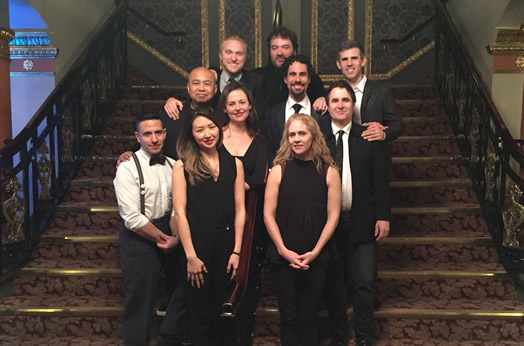 One of the hottest tickets in town is "Hamilton" – and the show is everywhere. The cast recording just won a Grammy for best musical theatre album. The music is being taught as curriculum in public schools. The cast and musicians were invited to perform at the White House, where President Obama said, "In this telling, rap is the language of revolution. Hip-hop is the backbeat. In each brilliantly crafted song, we hear the debates that shaped our nation, and we hear the debates that are still shaping our nation. We feel the fierce, youthful energy that animated the men and women of Hamilton's generation. And with a cast as diverse as America itself, including the outstandingly talented women – the show reminds us that this nation was built by more than just a few great men – and that it is an inheritance that belongs to all of us."
Allegro asked the musicians of "Hamilton" to give us their thoughts on the show's recent successes and their Grammy win. Here's what some of them told us…
I am so enormously proud of this show, and I am particularly proud of this band. I love every single member of this orchestra, both as musicians and as people. When I look around the pit during a performance, I often think to myself, "Wow, I get to play with all of you?" I feel lucky to lead them, because they are all top-notch players who breathe life into "Hamilton" in a way that feels powerful, authentic and emotional. Going into the studio, I already knew that each person was a monster player, but I was truly blown away at how perfect they sounded when the red recording light went on. The musicians shine on this album, and the Grammy win is a testament to their brilliant playing.
– Alex Lacamoire
(musical director and orchestrator)
---
Any time your body of work is recognized on the level of the Grammy awards, you feel a deep sense of accomplishment. To be a part of a masterpiece such as 'Hamilton" is an honor all to itself. It's not often that you get invited to share such precious moments. To perform for 33 million people live on national television was amazing and to be invited for the Grammy acceptance on stage was so special. Lin Manuel Miranda and Alex Lacamoire made it a point to have the band come up on stage to share the glory. That is something you never forget. I believe this is historic evidence that musical theatre is evolving beautifully."
– Andrés Forero
(drums)
---
Getting to share this exciting and unforgettable night of events with my wonderful and talented peers was what made this experience so special – first, in the pit with the band as we performed live, then hanging backstage with the crew and in the wings as we listened to the Grammy ceremony along with the cast (and singing along with Kendrick Lamar) and all right here in our theater in NYC with friends and family in the live audience. Standing on stage behind Lin-Manuel as he rapped an acceptance speech, I just couldn't stop smiling and soaking up the joy that filled the theatre.
– Mario Gotoh
(violin/viola)
---
Being a member of the "Hamilton" orchestra has been an honor and a deeply rewarding experience. I'm truly humbled to be surrounded on a nightly basis by such an amazingly talented band, cast and production team. The band are all musicians of the highest level, and most importantly are all great, great people. The musical arrangements are an integral part of the show and truly bring Lin-Manuel's songs to life. The stylistic breadth of the arrangements and the attention to musical detail make it both a joy and a challenge on a nightly basis. I feel incredibly grateful.
– Richard Hammond
(bass)
---
Playing in 'Hamilton' – what an amazing journey! It is such a blessing that I get to play on something so fresh and innovative, and so relevant during these times. This book is a pleasure and an honor to play. Alex Lacamoire and my band mates are absolute badasses, and also happen to be beautiful souls. So proud to be on a Grammy-winning album!
– Robin Macatangay
(guitar)
---
I have gratitude for miles, and the truth is that I have felt this way since the first rehearsal of our Off Broadway run at the Public in January 2015. I still can't stop pinching myself. I love the music, the orchestrations are brilliant and fun to play, and on top of that I am surrounded by people who are becoming like family to me.
– Erin Benim Mayland
(violin)