Have Yourself a Merry Little 'Tuba Christmas'
How Harvey Phillips shared the joy of tuba with the world
Volume CX, No. 12
December, 2010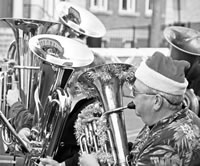 Last year's TubaChristmas festival in Shelburne, Mass.
Photo: Foroyar22 via Flickr.com
The late Harvey Phillips was a very skilled tuba player. He also transformed his instrument in the eyes of the public. Before Harvey, if people thought about tubas at all, they thought of their size and the slightly comical nature of their role in brass bands. Throughout his career, Harvey demonstrated the broad range of tuba music, playing with great delicacy as well as with power, and he expanded the tuba repertoire tremendously. He was a founding member of the New York Brass Quintet in 1954. A great enthusiast, he encouraged young tuba players to concertize, and to form brass groups. And he encouraged composers to write for the instrument.
A natural organizer, Harvey developed many ideas for raising public awareness of tubas. As founder and president of the Harvey Phillips Foundation, he developed festivals called Octubafests, during which tubas in concert are featured. Octubafest is now an annual affair at Indiana University, where Phillips was a member of the faculty from 1971 to 1994, when he retired.
Octubafests are now held in many cities around the country. I participated in one of them in 1993, when Harvey got the Jose Cuervo company to sponsor one at Grand Central Station. Over 100 professional tubists were hired to play that day, and a union contract was filed. Harvey called Don Butterfield to ask if he could find enough sousaphones to spell out JOSE CUERVO with silk-screened letters stretched across their bells. Don told him not to worry, and on the day of the concert, produced ten matching plastic sousaphones. He must have raided the music rooms of a few north Jersey high school bands.
By far the most successful of Phillips's tuba promotion projects has been TubaChristmas, which he invented in 1974. It was dedicated to his mentor, the great tubist William J. Bell, who was born on Christmas Day, 1902. Phillips wanted a large aggregation of tuba players to play Christmas music at the Rockefeller Center ice rink. When he proposed the idea to the management of the center, he said the phone went dead. So he gave them the unlisted phone numbers of some of his influential friends: Leopold Stokowski, Leonard Bernstein, Andre Kostelanetz and Morton Gould. They all gave him such enthusiastic references that he was given permission for the concert, and it has continued until the present as an annual event.
The original 19 carols for TubaChristmas were arranged in four-part harmony by Alec Wilder, and fourteen more were later added by Norlan Bewley. The first concert, by over 300 tuba and euphonium players, was conducted by Paul Lavalle.
Under the sponsorship of the Harvey Phillips Foundation, free TubaChristmas concerts are now presented in over 180 cities from Anchorage, Alaska to Freeport, Maine, and from Jacksonville, Florida to Anaheim, California. There are also TubaChristmas concerts in Victoria, BC, and Basel, Switzerland. The annual concerts are open to all tuba players, who contribute a small registration fee and purchase their own music.
The foundation encourages coordinators to set up new venues for TubaChristmas, requiring a minimum of four musicians for a concert, but setting no limit on the number of participants. Sometimes a concert will involve hundreds of musicians, who have ranged from 8 years old to over 80. In addition to tubas, sousaphones, baritone horns and euphoniums, musicians have participated playing ophicleides, serpents, helicons…anything that can be considered a bass horn.