Hey Buddy, That Spot Belongs to the Sopranos
Parking Professionals Fight for a Union
Volume CVII, No. 3
March, 2007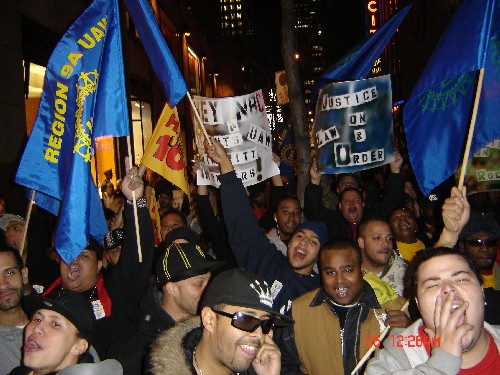 Hundreds rallied in front of NBC studios last December to show their support for parking production assistants and coordinators who are fighting to form a union. Photo courtesy of UAW Region 9A.
Out of the thousands of people who put together a movie or TV show, some of the most important may be the most overlooked: the workers who have to hold parking spots.
Say what?
Whenever a film crew shoots on a New York City street, a crucial task is to case out and hold parking spots. These workers are called parking production assistants and coordinators, and they are fighting for union recognition.
There are over 300 parking assistants who work in the city. Most are people of color. They must hold spots at least 12 hours in advance of a location shoot to allow production equipment to be trucked in. And they do it without health insurance, job security – or even a bathroom, which becomes challenging while holding parking spots overnight.
"We're the frontline soldiers," said Parking Coordinator Maurice Cabrera "You tell someone in New York not to park their car and see what happens."
These parking workers – who provide service to shows like "Law and Order," "30 Rock," "The Sopranos" and upcoming films such as "I Am Legend," "P.S. I Love You," and "Spiderman 3," – are the hidden workers of a highly visible industry. They carry out the hazardous duty of clearing parking space for film and television trailers, trucks and other vehicles on the streets of New York, often facing physical and verbal abuse in the process.
Hundreds of these workers and their community supporters rallied in December at New York's Rockefeller Center, headquarters of NBC-Universal.
"We want justice on the job," said Rafael Diaz, a parking production assistant with 10 years of service in the industry. "When we go to work on a film or TV production, nearly every other crew member is a union member with a contract, seniority, health care and a pension plan. Why not us? We're tired of being treated like second-class citizens."
"We're proud to support these workers," said Bob Madore, director of UAW Region 9A. "They have formed their own union and made a reasonable request for union recognition and bargaining rights. NBC-Universal and other film and TV production companies should come to the table and negotiate."
"These companies receive millions of dollars in public subsidies to bring their business to New York," said New York State Assemblyman Jose Peralta. "They have an obligation to conduct their business in a responsible way – which includes respecting the democratic rights of all of the workers who make it possible to make top-quality films and television in New York."
A strong majority of parking workers have signed union authorization cards to become part of the UAW, a diverse union which represents workers in media, higher education, health care, auto dealerships and other technical and professional workers throughout the New York metropolitan area.
"New York City is a diverse town, a union town," said Letitia James, New York City Council Member. "These workers contribute to the diversity of the industry, yet they are treated as an invisible workforce. Recognition of their union is a significant way for the industry to level the playing field for minority workers who contribute to its success."
For more information on this campaign, contact UAW organizer Ted Feng at (212) 529-2580.