Home to Harlem
A Chapter in the Life of Trumpeter Hot Lips Page
Volume CVIII, No. 2
February, 2008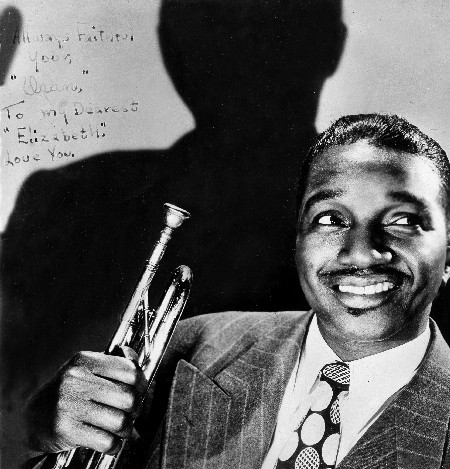 Oran "Hot Lips" Page, pictured above around 1944. Page, an unsung trumpet legend, was known as "Mr. After Hours" for his ubiquitous presence at jam sessions in Harlem between 1937 and 1954. Local 802 jazz rep Todd Weeks has written a new book about Page's life. Photo courtesy of Dan Morgenstern, Institute of Jazz Study.
Oran "Hot Lips" Page was born in Dallas and became the greatest of the Kansas City trumpeters. His powerful, growling horn made him the go-to man during Count Basie's earliest days as a leader. Page went on to become a featured soloist with Artie Shaw as well as a star of New York's 52nd Street and a pioneer of the burgeoning R&B scene of the 1950's. Today he has been largely forgotten. What follows is an excerpt from "Luck's In My Corner: The Life and Music of Hot Lips Page," a full-length biography of Page written by Local 802's jazz rep Todd Bryant Weeks. The book will be published this month by Routledge Press. Let's pick up the trumpeter's story in 1936, when Page is arriving in Harlem after leaving Kansas City. He had recently been signed to an exclusive contract with the legendary manager Joe Glaser.
Lips arrived in Harlem in time for Christmas. He was not alone. On his arm was Myrtle Sterrs, the beautiful 18-year-old daughter of a Montgomery, Alabama hotel owner. The young couple found a small garden apartment on 136th Street close to 7th Avenue, the lively boulevard known to Harlemites as the "Main Stem." Although the ravages of the Depression had eased somewhat by 1936, the "tourist trade" – made up of mostly downtown white thrill seekers – had not returned to its pre-crash boom levels. Still, this was Manhattan. There was a constant stream of foot traffic up and down 7th Avenue day and night, and dozens of places to eat, drink, dance and cavort until the wee hours. The Texan and his young wife undoubtedly got their bearings by taking in the sights, and ducking in to a variety of establishments where they found all manner of excitement, and a tremendous assortment of neighborhood characters.
An afternoon ramble might have included a luncheon at Small's Paradise, "the Harlem Longchamps," or a less costly meal across the street at Mrs. Dorsey's Luncheonette, where they could feast on homemade peach cobbler and hot coffee. An afternoon drink might be in order – there was an inviting spot across the street known as the Big Apple. As the sun set over the Hudson River and the late afternoon shadows began to fall across the water towers and rooftops, they might have considered making a night of it. That being the case, their options opened up considerably.
The couple would not have had far to go to find themselves a floorshow with dancing girls, comedians, female impersonators, piano players, tap dancers, and some of the best jazz in the country. Clubs like the Yeah Man, the Monterey and the Renny Casino featured continuous live entertainment seven days a week, but there were other, splashier venues as well. Eleven blocks to the south, down on 125th Street, the Mills Brothers had just closed out a highly successful run at the famed Apollo Theatre. There were to be followed by the great Bessie Smith. Later that month, Ethel Waters, the bands of Lucky Millinder, Willie Bryant, Chick Webb, and the comedy of Pigmeat Markham would all be featured as part of the Apollo's "Gala Night of Stars."
If they felt like dancing, there was always the Savoy Ballroom, "The Home of Happy Feet." The Savoy, also known as "The Track," was the headquarters of Chick Webb and His Orchestra. It was billed as the world's most beautiful ballroom, and it occupied the second floor of a building that took up the entire block between 140th and 141st Streets. The Savoy featured a giant dance floor, a retractable stage, and two bandstands where musicians could face off in battles of music. Afterwards, Oran and Myrtle could hit the Heat Wave for a late night jam session and wind down at Tillie's Chicken Grill for an early morning breakfast of waffles and southern fried chicken.
Even with the backing of Joe Glaser, Hot Lips Page would have his work cut out for him in New York. The competition in town was top notch, the audiences discerning, and the talent pool seemingly bottomless. No matter what caliber of sophisticated stage presentations Lips may have encountered back in the Southwest, Harlem's theatres, clubs and cabarets still presented entertainment that was a cut above anything else in the country. The jokes were funnier, the punch lines came faster, the bands were tighter and better rehearsed, and the dancing girls were more talented and more beautiful, selected as they were from a huge field of applicants. And the audiences were also known to show their disapproval by turning their backs and talking loudly over an act that didn't pass muster. The stakes were high, and the possibility of failure and a disgraceful return to Kansas City was still in the cards. But then, Lips had Joe Glaser in his corner.
Joe Glaser was a former nightclub owner and sometime boxing promoter with reputed mob connections. An aggressive and shrewd business manager, he had struck gold in 1935, when he took over the management of Louis Armstrong's career. The man behind Armstrong was later to form a powerful booking agency, the Associated Booking Corporation (or A. B. C.), that handled, among others, Billie Holiday, Roy Eldridge, Andy Kirk, Noble Sissle, Willie Bryant, Claude Hopkins, Coleman Hawkins, Nicodemus (a/k/a the multi-talented Nick Stewart, who later became famous on the popular 1951 TV show "Amos and Andy"), and the Mills Brothers. But in early 1937, he was still building his client list, and Lips found himself in a unique position among black New York entertainers. Moe Gale and other big time New York managers were known to take advantage of their African-American clientele with low paying gigs (the Savoy Ballroom, under Gale's control, paid notoriously low wages), and by sending them out on "terror tours," which often amounted to "long jumps" – night time travel over hundreds of miles to get from one engagement to another.
Glaser, conversely, had always found ways to secure the best bookings. He had strong connections at Jack Kapp's Decca Records, and by the fall of 1935 had signed Armstrong to a seven-year contract that was to result in some of the trumpeter's greatest recordings. Through his contacts in radio and Hollywood, Glaser made "Satchmo" a household word. If Lips still looked to Armstrong's career as a model for his own future, he could be confident that he had made the best of all possible moves by leaving Basie and signing with the high powered manager. While Glaser looked around for a suitable venue for his latest trumpet star, Lips began making contacts of his own.
The Hoofer's Club, at 2235 7th Avenue, was located directly under the Lafayette Theatre and five blocks from Lips's apartment. As its name implied, the place was the haunt of famous dancers of the day, including "Baby" Laurence Jackson, Charles "Honi" Coles and Bill "Bojangles" Robinson. During the late 1920s, the stride pianist Willie "The Lion" Smith was often seen performing here in a band with Benny Carter on alto saxophone.
The place was known through the early 1930's by another name – the Rhythm Club. It functioned as a part-time booking agency and a full-time hangout for out-of-work jazz musicians. Working performers who were on a break at the Lafayette or Lincoln theatres were often found there between shows. The guitarist Lawrence Lucie, who came to New York in the late 1920's (and whose early experiments on that instrument had positioned him perfectly for the lion's share of jobs on the burgeoning big band scene of the day), remembers the Rhythm Club as a vital spot where musicians could make contacts and jam on their instruments while they were waiting for work. Read his reminiscences below.
This excerpt © 2008 and is reproduced by permission of Routledge, a division of Informa plc. "Luck's in My Corner" is available at www.Routledge.com.
---
What attracted me to Hot Lips Page? The name. How could you not want to find out about a guy who called himself Hot Lips? Honestly, it was the writings of Dan Morgenstern – who was editor of Down Beat and is currently the Director of the Institute of Jazz Studies – that attracted me to Lips.

Lips was recorded at a series of cutting contests-musical jousting sessions-in Harlem in 1940 and 1941, and the music was well, absolutely wild – very free from for its time, a kind of proto-bop. And without getting too technical, it was his lip slurs – the way he articulated a wide range of sounds on the instrument that was more purely vocal than musical – that really grabbed me.

Dan Morgenstern wrote that on these recordings Lips was responsible for "some of the wildest, most spontaneous, hilarious, out-of-sight jamming ever captured on wax, tape, whatever, with Lips doing some insane things. . .you can hear him breathe."

Dan was right. They are amazing recordings – and Lips is incredible.

– Todd Weeks

GUITARIST LAWRENCE LUCIE ON THE RHYTHM CLUB
"It was the greatest musician's club in Harlem. All the musicians used to go there every day and exchange ideas and talk and get gigs. That was where you'd get your club dates.

It was open day and night – no food, and I don't think you could buy drinks in there, it was a musician's social club. They did used to play cards in one room there.

The people [would] call in for musicians. If you wasn't working on the weekend, wait for a while, after a while they'd call you. As soon as you'd get up in the morning, and you want to go for socializing in the afternoon, you'd go to the Rhythm Club. They had like a booking agent [there] on the phone. They would post 'em [job offers] on the wall, but most of the time they would call for people that they knew.

They made money, somehow. I think people who were called paid a certain amount of money, like an agent's fee. Musicians used to jam there. It was like a good time thing. One room was where they had a piano. Most of the musicians were working. Chick Webb's band. Duke Ellington's band.

Everyone met at the Rhythm Club.

It was two large rooms. They had a pool table there. And not only musicians but also entertainers would stop in. Dancers, singers would stop in. Top actors and so forth. People used to say Harlem was heaven at that time. It was a beautiful place to be."