Hope Looks Forward
Bertha Hope-Booker celebrates a life in jazz
Volume CX, No. 3
March, 2010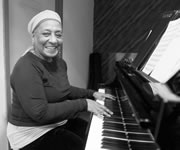 Bertha Hope
Photo: Walter Karling
A full transcript of Todd Bryant Weeks' interview with Bertha Hope-Booker available for download.
Bertha Hope-Booker has the wit, intelligence and candor of a woman who understands the ways things and people work. Sometimes sharp in her critiques, she is nonetheless remarkably warm and good humored. The depth of her experience dictates her attitudes and opinions, which are nuanced – especially when it comes to music.
As a child of the 1940's who grew up in Los Angeles, Hope-Booker was exposed to jazz as a young teenager, and by her early twenties she was already recording with local giants – Teddy Edwards, Vi Redd, and the man whom she was later to marry, the hard bop piano virtuoso Elmo Hope. As a result of her parents' love of music, Hope-Booker's earliest experiences were to set the tone for much of her professional life:
My father was Clinton Rosemond," she explains. "He had a glorious voice, and a career in New York. He was there for about 15 years. He performed in a classical vein, and did the kind of Italian bel canto and German lieder that was typical of the day. He hung out with Jack Johnson, Sidney Bechet, Josephine Baker, Paul Robeson, and Roland Hayes. They were all in the same circuit."
Her musical training began at home: "I learned how to help my father with his solfege. He taught me how to play his vocal exercises, and eventually I started to learn the spirituals and some of his repertoire so that when he did church concerts I would be ready. One of my first jobs was when my father hired me to accompany him. He paid me seven bucks!"
Life in post-war, segregated L.A. in the 1950's had its challenges: "I grew up in a neighborhood in transition,"she recalls. "There were still some German, Irish and Italian families there, but it was becoming a black community. A lot of artists. Eddie 'Rochester' Anderson had a house a couple of blocks away."
Her pianism, which quickly put her in demand at parties, soon landed her high-end cocktail gigs in Beverly Hills.
"Nobody of color was living in Hollywood or Beverly Hills yet,"she recalls, "There were still some pretty vicious restrictions. I remember working in some of those gorgeous little rooms, playing solo piano. Afterwards, I'd have to drive through that area to get back home, and four out of five times a week I got pulled over. 'What are you doing driving here?' the cop would demand, 'I'm on my way home,' I'd tell him, 'And this is the fastest way to get there!'"
Like many artists, Hope-Booker has also been blessed with good timing. After cutting her teeth on Thelonious Monk and Bud Powell, she found herself in the enviable position of having direct access to Eric Dolphy, Clifford Brown and Max Roach: "I had studied theory and harmony around that time. Eric lived in the neighborhood, and we used to carpool to L.A.C.C. together; his car one day, mine the next. I had some Bach chops. But what really turned my head was when Max and Clifford appeared one afternoon at Eric's house."
A young Clifford Brown made a deep impression: "Clifford was mind blowing – and so young. They all were. They started to rehearse at Eric's house on a regular basis, and I used to go and hang out until 3 or 4 in the morning. Just to listen. The main purpose for them being together was simply to play. Eating was secondary, and sometimes they fell asleep in their clothes. Eric was brilliant. He had classical leanings. What he really wanted was to play in the Philharmonic, but racism prevented that. And he was better than half the people he had to audition against. Hands down."
Through her association with Dolphy and others, she came into contact with her future husband, Elmo Hope. He encouraged her, and by the age of 24, she was playing the latest form of jazz: hard bop.
"I finally started playing actual jazz in public in about 1960,"she recalls. "I had studied with Richie Powell [brother of Bud Powell]. I didn't have any real formal recognition of what I was doing. I was just lucky to be in the right place at the right time and get some information, and to put it together with the theory and harmony that I had studied at LACC. And to have Richie pass on some authentic open and closed voicings that I could use."
Eventually, Bertha and her new husband, now with a daughter in tow, made their way to the East Coast:
"I took a road trip east, right in the middle of the civil rights freedom rides. We came across on Route 66, and the last job was supposed to be in New York, but it got canceled because of things that happened on the way, and I got stranded in Florida."
New York seemed like the best option:
"When we got here, we saw that there was so much that had intervened to really transform the music scene. Rock-n-roll was coming on, and jazz was going through some changes. I was a wife and a new mother, but I did manage to take some gigs. I worked at Sylvia's Blue Morocco up in the Bronx, I worked with Jimmy Castor. I worked with Jimmy Norman, right before he broke. I transcribed original material for the recording studios. And I worked with some all female ensembles. The very first women's band I gigged with was an all-girl 'Cuban' band in Boston. My cabaret card name was Tonita Alvarez! We were all supposed to have hailed from the islands!"
"Years later [in the 1980's] I went out with my own unit, and then with another women's band run by Kit McClure. Yet another group was one I put together myself. Actually the group that I'm working with now is an outgrowth of that original band."
Hope-Booker, who was later married to the fine bassist and educator Walter Booker, Jr., is still active on the New York scene. Last year she performed the music of Elmo Hope (who died in 1967) at the Jazz Standard, and she also works in the big band of Wade Barnes: the Brooklyn Repertory Ensemble.
"These days I'm also performing with my daughter, Monica Hope, which is kind of exciting. She writes contemporary music. She also has a secret desire to be a lawyer. But she's got such a great performance sensibility. We worked at the Lenox Lounge recently, and she was well received.
"I'm also looking now to do more writing. I have an idea for a large scale orchestral piece. I'd like to be able to find a commission, and then to be able to present it. I think it's important to continue to be inventive about how you do your work."
Hope is also brutally honest when it comes to what she sees as a continued commodification of the music, at the expense of creativity.
"I think it's grossly unfair. It just shows that the business side really tips over beyond what creativity is. There's little forward motion. There's this safe sound that gets commercialized, and there's the piece that's more traditional that's left out; and then there's the piece that's progressive – what they used to call avant garde – that doesn't get a fair hearing. And the marketers create the audience too: the audience will be there for whomever they decide needs to be heard. Musicians of my generation are left out of that equation."
And what about Justice for Jazz Artists – Local 802's campaign to get pension in the clubs?
"I don't think anything happens without momentum – not from the top down, but from the bottom up. That is, cells of people who really understand what needs to be built. We need the leadership to get a larger understanding of what the discrepancies and disenfranchisements have been, and to make it a priority to turn it around. It's complex. A lot of it is economic. Another aspect: as a performer, we are put into the position of not wanting to step on somebody's toes for the next gig. So, that there has to be some consensus of what this is about, and that there need to be contracts so employers will treat artists fairly. And because with others there's this whole philosophy of 'Keep the horn in your mouth. Don't stop playing, just play anywhere' – that's a problem as well. We have to educate the youngsters, but we also have to fight the little club owners who don't think the band should be a business expense."
Despite her cold, clear, tell-it-like-it-is stance on most subjects, Bertha Hope-Booker remains upbeat. And she has powerful memories on which to draw for sustenance. When asked about a favorite childhood experience, she responds warmly:
"My father took us all to see the Lionel Hampton Orchestra on V-J Day in the theater next to the Dunbar Hotel, in L.A. I'll never forget the wild scene at the end. The band was on stage playing 'Flying Home,' while these B-52 bombers were on the screen, and the whole place was in the aisles and yelling, 'Yay! The war is over, the war is over!' And just dancing their hearts out."