How Afro Latinas & Latinos redefined mainstream pop
Volume 117, No. 2
February, 2017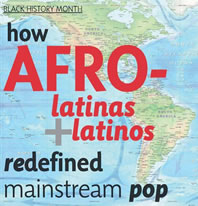 Although the Latin community prides itself on its diversity and the multiple, rich mix of cultures, Afro-Latinas and Afro-Latinos are often overlooked in terms of recognition, inclusion and contributions to black history. The multiple dimensions of Latin and Hispanic identity reflect the long, oppressive and bloody colonial history of Latin America, a period when indigenous native Americans, Europeans, Africans and Asians intermixed. It's often forgotten that many more African slaves were sent to Spanish and Portuguese colonies – particularly the Caribbean – than to the U.S.A. As a result, Latinas and Latinos are more than a monolingual, yet multicultural prototype, as it is widely perceived that the Spanish language – despite all its accents and regionalisms – is the only common trait to consider, negating Portuguese-speaking Latinas and Latinos, for example.
"There were 11.2 million Africans that we can count who survived the Middle Passage and landed in the New World, and of that 11.2 million, only 450,000 came to the United States," says Harvard professor Henry Louis Gates Jr. in a Q&A for his 2011 PBS documentary, Black in Latin America. "That's amazing. All the rest went south of Miami as it were."
In all the Americas – that is, from the U.S.A. to Brazil – there is an inaccurate depiction, yet popular stereotype of an Afro-Latin "look": a white or lightly tanned, curvy, dark-eyed individual devoid of African features. And even though some Afro-Latinas and Afro-Latinos may indeed look like this, it frames the picture into a particular type, excluding all other dimensions. And this stereotype permeates even today.

History leaves no doubt that the intersection between black and Afro-Latin identity runs deep, and yet the Afro-Latin experience remained largely invisible in mainstream media and popular music. Afro-Latinas and Afro-Latinos in music and mainstream media have been boxed into a jazz or Latin jazz universe, the so-called tropical music, and the occasional background filler in other genres. Some, however, managed to deliver culture to the world's living room, hence becoming Latin music royalty, like Celia Cruz, Tito Puente, La Lupe, Compay El Segundo, Ibrahim Ferrer, Bebo Valdéz, Milton Nascimento and Susana Baca, to name a few. But when the time came to cross over into mainstream Spanish or English media, the racial divide became the biggest obstacle. Afro-Latinas and Afro-Latinos have struggled to equally claim their black and Latin roots, their identity questioned and scrutinized by fellow citizens. Furthermore, it triggers cultural appropriation of original artistic expressions, musical styles, and even literary genres, from the people in power. The whitewashing of Afro-Caribbean rhythms took a detour when it was integrated into mainstream popular Latin music in hopes of reaching mass audiences in the U.S. and Latin America. Most notably, in 1985 Cuban legend Gloria Estefan and her Miami Sound Machine catapulted up the Billboard charts while pushing audiences to line-dance the "Conga." The infectious English language hit was an unbalanced mix of Latin and pop. The 1987 Spanish language Latin pop hit "Fiesta en América" ("Party in America") by Puerto Rican singer Chayanne, introduced drumming into a "bubblegum pop" catchy tune. While both songs' Reagan-era-cumbayá vibe resonated with all audiences, it failed to foster visibility of Afro-Latinas and Afro-Latinos in their respective music videos, following Hollywood industry standards. Not surprisingly, this has been the industry's template: hear the Black, but just see the White – or lightly-tanned skin tone for that matter.
By the end of the last millennium, specifically 1999, several recording artists crossed over from the Latin pop music niche and challenged the status quo. Ricky Martin released one of the most iconic pop songs in history: "Livin' La Vida Loca," written by two legendary Afro-Latinos – Desmond Child and Robi "Draco" Rosa. Injecting Latin culture into the song with a Caribbean bass and a strong winds section, he raised the pop fever to delirious levels. Jennifer López, Shakira, Marc Anthony, and Enrique Iglesias didn't shy away from waving the Latin flag, triggering the abhorrently racist moniker "Latin Invasion," as they dominated the Billboard charts. But Carlos Santana proved wrong those music industry executives who sit in board rooms, making decisions that end up fostering racism, sexism, and bigotry when they force musicians into categories. Vindication came in the form of "Supernatural," the most awarded album in Grammy history. With it, Santana became the first Latino to win a Grammy for Record of the Year. The bilingual album is an ode to the African influence in Latin and pop music. And so the "Latin invasion" propelled mental decolonization to mainstream heights.
While society slowly came to the realization that many African Americans share Latin heritage and vice versa, there have been some fresh reminders. The likes of Jean-Michel Basquiat, Junot Díaz, Sammy Davis Jr., Roberto Clemente and Soledad O'Brien, among many others, have brought visibility and recognition to Afro-Latinas and Afro-Latinos in their respective fields.
As black Latina and Latino musicians become more visible, a handful of young artists honor the legacy established by virtuoso musicians who never shied away from honoring their African roots. The following recording artists are a small sample of many who've integrated African and Afro-Caribbean elements in their music, making them audibly and visibly apparent, in both Spanish and English.
Buika: The Spanish singer, drummer and bassist brought Latin jazz to the mainstream spectrum, most notably with her collaboration with Jason Mraz. "Songs We Love"
ChocQuibTown: The Colombian hip-hop and alternative music band mixes urban sounds with folklore from the Pacific coast region. Their sound merges funk, hip hop, reggae, pop, Latin rhythms and elements of electronic music to produce elaborate beats resulting in a blend of flavors. "De Donde Vengo Yo"
La Dame Blanche: The Cuban singer, flautist and percussionist Yaite Ramos mixes hip hop, cumbia, dancehall and reggae while celebrating Yoruba and Afro-Cuban music. "La Revancha"
Romeo Santos: The Dominican-Puerto Rican idol started in the bachata group Aventura, before branching out as one of the most successful Latin artists of all time. Mainly singing bachata and merengue, he mixes in pop music most notably collaborating with Usher, Kevin Hart and Nicki Minaj. "Promise"
Esperanza Spalding: The jazz bassist and singer doesn't shy away from Brazilian and jazz fusion influences. She's brought her sound to the pop charts, collaborating with Janelle Monáe and Bruno Mars. "Old & Crazy"
Orishas: The pioneering, critically acclaimed hip-hop group made an international name for itself singing politically charged songs. They mix the Afro-Cuban religious tradition of Santería with urban music and traditional Cuban son. "Cuba Isla Bella"
Ibeyi: This French-Cuban musical pop duo, consisting of twin sisters Lisa-Kaindé Díaz and Naomi Díaz, sings in English and Yoruba – the language their ancestors spoke before being brought to Cuba by the Spanish to be made slaves in the 1700s. Their music is also inspired by the Afro-Cuban Santería religion. The duo gained international attention with their appearance in Beyoncé's Lemonade. "River"
ÌFÉ: The Puerto Rican group mixes Dancehall and Electronica with Afro-Caribbean music such as Yoruba and Rumba. Leader Mark Underwood, best known as Otura Mun, is a priest in the Yoruba faith (a predecessor of Santería). "Umbo (Come Down)"
Ileana Cabra "Ile": The Puerto Rican singer, best known as PG-13 from the legendary group Calle 13, branched out as a soloist and launched her boleros, bugalú and Spanish folk infused album iLevitable. "Te Quiero Con Bugalú"
In this Black History Month, it's only fitting to honor Afro-Latina and Afro-Latino artists reclaiming their roots, fostering visibility, breaking stereotypes, and rewriting their rich musical history.
Music journalist Marlena Fitzpatrick joined Local 802's musical theater department as a business representative in November. Follow her @Marlenafitz.