HOW GRANTS CAN HELP FUND A CAREER
Jazz Mentors XX
Volume 119, No. 9
October, 2019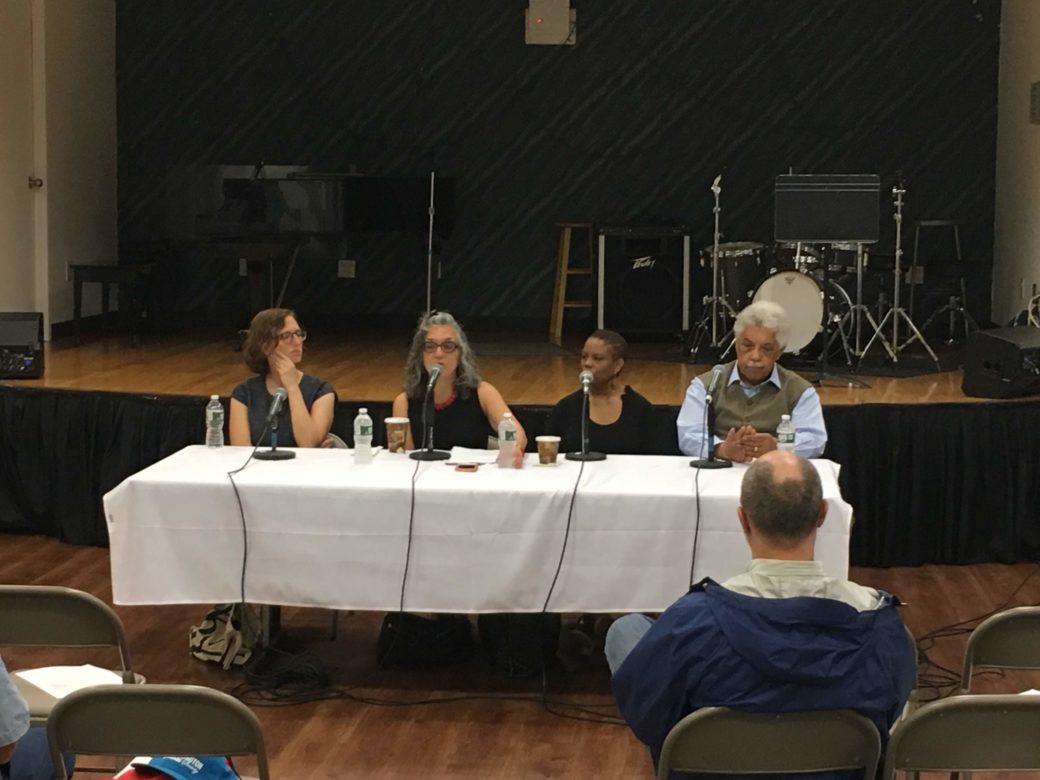 This year, Jazz Mentors hit a milestone when we presented our 20th event. The series began in 2016 and has been one of our most innovative and compelling programs. Jazz Mentors connects up-and-coming musicians with some of New York City's premier artists and industry people to discuss the business of jazz. Each forum features discussions with preeminent Local 802 members and leaders in the jazz community about ways to build and maintain a successful music career. Look for our 2019-2020 schedule soon at www.Local802afm.org/jazz-mentors.
Gigs, recordings, teaching and tours are not the only ways musicians can create successful careers. Another source of income can come from grants; but that path can be tricky, competitive and full of details. If you Google "grants for musicians," you get over 15 million results – many of them worth exploring. Grants are specific: some are for creating new work, some are for building on existing works, some are for attending a retreat…and on, and on. Jazz Mentors XX, hosted by Local 802 earlier this year, presented stories by three world-renowned union musicians – Regina Carter, Rufus Reid and Anna Webber – about how grants have been a major sustaining part of their careers.
The event was moderated by Jeanette Vuocolo, a contemporary arts consultant and producer based in Brooklyn. Vuocolo has directed Chamber Music America's national jazz funding program, and produced and presented performing arts programs at the Whitney Museum of American Art and the New York Foundation for the Arts. She's also adjudicated grants for numerous major funders including the Jerome Foundation, the Doris Duke Charitable Foundation and the New York City Department of Cultural Affairs.
Bassist and composer Rufus Reid, one of the great living deans of the jazz bass, has had a 50-year career in jazz as a performer and composer of through-composed orchestral works. He's cemented his stature with appearances and recordings with such luminaries as Eddie Harris, Nancy Wilson, Dexter Gordon, Andrew Hill, the Thad Jones-Mel Lewis Orchestra and Quartet, Kenny Barron, Stan Getz, J. J. Johnson, Lee Konitz and Jack DeJohnette. He has written for jazz ensembles of varying sizes as well as solo bass, chamber ensembles and symphony orchestras, and earned two Grammy nominations for his recording "Quiet Pride: The Elizabeth Catlett Project."
Reid explained how his earliest award for composition, from the BMI Jazz Composers Workshop, led to a Guggenheim Fellowship. "I simply applied for the Guggenheim," he told the audience. "If you apply, you might get it. I got it later in my life as a professional musician. It changed my world."
Reid added, "The Guggenheim had nothing to do with my bass playing," Instead, it was based on his expansive curiosity. "I was always intrigued by the realm of new music," he said, "and I wanted to know how you do that. The grant I won was worth $20,000."
Reid also said that he still finds it difficult to ask for money. "But one must be adamant," he said. When you apply for grants, he said, "you must be serious about jumping through hoops." He also gave a piece of practical advice to when he mentioned how his membership in the American Composer's Forum (www.composersforum.org) has helped him. "They give me a list of donors who I didn't know existed," he said.
Composer and saxophonist Anna Webber has performed or recorded with Dan Weiss, Jen Shyu, Dave Douglas, Matt Mitchell, Ches Smith, John Hollenbeck and Geof Bradfield, among others. Webber is a 2018 Guggenheim Fellow, and has also won grants from the Shifting Foundation (2015) and residencies from the MacDowell Colony (2017), the Millay Colony for the Arts (2015) and the Brush Creek Foundation for the Arts (2014). In 2014 she won the BMI Foundation Charlie Parker Composition Prize as a member of the BMI Jazz Composers Workshop.
Webber, who was born in British Columbia, won one of her very first grants from the Canadian Council for the Arts. As a Canadian, Webber was used to government support. "I keep a database of grants and apply for them on a regular basis," she said. The Guggenheim was for a new music composition for 12-piece ensemble that combined elements of jazz and classical. She appreciated the grant because "it meant I would have time to write."
Regina Carter has been acknowledged as the most accomplished jazz violinist of her generation but trying to fit her into a neatly defined musical category is impossible. She enjoys performing many styles of music – jazz, R&B, Latin, classical, blues, country, pop, African, and more. In each, she explores the power of music through the voice of the violin. A recipient of the MacArthur "genius" award and a Doris Duke Artist Award, Carter has been widely hailed for her mastery of her instrument and her drive to expand its possibilities.
The first NEA grant she received was to take private lessons with the esteemed violinist John Blake Jr. Next, she won a commission from Lincoln Center to write a piece about a Detroit neighborhood called Black Bottom. "A poet friend of mine interviewed people who lived in that neighborhood and I performed it at Lincoln Center and at Orchestra Hall in Detroit," Carter said.
Carter added that "there's not always an application to apply for a grant. And the best grants come with no strings attached – use the money as you want. I know someone who used his grant money to put a new roof on his house."
Carter added that her MacArthur landed her $500,000 over several years, but "it's important to know how to handle the money. Set aside some for retirement, but know that a good chunk of it goes to taxes. You have to be smart about it so that you don't get into trouble."
Musicians who seek information about grants can look online. One good place to start is the Foundation Center's music link at https://search.candid.org/#/search/Music/3. Other places to search are by discipline at New York Foundation for the Arts (www.nyfa.org); and the NYC Women's Fund for Media, Music and Theater at www.nyfa.org/Content/Show/NYC-Womens-Fund.