I Remember Hilton
Reminiscences
Volume CVI, No. 10
October, 2006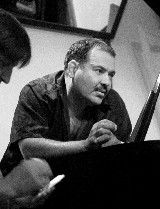 Here Bobby Sanabria remembers the life of pianist Hilton Ruiz, who died on June 6 in New Orleans at the age of 54. Mr. Ruiz had been a Local 802 member since 1974.
The first real record date I did after I graduated from college was with Mongo Santamaria. It was in the early 80's — an album called "Mongo Magic" on the Roulette label. Hilton was on that album for a couple of tunes and we also recorded one or two of his compositions. We did a blues called "Pirana" that Marty Sheller had written. It was at a very fast tempo and Hilton had the juice to deliver the goods. By that I mean he REALLY was a jazz musician. I heard it from the very first couple of bars. He knew the vocabulary of bebop and its roots in the foundation of jazz — the blues — as if it was his birthright.
That he died in the birthplace of America's greatest art form is truly something to ponder. Most people don't realize how steeped he was in the tradition of jazz. He had a lot of admirers in that world — a world that is deadly honest when it comes to assessing one's knowledge of harmony, repertoire, style, history and technique.
In other words, you can't fake the funk. Like Jorge Dalto, Hilton WAS the real deal.
He knew the intricacies of jazz piano — stride, boogie-woogie, Chicago, Mississippi Delta, Texas, Kansas City, St. Louis and 'Weesiana blues. He hurdled the bar of harmonic virtuosity that we call bebop and deconstructed it as part of the avant garde movement.
Like all Nuyoricans, he had absorbed the African-American experience so well that it was part of his being. That's the key ingredient that makes us Nuyoricans. That's why Hilton's tunes have some element of the blues in them. That background and his musical talent led him to playing, touring and recording with Rahsaan Roland Kirk at the age of 17! Read that sentence again and soak it in, Pilgrims! That in and of itself is an astounding achievement.
Because Hilton was Hispanic — in particular of Puerto Rican descent — the world of jazz many times didn't give him the time of day. There's a long history of this that is undeniable. Don't be fooled by the occasional review here and there. Probably more has been written on the Internet about jazz musicians that happen to be Hispanic, particularly of 'Rican descent, than has ever been written in the entire history of serious writing on jazz. When we do appear, it's unfortunately many times as a footnote.
The irony is that jazz was born in the Caribbean city of the United States — New Orleans — the place where Hilton's life ended as he went there to promote a recording to help the victims of Katrina.
The anomaly of this lack of recognition — or invisibility — of our people in jazz, even though we contributed to its birth and continue to contribute to its evolution, is something Ray Barretto and I discussed many times. Hence Ray's "Standards Rican-Ditioned" recording which features Hilton and Ray in their last recorded performances.
Over the years Hilton's and my paths would often cross socially and professionally and the conversations (whether on a plane or dressing room) — and of course the playing — were always exciting.
About three years ago at the Manhattan School of Music, we had him as a guest soloist with the Afro-Cuban Jazz Orchestra, which I teach and direct at MSM. I told him to come early to check out the piano. He did, and we caught up on things. For Hilton it was the beginning of a beautiful transformation. He was dealing with his demons and he was winning the battle. That sort of renewal was making him do positive things, like really dealing with the instrument again on a serious level. We talked about that and I asked him what he was working on. He proceeded to play Gershwin's "Rhapsody in Blue," the famous piano arrangement/adaptation that Gershwin himself did of his own monumental piece. It was breathtaking to say the least. I was witness to a true artist devoted to his craft in an intimate setting.
During the concert I decided to feature him on a special treatment of "Donna Lee." Chorus after chorus poured out of the piano demonstrating Hilton's mastery of the lyricism and complexity that is bebop. But what he added was a visceral intensity that went beyond the arrogant, stoic, staid, snobbish, elitist attitude that is many times prevalent in jazz today. Hilton brought down the funk, and the audience responded to his virtuosity with a well-deserved standing ovation.
But the demons Hilton faced had unfortunately returned, and the city that gave birth to the art form he had mastered, ironically claimed him in a brutal, unjust way. As we all know, death is an inevitable part of life. It can't be avoided. Of course it hurts when one who is a friend, colleague and family member leaves us. It can be overwhelming. But he didn't deserve to go this way.
I was overwhelmed driving home from the funeral parlor. It beez' that way sometimes — it just hits you.
R.I.P., Hilton. I'm sure you, Fats Waller, George Gershwin and yes, Charlie Palmieri, are having a goof playing some stride and talkin' some jive'. It's just as it should be. A brother, a Jew and two freakin' Nuyoricans playing the blues.
That thought just puts a big smile on my face.
Bobby Sanabria is a drummer, percussionist, composer, arranger, recording artist, producer and educator. A Local 802 member, his Web site is www.BobbySanabria.com.