'If I were a musician'
Volume 118, No. 1
January, 2018
Our elected officials sound off about their musical tastes, the music in their district…and what instrument they wish they played!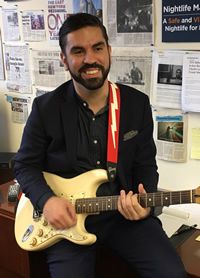 RAFAEL ESPINAL
Councilmember Rafael Espinal represents District 37 in Brooklyn, comprising the neighborhoods of Cypress Hills, Bushwick, City Line, Ocean Hill, Brownsville and East New York. First elected in November 2013, Councilmember Espinal has played an exceptionally important role in the creation of both labor and consumer protection laws as the chair of the Committee on Consumer Affairs. Most recently,  he passed two important pieces of legislation directly impacting musicians – the creation of the Office of Nightlife and the full repeal of the Cabaret Law. Our union is very glad to have worked closely with him throughout the passage of these bills, and look forward to continued partnership during his next term.
What is your favorite style of music? Oh that's easy. Indie rock. I listen to a lot of music, but indie rock is my favorite.
Do you have a favorite band? The Strokes. I remember the first record of theirs that I bought. The more I listened to it, the more I liked it. By the end of the last track, I knew they were genius.
What are you listening to right now? I've been listening to a lot of soul. A lot of Charles Bradley.
What was the first album you purchased and what format was it in? The first music I bought myself was a CD, and it was Jay-Z's "Hard Knock Life." I was 14 years old.
If you could have dinner or drinks with any musician, living or dead, who would it be? That's really hard, but I think I would want to go out for a night with the Strokes. I grew up with four brothers, and the Strokes always seemed like a family.
What type of music was played in your household growing up? My parents were Dominican and they had eclectic music taste. They didn't only listen to merengue or bachata. They were also listening to Bob Marley and Donna Summer. That let me experience lots of different types of music, which was really fortunate growing up.
Describe the role music plays in your district and in society. Music plays an important role in our communities as both a form and a source of expression. Because of that, music is an essential part of building strong and healthy communities, one which gives people a sense that they are welcome and that they belong.
Why are musicians important in our city and our economy? Music plays an important driving force for attracting creative people to our major cities. Not only does this drive our economies, but it drives our workplaces and our neighborhoods. Cities without music feel stagnant.
How can we ensure that musicians and artists are able to remain in NYC and in their communities? Legislators have lots of places to focus to support musicians, from affordable housing to removing laws that hinder or burden the ability for live music venues to thrive. We need to be looking for opportunities to help musicians, and that is one of the reasons why we created the Office of Nightlife. This office will be able to ease the tensions between venues and the city, as well as ensure that performers are able to make a living.
And finally, if you were a musician, what instrument would you play? The electric guitar. I've even started teaching myself!