'If I Were a Musician'
Volume 118, No. 4
April, 2018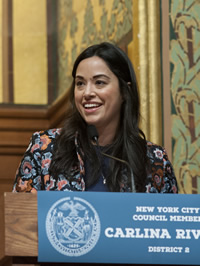 Our elected officials sound off about their musical tastes, the music in their district…and what instrument they wish they played!
CARLINA RIVERA
Councilmember Carlina Rivera is a Democrat representing District 2, comprising the neighborhoods of the East Village, Gramercy Park, Kips Bay, Lower East Side, Murray Hill and Rose Hill in Manhattan. First elected in November 2017, Carlina has quickly established herself as a leading voice in New York City government, bringing her community advocacy experience with issues of affordability, preservation, education equality, and small business survival to the Council. She currently is chair of the Committee on Hospitals, and serves as co-chair of the Women's Caucus.
What is your favorite type or genre of music? I listen to a lot of hip-hop and a little bit of rock. Hip-hop today has been really interesting to me because I hear it bringing together so many different types of music. It's really crossed into many different forms.
Do you have a favorite musician, artist or band? I grew up listening to a lot of Whitney Houston and Queen, but Beyoncé is one of my favorites.
What is your favorite song of all time? My wedding song was "Love on Top" by Beyoncé. My husband let me pick that, but then again…who doesn't love Beyoncé?
What was the most memorable live musical experience of your life? When Babs came back to Brooklyn! I went to hear Barbra Streisand when she was at the Barclay's Center and it was incredible.
If you could have dinner or drinks with any musician, living or dead, who would it be? That's really hard, but I think it would be Nina Simone. Her voice was incredible, but what she sang about was truly special. She could be both uplifting and very dark. I'd love to sit down just to talk to her.
What type of music was played or listened to in your household growing up? My household had a very Puerto Rican experience. We were constantly listening to salsa as we did work around the house, and my family would make music together. We would play congas, and my uncle would play the banjo and sing. There was always music in the house. I'd also love driving around with my uncle. He loved Motown and he always knew all the words and knew every song.
Have you ever been to a Broadway show? Absolutely! I love Broadway and grew up listening to it. I most recently saw "Hamilton," and wow…nothing like it!
Describe the role music plays in your district. It's hard for me to adequately describe the way music makes the Lower East Side and East Village special. I love walking around in the summer, listening to music everywhere on the street, like jazz, bachata, salsa, brass band and hip-hop. Music is the sound of our neighborhood, and it is woven into our identity. We have an incredible artistic history here, and music is part of that heritage. I'm both proud and in awe of it.
What are the biggest challenges facing musicians in your district? Well we know the obvious. Finding affordable space – to live, rehearse and even perform in – is growing increasingly difficult. Venues and performance spaces need help, much the way small business owners need support. Many other challenges that I've spoken with the Local 802 team about – including downward pressure on wages, misclassification, poor representation and exploitation – are pervasive.
What can be done to address those challenges? Local representatives can do a lot to help, and we need to find ways that we can address the challenges of the 1099 or "gig" economy, effectively use tax incentives to support arts venues, ensure adequate funding for the arts in our schools, and even make sure that New Yorkers have access to world-class healthcare and hospitals. Local representatives like myself are here to be resources for New Yorkers and musicians. I ask that people feel comfortable to come to us with any problem they face in their lives, whether it's at home or on the street or at work.
And finally, if you were a musician, what instrument would you play? My family was always making and playing percussion instruments. My grandfather made one in Puerto Rico, brought it here, and I have it today. What that in mind, I'd be a percussionist and a drummer.