'I'll Be Seeing You'
Reminiscences
Volume CIX, No. 4
April, 2009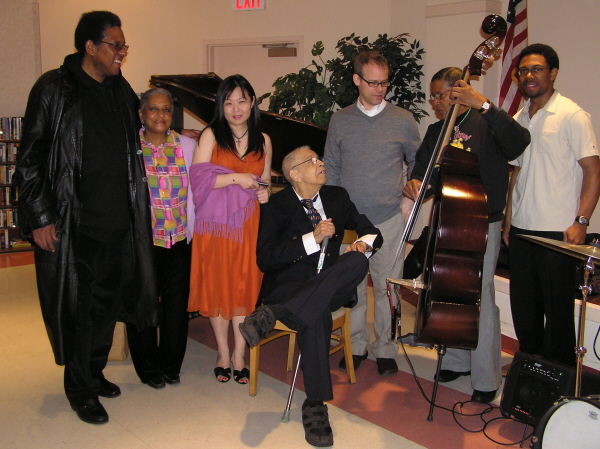 Drummer Wade Barnes, pianist Bertha Hope, vocalist Siena, 802 Jazz Rep Todd Weeks, bassist Bob Cranshaw and drummer Jerome Jennings gather last spring in honor of legendary bassist and longtime 802 member, Leonard Gaskin (seated). Gaskin, 88, died on
Jan. 24.
Leonard Gaskin, 88, the jazz bassist, died on Jan. 24. He had been a Local 802 member since 1943. In lieu of a formal obituary, here is a story about a final tribute to Mr. Gaskin. The events take place a year ago, in March 2008.
Sometimes a homecoming can be bittersweet. On a windy day last spring, the Japanese vocalist known as Seina returned to New York to serenade her mentor and idol, the great jazz bassist Leonard Gaskin.
Gaskin, a longtime Brooklynite and highly revered performer — he has recorded with everyone from Charlie Parker and Miles Davis to James Brown, Bob Dylan and Aretha Franklin — had been a resident in a nursing home called Ozanam Hall for the last several years. He originally moved into Ozanam — located in Bayside, Queens — after a concerted effort by his family to get him the full-time care he needed.
Then, Gaskin's wife died.
When Seina heard that the great musician was bereaved, she hopped on a plane with no real plan except one: to speed to her mentor's side.
In the late 1990's, the singer, who specializes in World War II era ballads, recorded a CD with Mr. Gaskin and drummer Grady Tate.
Gaskin and Tate strongly encouraged her at the time, and she had always wanted to do something for them in return.
Now she found she had the chance.
Seina brainstormed on the plane. She had little money and few local contacts.
She came to Local 802 and contacted the Jazz Department. Bob Cranshaw liked the idea.
"I had always loved Leonard's playing," Cranshaw told Allegro. "And I have always felt that it's extremely important to give back. I mean, the man is one of the greatest on his instrument. He brought so much joy to so many people. Can't we do for him, too?"
Cranshaw immediately called Bertha Hope, a talented pianist and organist who has been a fixture on the New York and Boston scenes since the early 1960's, and who has recorded under her own name and worked with Dizzy Gillespie, Frank Foster, Nat Adderley and Philly Joe Jones, among others.
Hope leads her own group, called Jazzberry Jam! She readily agreed to the gig.
It looked as if Seina would get her wish.
Ozanam Hall is blessed with a large, well-appointed performance space that includes a beautiful mural of Brooklyn landmarks. (The facility was originally in Brooklyn.)
On the day of the concert, Gaskin appeared, resplendent in blue blazer and ascot tie.
The room soon filled with residents and staff.
There was no rehearsal, but Seina brought her own charts.
Cranshaw, Hope and drummer Jerome Jennings — a new member of Local 802 — were all up to the task.
The band opened with "Take the A Train," and Seina sang the standards "I'll Walk Alone, "Sentimental Journey," "We'll Be Together Again," and the rarely-performed "I Left My Heart at the Stage Door Canteen," a favorite of Gaskin's.
Mr. Gaskin and the rest of the audience responded warmly, and at one point the petite singer turned to the crowd and said, "The reason I am here is because of Leonard. Leonard is my angel. He is my heart."
It was an unabashed display of love and respect for a great man, and the audience was visibly moved.
The band chimed in with the uptempo standard "Cute," and Seina concluded the proceedings with her rendition of "I'll Be Seeing You," to hearty and vociferous applause.
Two days later Seina was back at the airport, readying herself for her flight back to Tokyo.
"The 802 musicians helped me live my dream," said the singer from her mobile phone. "I sang for Leonard…and he was happy. Now I can go home."