In the groove
Volume 112, No. 10
October, 2012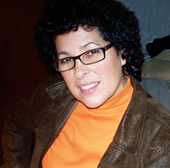 Sue Hadjopoulos.

Photo: Gloria Tarigo
Percussionist Sue Hadjopoulos, who joined Local 802 in 1977, has established herself as a first-call musician in New York's competitive music scene. Of Greek and Puerto Rican descent, she was born and raised on Long Island in a musical family. Her father, also a Local 802 member, was a big band drummer and her mother a pianist. Both of her brothers became professional musicians. Besides numerous credits on recordings, film, and TV, she also tours with Joe Jackson, Cyndi Lauper, Enrique Iglesias, the B-52s, Simple Minds and many others. Sue has taken her blend of pop, Latin and world rhythms to every corner of the globe. Her prodigious resume can be seen at www.SueHadjopoulos.com.
But there's more to her than music. Sue is also a healer who specializes in the Reiki technique as well as in herbal and homeopathic therapy. And there was a moment in her career when Sue wanted to get some more business chops. So she turned to the Actors Fund Work Program. The AWP helps entertainers learn business skills and also helps them with sideline careers or new careers altogether.
AWP's National Director Kathy Schrier recently sat down with Sue Hadjopoulos to get her thoughts about staying on top in the music business while also honing her entrepreneurial skills.
Kathy Schrier: Can you tell us how your career evolved?
Sue Hadjopoulos: Well, as you know, my dad played the drums, and as a small child I would watch him practice. When he saw my interest, he taught me the basic rudiments and from then on I was hooked! As long as I can remember, I always wanted to play drums; there's a family photo of me at five years old, at Christmas. I am standing next to my brother, pouting because he had received a toy drum set and I got a guitar. To this day, I still cannot play the guitar.
In public school, I played the flute, since girls were not encouraged to choose "masculine" instruments like the drums. I continued to play flute through high school, but one year I played drums in the school's jazz orchestra in an afterschool program. Around that time I also bought my first conga drum for $50. My first experience on stage was beside my older brother, who was a sax player. He would use me as a last resort, since he didn't want his little sister in the band. I got my first break when the band got a contract to play at a midtown hotel and they were short some musicians. They hired me to play the one conga drum!
Kathy Schrier: So what happened after high school? Did you go to a conservatory?
Sue Hadjopoulos: No, I went to Barnard College and majored in anthropology, which made sense given my interest in Latin and world music. (My mom is Puerto Rican and I wanted to explore and learn more about my cultural roots.) Gradually, I added timbales and various other percussion instruments to my collection. I never studied music in college, but started to earn my living making music on weekends and began getting called for more and more sessions and commercials. A stroke of luck came when I became a founding member of Latin Fever, a 14-piece, all-women Latin band, produced by Larry Harlow. We toured the U.S. and South America and achieved a number-one hit in Puerto Rico. But it was my pairing with Joe Jackson on the historic album "Night and Day" and world tour that crossed me over into the pop and rock scene.
Kathy Schrier: When and why did you join Local 802?
Sue Hadjopoulos: I joined the union because my commercial work was increasing. As a professional musician, I believe very strongly in solidarity, and supporting other musicians and I believe the union provides that support. Local 802 has always been there for me and I have always been there for Local 802.
Kathy Schrier: What do you like about being a professional musician?
Sue Hadjopoulos: I love being a freelance musician. It has given me the opportunity to work in a variety of genres – live gigs, TV, film, radio, theater, touring – you name it! My music career has given me the opportunity to see the world.
Kathy Schrier: And what are the challenges?
Sue Hadjopoulos: My name was my first challenge in getting work and getting paid! No one could pronounce it or spell it correctly on a check! There was once a time that contractors would just say "get the girl on percussion with the long Greek last name!"
Seriously though, when I started, it was rare to see a woman playing drums or percussion and it was hard to get work. I'm glad I was out there as a forerunner. I think my visibility made it easier for the young women musicians out there today. It's gratifying to see that there are now many opportunities for women to be able to choose their own musical paths.
Kathy Schrier: When and why did you come to the Actors Fund Work Program?
Sue Hadjopoulos: I first came to AWP in 2003 after hearing about it from a fellow musician. As great as it is to freelance, there are always times when you are between jobs. As a creative person you need to have complementary work that is challenging and rewarding. In the highly competitive music industry, it is crucial for musicians to learn how to market themselves.
I recognized that my complementary career as an energy healer specializing in Reiki and herbal and homeopathic consultations along with my music career necessitated a stronger presence on the Web. I kept juggling between my two careers as the music jobs kept coming in. I returned to AWP in 2007 when they began to offer classes in Adobe Creative Suite.
Kathy Schrier: I believe you first worked with our career counselor Patch Schwadron to identify career options?
Sue Hadjopoulos: I did. Most musicians, being highly creative, have multifaceted interests and don't like being confined to just one area. I think it's one reason I like working as a side person and freelance musician. It never gets boring. In my case, I had so much passion in so many areas. I already had relatively good computer skills and was self-taught on Web site building. I had been a volunteer at the YWCA helping displaced homemakers obtain the computer skills they needed to get office work. Patch recognized my interest in computers, writing, composing and arranging and suggested options for combining those interests. She also helped me develop a marketing plan for my energy healing business. Working with Patch helped me focus my talents.
Kathy Schrier: How did the Actors Fund Work Program help you market yourself as a musician?
Sue Hadjopoulos: By offering wonderful courses that gave me critical skills to build and maintain my Web sites. At the AWP I've taken classes in Dreamweaver, Photoshop, Flash, InDesign and Illustrator. Susan Serfes is a wonderful teacher. She really knows her stuff and tailors the classes to allow each student to specialize in his or her own area of interest. And the AWP encourages its students to upgrade their skills by keeping the computer lab up to date with all the latest software.
Kathy Schrier: And the future?
Sue Hadjopoulos: I'm in the middle of a three-month tour with Joe Jackson right now. I have also been planning to write my memoirs – and now thanks to the InDesign class, I can set up the book myself. When I am back in town, I look forward to exploring new classes and would be happy to assist the AWP in its work in any way possible. I will always be happy to share what I have learned at the AWP.
Kathy Schrier: Would you recommend AWP to other Local 802 members?
Sue Hadjopoulos: Absolutely! The AWP staff understands the issues around managing a music career; and more importantly, respects our decision to have one. They appreciate that a complementary career is not a backup plan and are available to offer support and guidance to musicians at any point in their career.
If you would like more information on the Actors Fund Work Program, start at www.ActorsFund.org, then go to "Services and Programs," then "Sideline Work & New Careers."
The Actors Fund is a national human service organization that helps all professionals in performing arts and entertainment. The Fund is a safety net, providing programs and services for those who are in need, crisis or transition. For more information call (212) 221-7300.