It's Contract Time!
Union Wins Several New Off Broadway Deals
Volume CVII, No. 6
June, 2007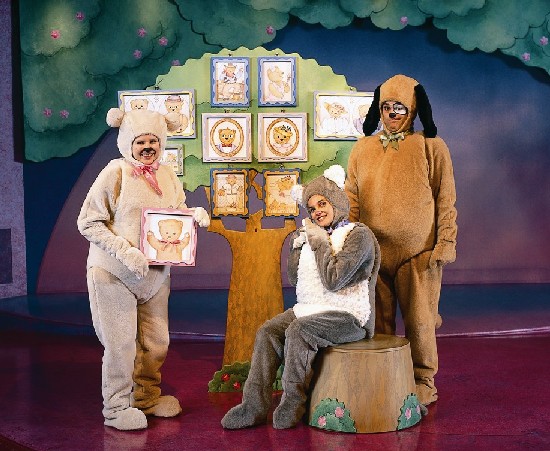 A scene from "Bitty Bear's Matinee: The Family Tree"
at the American Girl Theatre. Musicians performing there play under a Local 802 contract.
Local 802 concluded several new contracts over the last several months, some of which have been pending since 2006. We also managed to avoid a couple of strikes and arbitration.
The agreements that were the most problematic were "The Evil Dead" and "Altar Boyz." Both of these contracts are based on our Commercial Off Broadway Area Standards ("the pink book").
"The Evil Dead" negotiations began in July 2006. Following several months of communications and meetings, the union drew on our attorney, Harvey Mars. It was thanks to Harvey's patience, tact and legal skills that this agreement was finalized without a labor fight.
However, it was with much reluctance the union and the orchestra finally agreed to a compromise on some of the area standards as a settlement.
One of the outstanding issues was overtime for a ninth performance when a seven-performance week is preceded or followed by a nine-performance week. The settlement allowed that both weeks would pay as an eight-performance week.
In addition, the music director was paid 12.5 percent for playing a synth.
Also, the settlement included over $2,500 in retroactive wages and benefits for one of the members of the band.
Unfortunately, the show has ended its run. In fact, the negotiations ran longer than the production, since we did not settle until after they closed.
"ALTAR BOYZ"
"Altar Boyz" should have been an easy renewal contract since it has been running successfully for more than two years.
In this particular instance, management changed hands and the union was faced with a second company to negotiate with. After several months a contract was finalized.
The union negotiated the most recent area standards, including a three percent annual increase. In addition the musicians received retroactive wages back to Aug. 15, 2006.
With the approval of the orchestra there was one compromise: there is no overtime pay for a ninth performance when a seven-performance week is preceded or followed by a nine-performance week. Both weeks pay as an eight-performance week, as in "The Evil Dead" contract, discussed above.
"FANTASTICKS"
The new "Fantasticks" is now being produced at the Snapple Theatre on West 50th Street and Broadway. The agreement is based on our Off Broadway standards, with basically the same compromise on the seven- and nine-performance weeks as discussed above.
All three agreements above include a health benefits increase of 21 percent.
AMERICAN GIRL PLACE
The new American Girl Place contract now covers "American Girl Review," "Bitty Bear," "Circle of Friends," "Holiday Show" and the harpist who plays for the mother-daughter tea.
Musicians earn a 2.7 percent pay increase in the first year of the contract, and 1 percent in years two and three.
In addition there are half-percent increases in pension in the second and third years of the agreement, and a 21 percent increase in health contributions over the life of the contract.
ATLANTIC THEATRE COMPANY
The Atlantic Theatre Company is producing a new musical — "10 Million Miles" — at its main stage, the Linda Gross Theatre.
Readers may remember that this is the theatre that launched its first musical last year, "Spring Awakening" and had its first union agreement for the musicians. That show is now running successfully on Broadway and all musicians that played the Off Broadway run were engaged for the production.
Building relationships is part of what Local 802 tries to accomplish, so now we have negotiated an agreement that will cover any musicals the company produces.
In return the company still benefits from its status as a member of the Association of Not-for-Profit Theatre Companies (ANTC).
The seven-performance week, which is standard for ANTC, pays $472. The music director earns a 50 percent premium. If the production extends beyond eight weeks, there is a 25 percent pay increase and a 6 percent vacation premium that becomes effective.
Pension pays 9 percent and health benefits have risen by 21 percent to a cap of $70 per week per musician.
"NAKED BOYS SINGING!"
"Naked Boys Singing!" has been under a union contract since its first year of production in 1999. We have negotiated agreements with the producers at all three of their theatrical locations — it's now at Stage 4 of New World Stages.
The renewed contract includes a 3 percent pay increase each year in the three-year agreement, retroactive to Jan. 1, 2007.
Currently the production is in performance three days a week and pays $103 per performance for the solo musician.
The company is paying a 21 percent increase in health benefits, retroactive to Jan. 1, 2007.
"SESSIONS"
"Sessions" is new musical to emerge from Off Off Broadway. Six musicians have been hired and the production will go up at the Peter Jay Sharp Theatre, a 96-seat house.
The producers have agreed to abide by our Off Broadway standards at 80 percent of the scale rate for performers and rehearsal musicians.
Music preparation will pay at 80 percent of the General Price List, which is the same as the Off Broadway scale for a 100 to 199 seat house.
"ROCK OF AGES"
Local 802 negotiated a developmental project agreement for "Rock of Ages." Side musicians earn $1,000 for 21 hours of rehearsals and two readings. The music director earns a 50 percent premium. Pension pays 8 percent and health benefits are $10 per day per musician, capped at $70 per week.
SNEAK PREVIEW
A new Off Broadway production called "Fartiste" may cause us some difficulty. As Allegro goes to press, the producers have not responded to our overtures to begin talks. They have already begun readings and have scheduled a theatre at New World Stages. In addition, the new manager at New World Stages has not returned calls.
We are in negotiations for a cabaret contract for a production called "Don't Quit Your Night Job" going into the Ha! Comedy Club.
Local 802 has begun discussions with the Brooklyn Academy of Music for the Bridge Project. The Bridge Project is born out of Sam Mendes, Joseph V. Melillo and Kevin Spacey's shared idea to produce large-scale, classical theatre for international audiences. The idea is that talent and ideas will be shared between the Old Vic in London and BAM in Brooklyn. The discussions include the possibility of a three-year agreement to cover this work when musicians are engaged.
FOR MORE INFO…
Local 802's Commercial Off Broadway Area Standards are available in the Wage & Contract section of this site.
Additional information on contracts is available by contacting my office at (212) 245-4802, ext. 156.
While we have an excellent track record for winning Off Broadway contracts for our members, it is always a challenge. You can help by calling us whenever you are hired for any theatre work at all. Thank you!