It's Time to Get Out the Vote
Volume CX, No. 10
October, 2010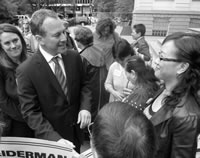 Local 802 has endorsed Eric Schneiderman for attorney general. Photo: Azipaybarah via Flickr.com
It was a good night for New York State politics. Of the 17 candidates endorsed by Local 802 so far, seven were in contested primaries on Sept. 14 – and six of them prevailed!
In a race that was decided well after midnight, State Senator Eric Schneiderman emerged as the winner of the five-way race for New York State Attorney General.
Two days later, two of the four other attorney general candidates – Nassau County D.A. Kathleen Rice and former State Insurance Superintendent Eric Dinallo – stood with Schneiderman on the steps of the New York County Courthouse to pledge their support for his candidacy.
(The remaining two – Assemblyman Richard Brodsky and former federal prosecutor Sean Coffey – had conflicts, but sent representatives to read statements pledging their strong support.)
Schneiderman's opponent in the fall will be Republican Dan Donovan, the Staten Island D.A.
At the congressional level, Congresswoman Carolyn Maloney, who represents most of Manhattan's East Side, Roosevelt Island and Astoria and Long Island City, handily dispatched Wall Street hedge fund attorney Reshma Saujani, 81 percent to 19 percent.
In the State Senate races, Assemblyman Adriano Espaillat won in a four-way primary in the 31st Senate District, currently represented by Senator Eric Schneiderman.
In the 28th Senate District, Cultural Affairs Committee Chair José Serrano beat back his challenger by a 4-to-1 margin.
Arguably, the most satisfying victory of the night occurred in the 33rd Senate District. Gustavo Rivera, with the backing of the labor movement, the Working Families Party, tenants' rights activists, good government advocates and so many others, roundly defeated incumbent Pedro Espada.
Pedro Espada was the architect of the parliamentary coup in June 2009 that ground the work of the State Legislature to a halt.
Espada, who did not live in his district (although he maintained an apartment there) has been under investigation by federal, state and local authorities.
Attorney General Andrew Cuomo filed a civil complaint against him, charging Espada with looting $14 million from his Soundview health clinics.
As chair of the Senate Housing Committee, he routinely opposed and blocked critical protections for tenants.
Gustavo Rivera's victory sends packing the one individual who most embodied corruption, patronage and abuse of office in Albany.
WE'RE NOT FINISHED
While our endorsees prevailed in the primary elections, the general election lies ahead on Tuesday, Nov. 2.
Local 802's Executive Board will be making additional endorsements over the next few weeks.
As I've said before, in an election year where anything can happen, it's crucial that we stand with those who have stood and continue to stand with us.
Each of these campaigns would benefit greatly from our participation.
Each needs volunteers and a little of your time goes a very long way.
Even a half hour helps. You can choose the level of your involvement.
The candidates who we endorse will need volunteers to call our members to remind them to vote.
They also need people to hand out palm cards on the streets and to distribute campaign literature in their buildings.
You could hand out palm cards on your way to a gig.
You could call 802 members in between gigs to remind them to vote.
Or you could distribute campaign literature in your building.
It's easy. It requires so little time and effort, yet has such a positive impact.
Your efforts on a two or three person team have a powerful multiplier effect.
If three people donate one hour of their time, that's three hours of Get Out The Vote activity that benefits the campaigns of those who have stood with us and have fought for our industry.
When you volunteer, be sure to identify yourself by wearing an 802 shirt, hat or button. This shows the public and our endorsees that our presence and our support is genuine and that 802 walks the walk.
To date, Local 802 has endorsed the following candidates:
ATTORNEY GENERAL
STATE ASSEMBLY
Steve Englebright (A.D. 4: Port Jefferson Station, Coram, Centereach, Selden and Lake Grove, Stony Brook, Setauket, Port Jefferson and Mt. Sinai)
Aravella Simotas (A.D. 36: Astoria, Long Island City)
Linda Rosenthal (A.D. 68, Upper West Side, Lincoln Center, parts of Clinton/Hell's Kitchen)
Herman "Denny" Farrell (A.D. 71, West Harlem, Washington Heights and Inwood)
Gregg Lundahl (A.D. 73, Upper East Side, East Midtown, Sutton Place and Turtle Bay)
Dick Gottfried (A.D. 75: Chelsea, Clinton, Murray Hill, Midtown and part of the Lincoln Center area)
STATE SENATE
José Serrano (S.D. 28, Morris Heights, Mount Eden, High Bridge, Mott Haven, Fort Morris of the Bronx, East Harlem, Roosevelt Island)
Tom Duane (S.D. 29, Upper West Side, Chelsea, Hell's Kitchen, Greenwich Village, and parts of the East Side, including the East Village, Stuyvesant Town and Peter Cooper Village, and Waterside Plaza)
Adriano Espaillat (S.D. 31: Part of the UWS, Manhattanville, Washington Heights, Ft. George, Inwood, Riverdale, Marble Hill)
Gustavo Rivera (S.D. 33, Northwest Bronx, including the neighborhoods of Bedford Park, Fordham, Norwood, Riverdale and Kingsbridge Heights)
CONGRESS
Steve Israel (NY-2: Huntington, Babylon, Islip, and Smithtown in Suffolk County and part of the town of Oyster Bay in Nassau County)
Joe Crowley (NY-7: Woodside, Jackson Heights, East Elmhurst and College Point in Queens; Castle Hill, Co-op City, Parkchester, Throggs Neck, Morris Park, Pelham Parkway, Pelham Bay, Country Club and City Island in the Bronx)
Jerry Nadler (NY-8: the Upper West Side, the West Side down to Battery Park, Chelsea, Hell's Kitchen and Greenwich Village in Manhattan; Coney Island, Bensonhurst, Borough Park and Bay Ridge Bay in Brooklyn )
Anthony Weiner (NY-9: Forest Hills, Maspeth, Fresh Meadows, Glendale, Howard Beach, Kew Gardens, Kew Gardens Hills, Middle Village, Ozone Park, Rego Park, Rockaway Beach, and Woodhaven in Queens; Gerritsen Beach, Marine Park, Midwood, Mill Basin and Sheepshead Bay in Brooklyn)
Carolyn Maloney (NY-14: most of Manhattan's East Side, Roosevelt Island and Astoria and Long Island City)
John Hall (NY-19: parts of Dutchess, Orange, Rockland and Westchester Counties)
To find out about these candidates and how you can get involved in their races, please contact me at Pmolloy@Local802afm.org.