A tribute to James M. Cohn
Volume 121, No. 7
July, 2021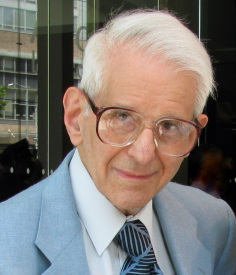 American composer James Myron Cohn, 93, a member of Local 802 since 1950, died on June 12 in Queens after a long illness. Born February 12, 1928, in Newark, New Jersey, Mr. Cohn was a resident of Douglaston, New York, along with his wife Eileen who survives him. A funeral service was held June 13, at Schwartz Brothers-Jeffer Memorial Chapel in Forest Hills, followed by a committal service at Beth El Cemetery in Paramus, New Jersey.
After pursuing lessons in piano, violin, and composition as a young man, Mr. Cohn attended Juilliard where he was a student of Roy Harris, Wayne Barlow and Bernard Wagenaar. He earned two degrees in music composition and later pursued postgraduate studies with Ruth Anderson at Hunter College.
Mr. Cohn served as a musicologist for ASCAP from 1954 to 1984, and was also the inventor of electronic devices that could be applied to keyboards or fingerboards in order to control pitch, intonation, volume and vibrato. In 1998, he was initiated into the Sigma Alpha Iota International Music Fraternity as a National Arts Associate by the Tulsa Oklahoma Alumnae Chapter.
Mr. Cohn was the recipient of numerous honors, including the Queen Elisabeth of Belgium Prize for his Symphony No. 2 (premiered in Brussels, Belgium) and the A.I.D.E.M. prize for his Symphony No. 4 (premiered in Florence, Italy). Additionally, Mr. Cohn's opera "The Fall of the City" won an Ohio University Opera Award. James Cohn quickly became an accessible and highly desired composer  who received commissions from such artists as Quintet of the Americas; Argentinian pianist Miriam Conti; violinist Eric Grossman; cellist Marcel Krasner; flutists Jerene Weitman and Carla Auld; English hornist Pedro Diaz (principal, New York Metropolitan Opera Orchestra); clarinetists Robert Spring, Jon Manasse, Caroline Hartig, and Raphael Sanders; trumpeter Jeffrey Silberschlag; guitarist David Galvez; Belgian clarinet ensemble Claribel under the direction of Guido Six; and Palisades Virtuosi Chamber Ensemble.
Mr. Cohn's catalogue includes solo, choral, chamber, and orchestral works, including nine symphonies, five piano sonatas, and three string quartets; his commissioned music for television and cinema has been used worldwide. Notable performances include concerts given at Kennedy Center and the Library of Congress, as well as recitals at numerous music conferences and festivals. His recorded music is currently available on Naxos American Classics, MSR Music Classics, and the XLNT Music label.
Among Mr. Cohn's final works are Trio for Palisades Virtuosi Chamber Ensemble, written in September 2020 at the age of 92, and "Tick-Tock Fantasy for Flutissimo" (three flutes and piano) completed in November 2020. His last composition was written for flutist Carla Auld; the Concertino for Flute and String Orchestra was begun in December 2020 and completed in February 2021, the month of Mr. Cohn's 93rd birthday. "Tick-Tock Fantasy" is scheduled to receive its premiere in October 2021; the Trio and Concertino for Flute and String Orchestra will also receive its first performances later this year. Klezmer Fantasy for Clarinet and Piano, commissioned by clarinetist Caroline Hartig, will be premiered next summer at ClarinetFest 2022 in Nevada.
Mr. Cohn will be remembered for his extraordinary kindness and his frequent mentorship of young artists and composers.