An interview with Jami Dauber
Volume 123, No. 3
March, 2023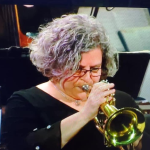 JAMI DAUBER
My musical life began when I was three years old and started playing the piano. My dad played the piano, so I guess that's what drew me to it. Then in the fourth grade, I had the opportunity to join the concert band and I chose to play percussion. From an early age, I was exposed to a lot of music at home — everything from Count Basie, Maynard Ferguson to horn bands like Chicago and Blood Sweat & Tears, to Bob Dylan, Led Zeppelin and Oscar Levant! There was something about the sound of a horn section that drew me to the trumpet, so I switched in fifth grade.
The biggest influences on me besides my parents were my band directors, who helped form my basic musicianship. I also took private lessons from some great teachers along the way, most notably Don "Jake" Jacoby and Laurie Frink. I think about them both every time I pick up the horn.
Many of my standout experiences since moving to New York in 1994 have been with The DIVA Jazz Orchestra, led by Sherrie Maricle. I've been a member of DIVA for 29 years and we've performed all over the world. A notable memory was when we performed with Nancy Wilson at Tanglewood — our lead trumpet player, Liesl Whitaker, was eight months pregnant at that concert and was blowing high A's like it was nothing — she's my hero! Most recently, DIVA has been touring with The Manhattan Transfer and I'm still buzzing from playing Birdland with them — that was a real career highlight for me. Other significant DIVA experiences include our longtime collaboration with the legendary Maurice Hines. He is a consummate showman from whom I learned a great deal — and I met my wife, woodwind doubler Amy Griffiths, on one of those gigs. DIVA is celebrating our 30th Anniversary this year!
Another standout was playing with The Who at Madison Square Garden — the sound of the crowd when the lights went down —  nothing like I've ever experienced! And after subbing for countless shows on Broadway for over 20 years, Jason Robert Brown hired me for my first Broadway show, Honeymoon in Vegas — that band was a blast, and getting to play with Tony Kadleck and those other incredible musicians every day was a thrill.
A recent highlight was participating in a project with Victor Goines. Victor was commissioned to write and perform a suite for Woodlawn Cemetery, a national historic landmark in the Bronx where many musicians, artists, writers, etc. are laid to rest. Victor intentionally assembled a diverse group of outstanding musicians for this project. We performed the suite in June and then went into the studio in late December. I am also really excited to be playing in a 30-piece orchestra for the upcoming production of Camelot at the Vivian Beaumont Theatre at Lincoln Center.
I get asked what challenges I've had being a female trumpet player. Honestly, I didn't notice anything particularly "unusual" about that until I won first chair in the All-State high school symphonic band in Florida. The last chair trumpet player was so bothered by the audition results that he started a rumor that the results had been reversed and I was supposed to be last chair, and he was supposed to be on the first chair. My mom gave me a t-shirt when I was around 10 years old that said, "Girls Can Do Anything Boys Can Do, But Better," which probably helped instill a sense of confidence and pride.
---
BIOGRAPHY
For almost 30 years, trumpeter Jami Dauber has been residing in New York City, performing a wide variety of music, from Broadway and jazz, to salsa and classical. Jami is currently performing in the orchestra for Lincoln Center's production of "Camelot." She has performed on multiple other Broadway shows and was the lead trumpet in the orchestra for A Bronx Tale the Musical. She was also a member of the orchestra for Honeymoon in Vegas, as well as Anything Goes and the Off-Broadway production of Maurice Hines' Tappin' Thru Life.
She has been a member of The DIVA Jazz Orchestra for over 28 years and has been a long-time band member of The Ellington Legacy, led by Duke's grandson, Edward Ellington. Jami has performed with Victor Goines & Friends, Wycliffe Gordon Big Band, Christian McBride Big Band, Jason Robert Brown, The Who and many others.
She has an extensive discography, including recordings on Telarc, Ghostlight Records, Universal Music Enterprises, Rock-It Science, Arbors Records, ArtistShare, and can be heard on the original cast recordings of A Bronx Tale the Musical and Honeymoon in Vegas. Jami holds degrees from the University of Florida and the University of North Texas.
---
This interview by Martha Hyde and Sara Cutler first appeared in the March 2023 issue of Allegro, the magazine of the NYC musicians' union Local 802 as part of a feature called "Women's Lives, Women's Stories"