Jamming at the D.N.C.
Music & Politics
Volume CVIII, No. 10
October, 2008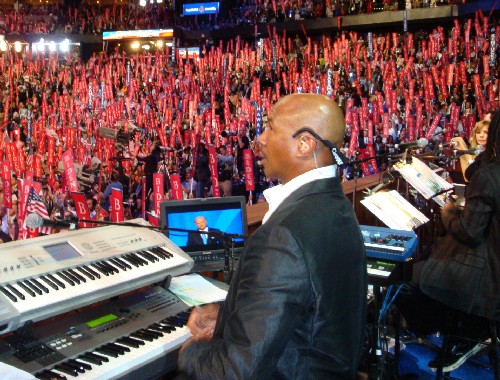 ROCKING FOR OBAMA: Local 802 member Ray Chew at the D.N.C.
I had one of the most enriching experiences of my career this summer when I served as the musical director for the Democratic National Convention. I was asked to join the production team by Executive Producer Ricky Kirschner and Director Glenn Weiss; the same team is also responsible for the Super Bowl and the Tony Awards. It was an honor to be chosen and a historic appointment to undertake.
My duties included overseeing all musical considerations from start to finish. I had a evolving A-list of artists to organize and a 150-song repertoire to prepare. My team included Local 802 contractors Kim Wertz, Jaynell Grayson and 14 musicians and singers from across the country.
Our days in Denver started with an hour-long security search at several different points, then a soundcheck and rehearsals on stage. From the moment that we engaged the security points to playing onstage with artists like Melissa Ethridge, we could feel the magnitude of the events. The atmosphere was electric and bubbling with excitement as hundreds of seasoned professionals went about their many tasks preparing for the convention. The delegates were in a festive but serious mood as they took to their mission of galvanizing the party. An important part of my job was to entertain and inspire the delegates, as well as to select the proper material to introduce the candidates, politicians and speakers.
A lot of songs and a lot of great moments. I am happy to have shared these moments with fellow Local 802 musicians Russell Graham (keyboards), Artie Reynolds (bass), Mike Ciro (guitar), Bashiri Johnson (percussion), and Wes Little (drums) — and now with our readers.