Jazz Campaign Gains Focus
Volume CX, No. 7/8
July, 2010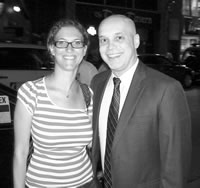 CAMPAIGN IN ACTION:
Recording rep Diana Cohn with pianist and Local 802 member Larry Fuller in front of the Blue Note on June 10. Fuller appears regularly with the John Pizzarelli Quartet.
Photo: Todd Bryant Weeks
Ron Carter, Paul Motian, Bill Frisell, Chick Corea and John Pizzarelli are all on board
Since February, members of the Jazz Advisory Committee, along with Local 802 business reps and supporters, have been making regular appearances in front of the Blue Note jazz club, leafleting audiences.
In conjunction with 802's ongoing "Justice for Jazz Artists!" campaign, these musicians have taken to the streets in an effort to educate and organize jazz fans.
In 2006, Local 802 and the Jazz Advisory Committee introduced legislation in Albany that pushed for tax relief for venues like the Blue Note.
The intention was simple. Club owners would use those forgiven tax dollars to fund pension contributions for performers. The law passed and was signed by then Gov. Eliot Spitzer in early 2007.
But that same spring, when Local 802 went back to those clubs that had supported the original legislative effort – Birdland, Iridium, Jazz Standard and the Blue Note among them – owners told the union they wouldn't be making voluntary contributions to the fund anytime soon. (The law as written did not compel them to do so).
Last year, we launched a campaign to further build public support.
A petition drive garnered some 3,500 signatures and the endorsements of key political and cultural figures, including New York City Council Speaker Christine Quinn, Pastor Amandus Derr of St. Peter's Church, poet and activist Amiri Baraka, writers Nat Hentoff and Stanley Crouch, and dozens of prominent jazz artists including Ron Carter, Maria Schneider, Arturo O'Farrill, David Berger, Bernard Purdie, the late Benny Powell, Joe Lovano and many others.
Our campaign also received endorsements from Actors Equity and several other artist advocacy groups.
Last September, we hosted a rally at Judson Memorial Church in Washington Square, and some 125 musicians and their supporters marched with their instruments New Orleans style to the front door of the Blue Note, where 802 presented its petition.
Unfortunately, jazz club owners are intransigent on the issue, and have maintained their silence to the present day. Owners do not return phone calls, and have even refused to sign for registered letters once they determine they are from 802.
One sticking point has been club owners' concerns that they not be considered the employer of musicians.
"But club owners," as Recording Vice President John O'Connor points out, "need not assume the role of employer as defined by the New York State Department of Labor in order to make contributions into the AFM-EPF."
Most jazz artists are paid on 1099's, or in cash.
In recent months, 802 has been working behind the scenes with clubs to try and break fresh ground.
Meetings with Dizzy's Club Coca Cola have garnered some minor success, but more parties need to be involved in order for talks to have real significance.
O'Connor is adamant that the clubs should pay into the pension fund, but as he has pointed out from his earliest days in office, "I'm not particular about where they get the money. They just need to find a way to contribute – and we want to facilitate that for them."
O'Connor added, "We're open to deriving contributions based on scale wages or taking the 'found money' from the door tax. But either way it has to happen. It's a necessity for these artists in this too long neglected field."
In February, supporters leafleted the Blue Note while bassist Ron Carter was onstage in front of a packed house. Carter and his bandmates, drummer Paul Motian and guitarist Bill Frisell, had granted their full support to the effort beforehand.
In April, vocalist Cassandra Wilson gave her blessing for a similar leafleting. In May, pianist Chick Corea signed on to the campaign and 802 went out again.
The most recent effort, in support of John Pizzarelli and his band, occurred on June 10.
"We're not going away," says O'Connor. "The Blue Note presence is only the beginning. "