Jazz Education Association Takes Final Bow
Volume CVIII, No. 7/8
July, 2008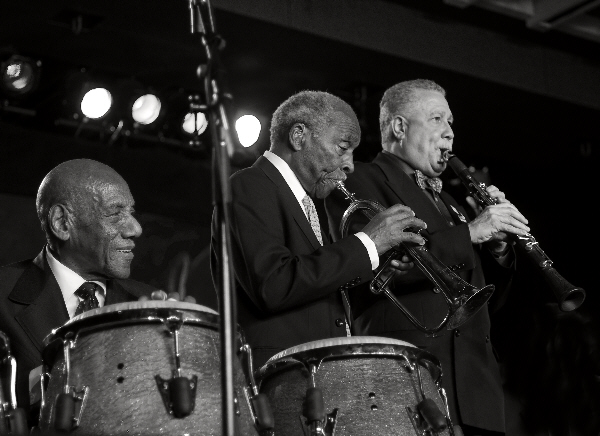 Local 802 members Candido Camero (congas), Joe Wilder (flugelhorn) and Paquito D'Rivera (clarinet) were honored at this year's IAJE conference. The conference turned out to be the association's last one. Photo by Ed Berger.
Goodbye to the International Association of Jazz Education. On March 25, an ominous communication went out to the IAJE's 8,000 members. President Chuck Owen announced the suspension of the 40-year-old organization's widely-read magazine, its scholarship programs and its popular summer retreat program. Owen also announced that IAJE was still searching for a new leader. The institution's executive director, Bill McFarlin, who had been with IAJE since 1984, had stepped down after a January 2008 conference in Toronto where attendance was reputedly down 40 percent from the previous year.
According to the Web site Guidestar.org, which provides information for nonprofits, the IAJE's 2005-2006 tax return showed a negative asset value of approximately $90,000.
What had been perceived as a temporary spate of financial instability was quickly reappraised as unsalvageable and, according to an April 18th statement by Owen, "the board voted to file for bankruptcy under Chapter 7 of the Federal Bankruptcy Law."
Over the years, numerous cities had hosted the group's conference, and this January's event was a great disappointment to the struggling organization. Reported causes of low attendance included new passport requirements for U.S. citizens traveling to Canada and the diminished value of the American dollar.
In 1997, the IAJE absorbed a convention sponsored by JazzTimes, with the focus expanding to include music industry personnel outside of the jazz academy. The IAJE also hosted the National Endowment for the Arts Jazz Masters Awards ceremony, published the Jazz Education Journal and engaged in many other jazz-related programs.
In his statement, Owen urged the IAJE community "to recognize and remember IAJE for all the tremendous good it has done in the past 40 years." He added "the spirit that is IAJE must be rekindled into a new vision for the future."
Local 802 jazz reps had attended the IAJE conference each year, distributing information about the union.
Sources for this article include the AP, New York Times, Seattle Times and Jazz Times.