Jazz in the Afternoon
Volume 117, No. 2
February, 2017
At Local 802, musicians support their fellow artists. We just kicked off our second year of producing a monthly benefit concert called "Jazz in the Afternoon," featuring top Local 802 talent, with all proceeds benefiting the Local 802 Musicians' Emergency Relief Fund.
On these pages, the TRAD-JAZZ SEXTET OF THE NEW YORK JAZZHARMONIC and THE RUSS KASSOFF BIG BAND perform at two recent benefits. Photos by Bettina Covo.
The next show  will be announced soon. For more information, contact Bettina Covo at  (212) 245-4802, ext. 152 or Bcovo@Local802afm.org. To make a donation to the relief fund now, visit www.Local802erf.org.
TRAD-JAZZ SEXTET OF THE NEW YORK JAZZHARMONIC
THE TRAD-JAZZ SEXTET OF THE NEW YORK JAZZHARMONIC IS: Ron Wasserman (bass & leader), Joseph Boga (trumpet), Jay Rattman (clarinet/alto sax), Jay Sawyer (drums), Billy Test (piano) and Corey A. Wallace (trombone)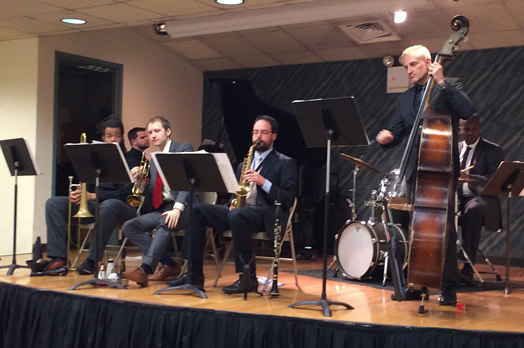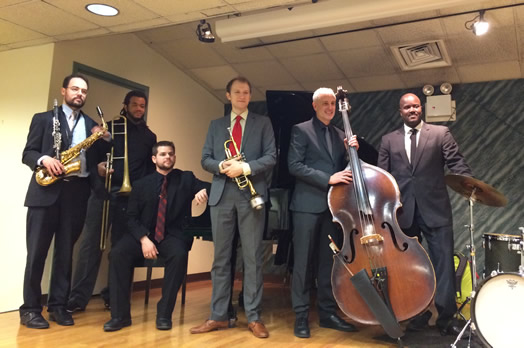 THE RUSS KASSOFF BIG BAND
THE RUSS KASSOFF BIG BAND IS: Russ Kassoff (leader/conductor/arranger/pianist); Catherine Dupuis (vocalist); WOODWINDS: Kurt Bacher, Matt Hong, Gary Keller, Dan Block, Carl Maraghi; TRUMPETS/FLUGELHORNS: Bob Millikan, Glenn Drewes, Bud Burridge, Kevin Bryan; TROMBONES: Clint Sharman, Charley Gordon, Brian Bonvissuto, George Flynn; BASS: Mike Hall; DRUMS: Ray Marchica; MUSIC COORDINATOR & CONTRACTOR: Bruce Bonvissuto