Local 802 Heritage: Trekking Through a Century of Files (part 3)
Volume 123, No. 1
January, 2023
This is Part Three of my exploration into our Local's heritage by way of noted members' applications. As stated in previous installments, I'm working with the union administration and Executive Board on plans for an eventual public exhibit at the Local's building. This will include historic photos and archival forms, not the least of which derived from this treasure-trove of 802 membership applications dating over generations. Their relevance stands not only as a document of a given musician's entry or reinstatement into the union, but something of a biographical sketch in an age lost to time.
As before, this month's entries are listed in the chronological order of their application for membership.
XAVIER CUGAT (1900-1990) is acknowledged as one of the first to bring Latin music and dance as popular culture to the United States. Born in Spain, emigrating to Cuba as a toddler, Cugat and his family moved to New York in 1915 where he soon developed a reputation as a violin soloist, appearing with Enrico Caruso, among others, in performance. Not long after, at Los Angeles' Coconut Grove he led bands specializing in the tango, the latest dance craze inflaming the nation. His celebrity called for regular touring and ultimately a Waldorf-Astoria residency of some 16 years. Over the following decades, Cugat enjoyed bi-coastal performances of grand renown, boasting major hits with "Perfidia" and "Brazil", and appearances in numerous motion pictures. His band spawned the careers of more than a few future stars, not the least of which was Desi Arnaz. His career nearly covered the enture3ty of the 20th Century as well as ficve marriages, the last of which was to Charo.
In 1924, brandishing a dramatic, artful signature, Cugat applied for membership to Local 802, listing his address as 258 Wadsworth Avenue near West 186th Street. It's notable that, on his readmission application of '33, he'd made his home and home-base at the Waldorf.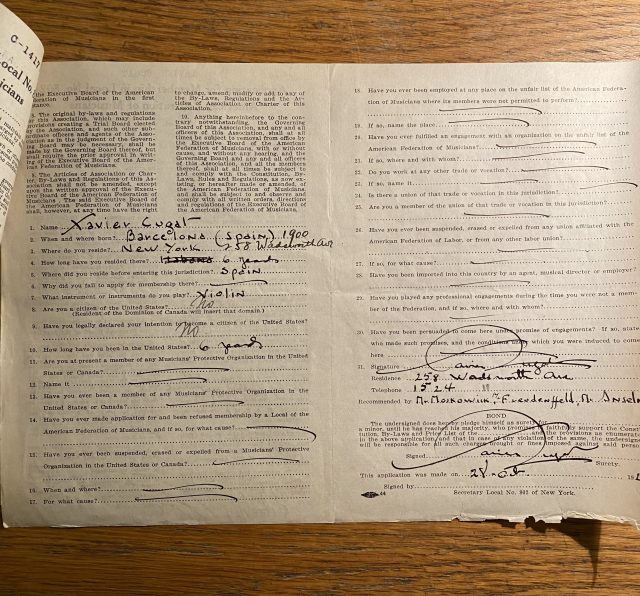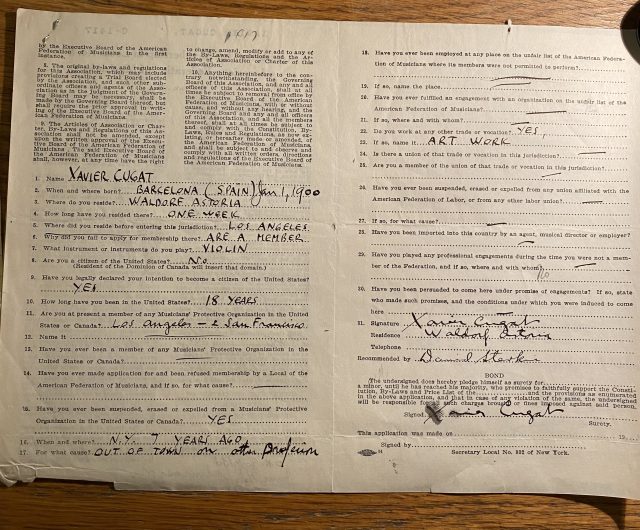 MILT HINTON (1910-2000), one of the great jazz and studio bassists who bridged eras, was born into a musical home in Vicksburg Virginia, relocating to Chicago with his family in 1919. The move placed "The Judge", as he became known, into what became the music's epicenter for some years, in time to see early jazz greats who'd traveled up from New Orleans and surrounding areas. He began playing violin at 13, switching to bass and tuba several years later, incurring gigs with the likes of Art Tatum, Zutty Singleton and Eddie South; his first recording session occurred in 1930, Tiny Parham's "Squeeze Me". By 1936, Hinton was in Cab Calloway's band, remaining 15 years, during which time they performed regularly at the Cotton Club. The array who came through this ensemble are legion and while maintaining employment with Calloway, Hinton also came to perform and record with a vast list of others.
By the 1950s, he'd begun regular session work, employed in television and radio as well as the recording studios. A first-call for TV talk and variety show bands, Hinton's bass drove the ensembles heard on The Dick Cavett Show and others, and his recording resume reads like a music history, with dates from Quincy Jones and Sam Cooke to Bob Brookmeyer, Dizzy Gillespie, Aretha Franklin, Coleman Hawkins, Bette Midler, Teddy Wilson and a host of others. Also, a celebrated photographer, Hinton recorded much of jazz history during his lifetime. His undated application to 802 "from Provisional" status, lists his prior AFM local as that of Chicago. His instruments are listed as "violin, bass violin" indicating the early '30s.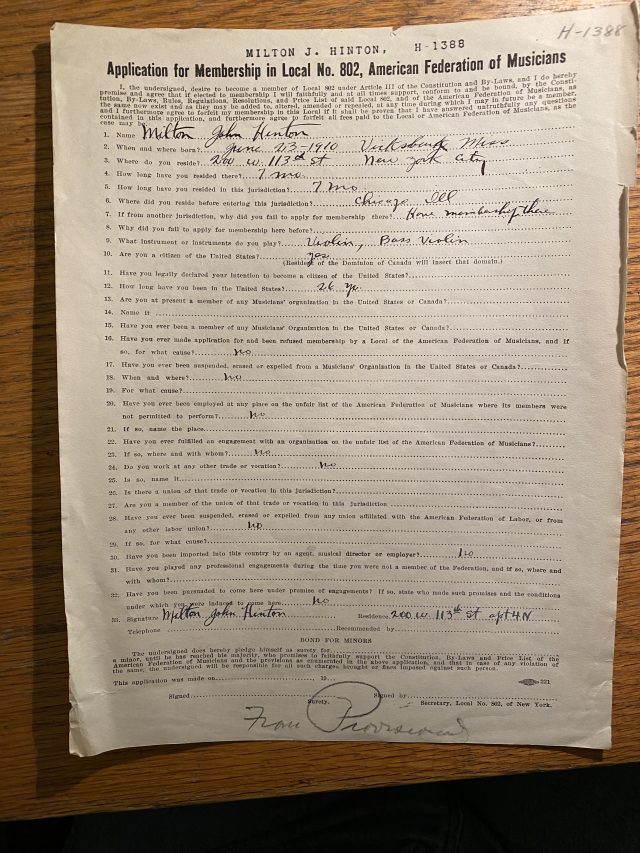 JOSEPH MATTHEWS "WINGY" MANONE (1900-July 9, 1982) was one of the major "hot jazz" trumpet players amongst whites from New Orleans fully inspired by Louis Armstrong. The loss of an arm in childhood brought about the nickname by which he was professionally known, but rather than succumbing to this disability, Manone developed an outgoing, humorous stage presence topped by a strong, brassy lead trumpet style and vocals. Playing Mississippi river boats, he traveled to various cities, first recording in 1924 with the Arcadian Serenaders. Traveling north, Manone was accepted into the "Chicago school" of jazz in the 1920s and made the move to NYC at approximately the same time as Bud Freeman, Eddie Condon, Gene Krupa and others, though he rarely held residence in any single area for long. Working within this revolving group, he led bands on stage and in the studio, but also served as a key session player for the likes of Benny Goodman between tours. Following the big band years, he performed in Dixieland settings and in and around Las Vegas and was also seen in several movies.
Manone figures highly into the legends of hot jazz, and specifically via Eddie Condon's autobiographical book We Called It Music which reports violinist Joe Venuti sawing the fingers off Manone's wooden prosthesis after both had engaged in a long night of drinking "hooch". It's assumed that the trumpeter first joined Local 802 not long after arrival here in 1929, however his original application remains lost at this time. We did find his 1941 and '47 reinstatement applications, further verifies his nomadic existence on the latter, he cited residence with trumpeter Marty Marsala–also a member–at the Forrest Hotel, 224 West 49th Street, where author and journalist Damon Runyon also lived for many years.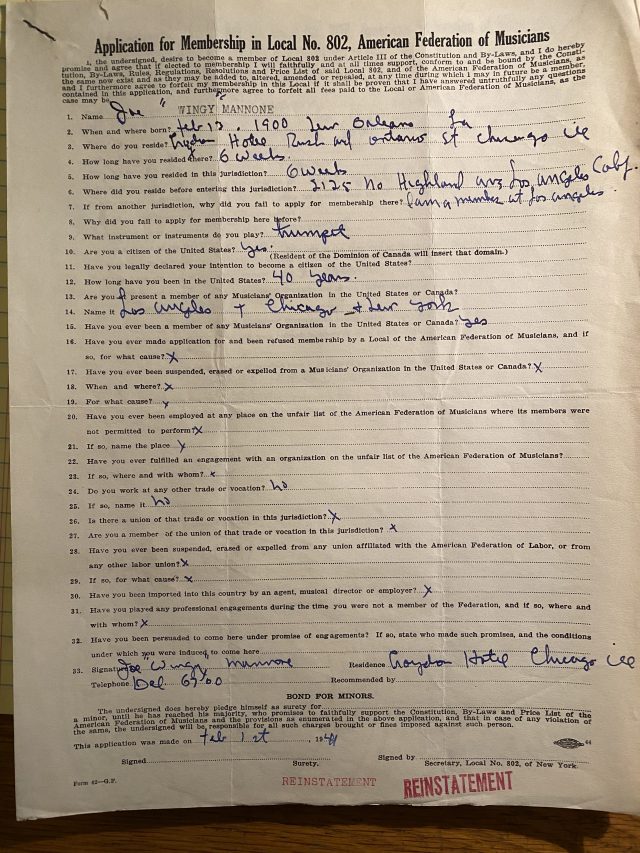 GUNTHER SCHULLER (1925-2015): To many, Schuller, accomplished French horn player and composer, is known as the founder of the "third stream" school, fusing jazz and modern classical music. Born in Queens, his father was Arthur Schuller, violinist with the New York Philharmonic. As a teen, Gunther was already performing professionally and soon became a member of the Metropolitan Opera Orchestra, performing under Toscanini, Stokowski, Walter, Reiner, Szell, Mitropoulos, and Doráti. By 1949, he'd completed his "Symphony for Brass and Percussion" and joined Miles Davis' Nonet, recording the legendary Birth of the Cool album with orchestrations of Gil Evans. Schuller was also present in the expanded orchestra for Davis-Evans immortal Porgy and Bess album (1958), but his career moved in many directions, including, in 1955, to organize the Jazz and Classical Music Society with John Lewis (of the Modern Jazz Quartet, who was perhaps the primary link in classical/jazz fusion). Schuller worked prolifically over the next decades, composing over 190 works, orchestrating the music of many others, collaborating with John Lewis, Charles Mingus, Gigi Gryce, and worked on projects of Frank Sinatra and Johnny Mathis, among others, and wrote important historical texts, particularly Early Jazz (1968). He later focused on ragtime as well as rural American music. Schuller also toured internationally as a respected conductor; his dedicated work on Charles Mingus' grand "Epitaph" (1989), shortly after the bassist-composer's death, is most notable; he maintained a highly active schedule teaching and administrating vast music programs throughout his life. Schuller, back in in 1942, applied for membership in Local 802 on the cusp of an international career. On his application, he'd stated that he was "too young" to have joined prior. Indeed, Arthur Schuller needed to sign for the 17-year-old.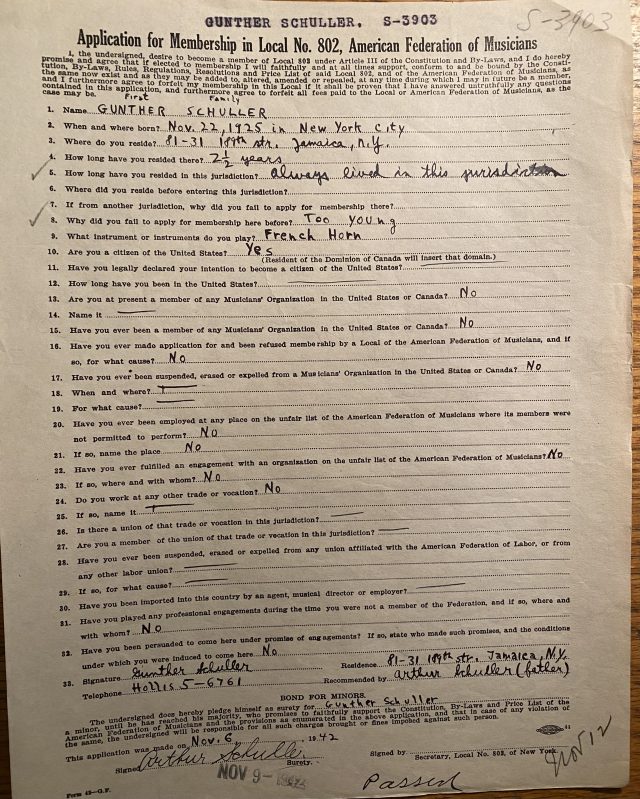 DITTA PASZTORY BARTOK (1903 -1982), pianist, was born into a musical and academic family in (what was then) Austria-Hungary, and rapidly excelled in her studies at Budapest Conservatory. At 18, she graduated into the Royal Academy of Music where she was taught by the great composer/musicologist Bela Bartok; within a year they were married. The pair performed an array of piano duo concerts in the region through 1940 when they left Europe for the US as the Nazi regime gained power. Sadly, once stateside, work was meager and Bela Bartok's composition hadn't yet been discovered widely. However, referrals and commissions from Fritz Reiner and Yehudi Menuhin, among others, saw the Bartoks performing "The Sonata for Two Violins and Percussion" in January 1943, at Carnegie Hall, with the New York Philharmonic. For her premiere here, Ditta Pasztory Bartok became a union member, listing her current address on Cambridge Avenue in the Bronx. Sadly, Bela was diagnosed with leukemia in this period and died in 1945, not many years before his artistry would be lauded. Ditta , who'd never learned the English language and had become highly isolated, sailed back to Budapest where she championed her late husband's music as both a performer and scholar. Recognized by then not as an artist in her own right, but as an advocate of Bela Bartok's legacy, Ditta Pasztory Bartok never returned to her initial career as a piano soloist.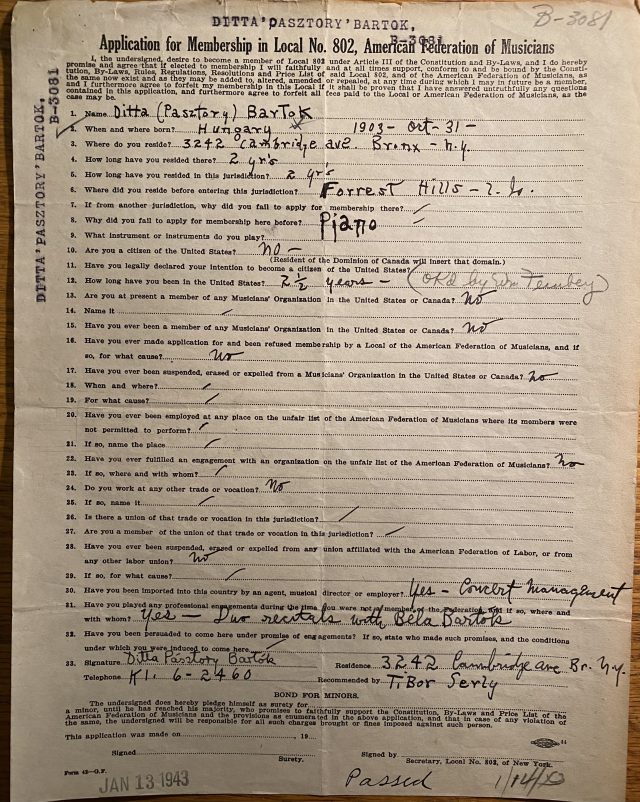 BERTHA "MADAME SPIVY LEVOE" LEVINE (September 30, 1906-January 7, 1971) was a celebrated pianist-vocalist, actor and early activist for the oppressed LGBTQ community. Born in Brooklyn, as a young woman she began performances in area speakeasies which, by the mid-1930s, led to engagements in major New York nightclubs where she was lauded "the female Noel Coward" due to her satirical, double-entendre-filled lyrics. In 1940 she opened Spivy's Roof on the penthouse of 139 East 57th Street, a highly successful gay and lesbian center of midtown nightlife. Due to the often-brutal homophobia of the day, the establishment was private and without signage yet attracted major film and Broadway stars in the know, particularly those living closeted lives. A pair of grand pianos across from the bar assured that Spivy could join in with the house pianist, usually Liberace to the thrill of the crowds. So popular had she become within the underground, that the entertainer was signed to Commodore Records for a series of 78 RPM sides compiled as "Seven Gay Sophisticated Songs".
Following her club's 1951 closure, Spivy focused on acting and was soon cast in several film roles and one noted episode of the "Alfred Hitchcock Presents" television program (many will recall "Specialty of the House"). Among her film work was the 1960 adaptation of James T. Farrell's "Studs Lonigan" and Rod Serling's powerful "Requiem for a Heavyweight" of 1962.