Joseph Anderer shares thoughts on his retirement from the Met
Volume 120, No. 9
October, 2020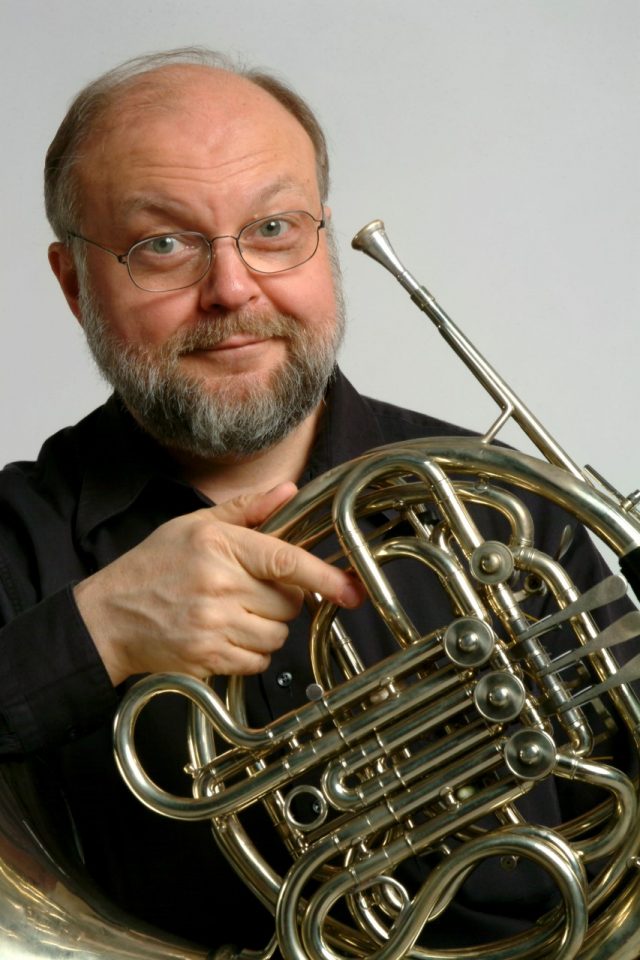 When I was about 10 or 11, not long after my dad died, my mom woke me up one morning- she had decided (largely because we had a piano) that I should take piano lessons. I think I may have been upset at first about that, but I did it- there was an old Cossack in our neighborhood who taught piano, and I went to him for lessons. He was a very colorful character for our neighborhood, which I guess I found sort of fun in our Irish, German, Polish, Italian little enclave in Philly. I did all the basic stuff with him- scales, Czerny, Hanon etc., and I MAYBE eventually started to enjoy it (sort of, but not the Hanon stuff!). Anyway, there was this guy who had his lesson before me- I couldn't see him, but I could hear that he was a monster on the piano, and he caught my ear in a sort of primal way, I suppose. I later learned who he was, this tall dude named Leon Bates, who went on to an excellent career- unlike me, as a PIANIST!- I heard him play a concerto with the Queens Symphony when my wife played there and my friend was conducting, and I have other friends who toured with him playing chamber music. I very belatedly take my hat off to him, probably my first inspiring musical figure!
Then I went to high school, where I discovered that there isn't a piano in the band L. They made me pick an instrument, and I really wanted to be in the band by then. My first choice was the clarinet (my wife finds that amusing for some reason), but #2 was the horn, and when they found that out, they grabbed me by the ear and took me to be examined by the horn teacher, who looked at my teeth and said I'd probably be OK. They sent me home with a horn, and I started fooling around with it.
Now I MUST tell you a bit about my teacher, Giacinto Vitacolonna, who was in his upper 70's at the time- in his youth he had studied with Anton Horner (Philly Orchestra principal, and teacher and "godfather" to a whole generation of the greatest East-coast American players). Vitacolonna had played in the Sousa Band in his early days, and he had been 1st horn at the Aldine Theatre (it's still there as a movie house under a name I forget). It was a silent movie house- at the time, it was a higher-paying job, with more weeks of work, than the Philadelphia Orchestra- he told me he had turned down a job offer from them! Vitacolonna played quite a lot with the Philly Orchestra as an extra- he told me stories about Mengelberg and Richard Strauss. And HE was my first teacher! He was such a gentleman- when I inevitably played something poorly in my lesson, he would utter some curse words (no stronger than "Damnit", though) and he would immediately apologize for his language.
At St Joe's Prep in North Philly (my high school, near Temple U, and also in the 'hood where my parents grew up) my first band director was none other than the very young Bill McGlaughlin, still earning a degree at Temple U, but already subbing with the Philly Orch as a trombonist. You may know him as the former host of "St. Paul Sunday", or currently (for many years now) 'Exploring Music", syndicated all over the USA. He was a great mentor!
Bill got a job with the Pittsburgh Symphony as a trombonist, and was later the Music Director of the Kansas City Philharmonic, all the while pursuing his other career in radio. Our next director was Bob Fitzpatrick, also earning a degree at Temple, and later the Dean of Curtis Institute. In the years that followed I played chamber music with him and other Philadelphians, and also a couple of concerti after he started conducting various orchestras in the area. I was a very lucky little fucker, and I progressed well on the horn with such great guidance.
My mentors also sent me up to Symphony Club (actually quite close my home), which was a community orchestra, but with an old and deep long-term connection to the Fleisher Collection, then (maybe still) the largest collection of orchestral music in the world. They say that Stoki would do recruiting there, back in the day. We read a different complete symphonic program every Thursday night! That's where I learned to sight-read, and also to transpose horn parts. Arthur Cohn was the conductor, (he ran a music publishing company and was a former director of the Fleisher Collection), a tough-as nails New Yorker (I aspired to that, too!). He didn't generally stop for anybody or anything, so we all had to keep our wits about us!  I once missed a subito piano in a Beethoven symphony (and we all know how important those are in Beethoven's language), and boy did I hear about that! He knew I wanted to be a musician, unlike most of the others, so he was a bit tougher on me! Many years later, I heard an LP of Dvorak's Symphony #5 (the real #5, not the "New World") for the first time, but I thought "this piece seems SO familiar!"- I found a list of Symphony Club programs from my time there, and damn if I hadn't already played that piece, but ONLY on that one Thursday night! What great training for the price of a trolley ride!
Then there was the time that Liz Ward, a summer horn "ringer" at Symphony Club park events, heard me play. She recommended me to her friend, Shirley Curtiss, a bassoonist who taught at Settlement School- a great Philadelphia Institution for many years, even greater now, and getting greater all the time! She recommended me for Shirley's wind quintet class- it was like handing a 16 year-old over to a drug dealer! I was hooked! My family had NO money, but Shirley's classes were free, and when my teacher got very sick (and eventually passed away), Shirley and Sol Schoenbach, the director of Settlement, set me up with lessons at Settlement for $1 a pop.
I got so much encouragement from these and other various musicians in my life, so I got more and more serious about pursuing music as a career. I decided to audition for several great schools, including Juilliard. I was accepted there, by the skin of my teeth, as I saw it! I had other opportunities with more financial assistance, but I thought, having only been a hornplayer for about 3.5 years, I really needed to be in a "pressure cooker" environment, and I felt very committed to that. I think I made a very good decision to borrow money and go to NY. My teacher there was Ranier DeIntinis, also the teacher of Erik Ralske, my partner in the Met principal game for many years. "Dinny" also taught my dear friend Jeff Lang, whom I met when he was still in high school- he's now associate principal horn in Philly. He was a great teacher for all of us!
At Juilliard I was in James Chamber's orchestra rep class, although I never studied horn with him. There was this one day that I got a call from the NY Phil, where he was the personnel manager. One of the guys was sick- could I come over and sub for him in a performance that night?- it was "The Planets", with Maestro Bernstein! I ran over to their library, got the part, and wood-shedded that damn thing for the entire afternoon! The concert seemed to go pretty well for me, and I also got to play a recording session the next morning. Around that time they had to revise their sub list- one guy had joined the orchestra, another had left NY, and so on. Somehow, I ended up in the #3 spot on their sub list that spring (I was still an undergraduate then). If you find yourself in the first 3 on that list, it means you get called for ALL of the Mahler, Bruckner and Strauss pieces with 8 horns, also Varese (well, after Boulez showed up, anyway) ;-). I managed to stay on that list for 14 years, toured all over the world with them, and what a great experience all that was!
When the Met 1st horn audition came up in 1984 I was a happy and VERY busy freelancer (my teacher used to kid me about my occasional 18 service weeks), and I didn't feel I had time to prepare an audition recording. I didn't even send in a letter to apply for the job, but I had worked occasionally with several of the Met guys and also did the occasional stage band call for the Met. At least one of the Met hornplayers told me I was NUTS not to take the audition! One day, I received a letter telling me that I had been passed out of the "tape" round (never having applied for the position!), and I was invited to the live audition. You can imagine what a thrill that was! A few weeks later I got another message asking me to be the interim principal for the 84-85 season. OMG, as people (MUCH younger than I) say!!!
I decided then and there that I should probably take this whole "audition thing" seriously. I worked my buns off that whole summer. I even ALMOST won the audition (I was runner-up to Julie Landsman). The year I played for the Met on the 1st chair was an amazing experience. When spring came, former principal Dick Moore, who had been my very entertaining assistant for a lot of that season (and whose "asides" during rehearsals were precious, and really helped with my nervousness), decided to retire. He had been my wife's teacher and the teacher of many other friends, and we became good friends during that year.
That spring, I went off on tour with the NY Phil. I had heard that I was being considered to replace Dick, but fully expected to go back to my freelance life, including the Boehm Quintette, which I dearly loved and had commissioned quite a few superb pieces from Charles Wuorinen, Ben Weber, Ralph Shapey, Irwin Bazelon, etc. I had also a founding member of St. Luke's Chamber Ensemble (and later on the Orchestra of St. Luke's) for 10 years by then, and they're still my musical "family"- I can't say enough good things about them, and when I say THEM, I include not only my amazing colleagues, but also our phenomenal managers and especially our super-supportive board of directors!
Getting back to the story of my getting hired at the Met- as it turns out, a NY Phil "tour buddy" of mine, Ruth Negri (who was married to a member of the Met orchestra) saw me at breakfast in Berlin, called me over an told me that I HAD to call the Met right away so Abe, the personnel manager, could hire me. The story of that day is so zany- trying to make a collect call on a pay phone at the Berlin train station (impossible at that time), administrators letting me into Zubin Mehta's dressing room to use his phone after he went to the stage (of course, I got Abe's answering machine- grrr…), and finally making a collect call from a party at Berlin hornist Klaus Wallendorf's house late that night (we were going to Dresden the next day- still EAST GERMANY back then!) That call just HAD to happen, and it DID, on that night 35 years ago!
Also along the way came an invitation from Martin Engstrom at the Verbier Festival in Switzerland. I was able to say "Yes' and it's become one of my (and Virginia's) most treasured experiences! At the top of the list of our treasures are my friendships and professional relationships with our "colleagues" (some call them "students", but these young people are some of the best "pros" we have today) of the Verbier Festival Orchestra- not to mention Martin, Blythe (his wife) and John Helyar, our manager. Virginia and I have had such great times with our many friends from the orchestra over the years! Of course also we include the many Alphorn moments we've had at horn and brass parties and also outside the "Comba", our rehearsal space. That's the Short List- I'd also add Switzerland, which we still enjoy no end, after all these years!
To make a very long story a tiny bit shorter, I guess you could say I lived happily ever after, with the greatest group of musicians and colleagues in the world. At the Met I played "assistant" and stage bands for a while, then 2nd horn for a season (I ended up playing all of the 2nd horn stuff on our Ring cycle videos from that time), then I was promoted to 3rd, which made me VERY happy. I moved back to the principal chair in 2003 (wondering if I would survive!)- again on a one-year basis. After a season which included Tristan, the Ring cycle, "Italiana in Algeri" and other such ditties, and concluding with Mahler's 9th, I was given the principal chair with tremendous support from my colleagues and my "bosses".
I have enjoyed all of this thoroughly, but a year ago I discovered that I was the oldest principal in the orchestra, and also I figured out that nobody my age (as far as I know, in the entire world), was still doing the kind of schedule the Met Orchestra does, or shall I say "did"- that was THEN. Besides, I thought, there's something quite perverse, if not outright WRONG, about the horn-player being the oldest principal, in my humble opinion! I thought it wise to say "enough", even though it really wasn't enough for me, and I'll miss it so much… I'm very grateful for all of this and also for many experiences I haven't included here. If you're still reading all this, thank you so much for your patience!