Katarzyna Bryla-Weiss joins Orchestra of St. Luke's
Member spotlight
Volume 119, No. 10
November, 2019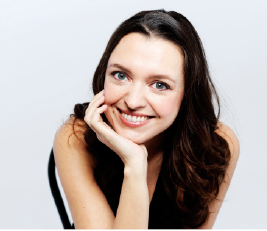 Katarzyna Bryla-Weiss, a violist and a member of Local 802 since 2014, was born into a family of musicians and has gone on to earn more than two dozen prizes and awards in the United States, France and her native Poland. Katarzyna regularly performs with orchestras, chamber groups, and as a soloist in an international career that has taken her across four continents. She recently became a member of St. Luke's Chamber Ensemble, the artistic core of Orchestra of St. Luke's.
Katarzyna is currently a member of the Orchestra of St. Luke's, New York City Ballet Orchestra and New York Pops Orchestra, and regularly appears with New York City Opera. She was a soloist with the Baltimore Chamber Orchestra in their tour of China in 2010, and was soloist for the noted Maazel/Vilar Conducting Competition in Cracow in 2001.
Katarzyna has performed in numerous renowned music festivals, including Classical Tahoe, Napa Valley Music Festival, Central Vermont Music Festival, Music@Menlo, Cactus Pear Music Festival, Bach Dancing and Dynamite, Singapore Sun Music Festival, Las Palmas Music Festival in Grand Canary Island Spain and many others.
Her teachers include Christian Tetzlaff, David Cerutti, Herbert Greenberg, Hongang Li, Jadwiga Kaliszewska, and her father Bartosz Bryla.
Katarzyna recorded a viola/guitar CD with classical guitarist and composer Marek Pasieczny and is working on a recording of all Bach's gamba sonatas with her mother, harpsichordist Maria Banaszkiewicz-Bryla. She is also hoping to release a solo album next year.
She can be heard on YouTube performing Mark O'Connor's "Appalachia Waltz for Viola Solo" and Max Reger's "Suite No. 1 for Viola Solo."
Christian Tetzlaff personally invited her in 2009 to take part in the master classes of the prestigious Kronberg Academy in Germany.
In 2016, she made the cover of Revia magazine. New York Classical Review singled out her contribution to a performance in a 2019 review.
Katarzyna lives in Brooklyn with her husband, flutist David Weiss, who is also a member of Local 802.