An interview with Kristen Blodgette
Volume 123, No. 3
March, 2023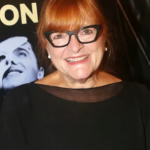 KRISTEN BLODGETTE
I started piano at age four. It was my place of solace. I was originally attracted to it after seeing and hearing my older sister's friend play. I wanted to be like her. My father took lessons with me and supported me as we went along.
My main influences were Broadway show albums and Leonard Bernstein's Young People's concerts. I was obsessed with Barbra Striesand and wrote to her every day. Growing up in Cleveland, Ohio, I was lucky my middle and high schools had excellent music programs. I played the French horn in addition to piano. I knew at age 10 I wanted to be a musician.
I feel fortunate that my standout experiences are the ones I'm in at the moment. Conducting Phantom of the Opera which has been so close to my heart is one. Working with Glenn Close and the amazing orchestra on Sunset Boulevard was another. When I was very young I played for Cy Coleman and toured the country playing one of the two piano parts for Barnum.
Challenges have mostly been internal. I know I have colleagues who were denied opportunities because of their gender but that never happened to me. I was very lucky to get the gigs. But as a young conductor it took me a while to figure out how to show up and be a leader in a setting for which I didn't have a role model. In trying to lead in a balanced way I felt I had to wear a kind of cloak of strength that didn't really reflect who I am. As I gained more experience I learned that the best way to show up is to be my authentic self. It feels better balanced now.
I am sad that Phantom is closing. It has been a wonderful run and a wonderful place to call home. I will miss all of it.
---
BIOGRAPHY
Kristen Blodgette (Musical Director/Supervisor) has been associated with Andrew Lloyd Webber for 35 years.
Associate Musical Supervisor; The Phantom of the Opera Broadway. Supervised 18 additional companies of Phantom worldwide over 30 years.
Musical Supervisor of upcoming Broadway production of Bad Cinderella, the 2017 revival production of Sunset Boulevard featuring Glenn Close, Broadway revival of Cats and the Broadway revival of Evita with Ricky Martin. Other Broadway productions include; A Little Night Music, Mary Poppins, LoveMusik, The Woman in White, Chitty Chitty Bang Bang, Cats, Sunset Boulevard ('94), Jesus Christ Superstar. Rehearsal pianist for the original Broadway production of Carrie with Betty Buckley.
Additional credits: Andrew Lloyd Webber's Love Never Dies in Hamburg, Operetten Haus, Associate Conductor for Bounce, National tours of On Your Toes, Jerry's Girls and Barnum.
Bernice Brooks, (Drums) is a drummer, television producer and teaching artist. She is without doubt one of the most versatile female drummers locally, nationally and internationally. After studying at the Conservatory of Music in Chicago with various teachers and instructors, she honed her skills at various venues with different musical directors, leaders, bands and groups from all over the planet. She has produced a television show for the last "20" twenty years on bricartsmedia.org "The Bernice Brooks Show" with commercials, theatre and many recordings on her resume. She has a long list of artists and performers that she has opened for or played as side musician with. Sheila E, The O'Jays, Ray Charles, Tito Puente, Bill Withers, Elvis Costello, Joanne Brackeen, Etta James, Gregory Hines, Savion Glover and so many great Gospel, Jazz, Blues and R&B. She has been touring with the MacArthur Fellows Genius Grant awardee "Taylor Mac" for the last four years.
---
This interview by Martha Hyde and Sara Cutler first appeared in the March 2023 issue of Allegro, the magazine of the NYC musicians' union Local 802 as part of a feature called "Women's Lives, Women's Stories"