Labor Against the War
Volume CVI, No. 4
April, 2006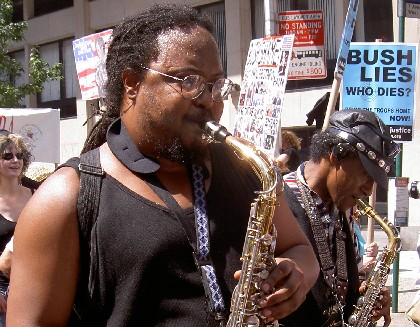 March for peace, justice and democracy, and spread the word to bring our troops home now! On April 29, join other labor activists in saying no to the war in Iraq.
JOIN THE LOCAL 802 CONTINGENT AT THE
APRIL 29 RALLY TO STOP THE WAR IN IRAQ
Labor will be a large and important part of the April 29 demonstration to stop the war in Iraq. In fact it could well be the largest labor antiwar action in many years! There will be a pre-march Labor Rally at 10:45 that will take place on East 19th Street, between Broadway and Park Avenue South. We invite you to join the Local 802 contingent. We will meet on the southeast corner of 19th and Park Ave. at 10:30 a.m. and then join the pre-march labor rally. Hope to see you there!
Please visit www.april29.org for more rally information.
The Local 802 Executive Board has endorsed this event.