Labor History Month: The Sound of History
Music Tells Stories that Textbooks Ignore
Volume CVI, No. 5
May, 2006
Woodie Guthrie. Photo credit: Robin Carson/The Woody Guthrie Archives.
Take a trip with me in 1913
To Calumet, Michigan, in the Copper Country.
I'll take you to a place called Italian Hall
Where the miners are having their big Christmas ball.
—Woody Guthrie, "1913 Massacre"
Sometimes you can learn more about labor history from music than from a textbook. That's what two New Yorker filmmakers discovered after listening to Woody Guthrie's mournful song, "1913 Massacre." Louis Galdieri of Brooklyn and Ken Ross of Manhattan were so intrigued by the song's description of a tragic event in the lives of union miners some 90 years earlier — an event they'd never read about in history books — that they made the 2,200-mile round trip from New York to the northwest corner of Michigan's Upper Peninsula to learn more.
There, in the heart of the once thriving Copper Country, they found the site that Guthrie memorializes in his song. It was on Christmas Eve, 1913, that 74 people — most of them children — were crushed to death trying to escape from Calumet's Italian Hall in one of the grimmest events in U.S. labor history.
The victims were enjoying a holiday party for the families of copper miners who had struck to protest the introduction of the dangerous one-man drill — nicknamed a "widow maker" by the miners — and to seek a $3.50-a-day wage and a two-hour reduction in the 10-hour workday.
For five months, the miners and their supporters, including famed organizer Mother Jones, had marched in the streets of Calumet. With winter winds blowing and deep snowdrifts blanketing the town, their union, the Western Federation of Miners, organized a Christmas Eve party at the Italian Hall, with a decorated tree, Santa Claus, candy, and gifts. Sometime during the party, a call of "fire" rang out, panicking the crowd. Rushing to leave, they overturned chairs and tables and tumbled down the staircase leading from the second-floor hall to the street below. Jammed up against the doors at the bottom, which were designed to open inwards, they suffocated. Some miners blamed a scab or company agent for the false alarm, but the person who yelled "fire" has never been identified.
Woody Guthrie wrote his song in 1941 after he'd read an account of the event by organizer Ella Reeve (Mother) Bloor. That song is the touchstone for a 90-minute film of the same name produced by Galdieri and Ross. The film will be a "musical documentary," with apperances by Woody Guthrie's son Arlo, who sang his father's song at the Calumet Opera House in 1994, where he was interviewed for the film, as well as folk artist and Local 802 member Pete Seeger, singer/songwriter Dan Zanes (a member of AFM Local 374), and other musicians.
Ross and Galdieri not only found and interviewed six survivors of the Italian Hall tragedy — men and women now in their 90's — but they met Calumet residents who still play the traditional music of their Finnish, Cornish, Croatian, Italian, and other forebears on bones, spoons, mandolins, fiddles, harmonicas, and concertinas. "Music is woven throughout the film — Finnish songs, Lutheran hymns, mazurkas, schottisches," says Galdieri. "We found people playing the same music that the miners danced to ninety years ago. Music in and of itself can raise people's consciousness, and it will be at the heart of the film."
The copper miners' strike did not have a happy ending. The Western Federation of Miners halted its walkout after nine months, and many miners sought work elsewhere. Calumet & Hecla, the Boston-owned conglomerate that ran the mines, refused to give up the one-man drill, although later they did raise wages and reduce work hours. The mines continued to produce copper for several years, but today they are depleted. All that remain are abandoned mine shafts, a union-built memorial park at the site of the Italian Hall (which was torn down in the 1980's), the recollections of the few remaining survivors and their descendants who refuse to let history be ignored, and Woody Guthrie's song:
The piano played a slow funeral tune,
And the town was lit up by a cold Christmas moon;
The parents they cried and the miners they moaned,
"See what your greed for money has done."
---
"FORGOTTEN:" MURDER AT THE FORD ROUGE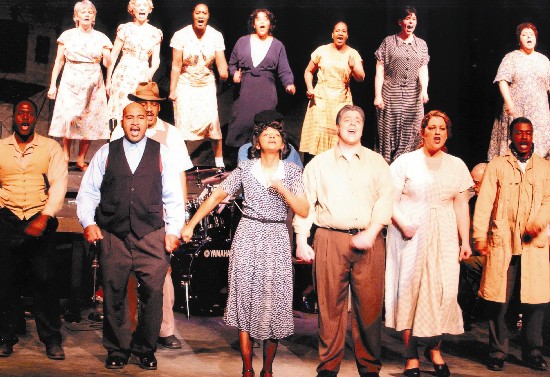 SINGING IN SOLIDARITY: When music, culture and labor meet, the result is electric. Pictured is the cast of "Forgotten" a musical about working people in Detroit. Photo by Shawn Ellis.
It's not surprising that Michigan — with its heritage of copper and iron mines and its legendary auto industry — is also the setting for one of the first new labor musicals since the ILGWU produced Harold Rome's "Pins and Needles" on Broadway in 1937.
"Forgotten: The Murder at the Ford Rouge Plant" is a jazz/blues opera based on the life of the Rev. Lewis Bradford, a Methodist minister who went to Detroit in the 1930's to work in a homeless shelter where he organized workers. He was found fatally injured on the shop floor at the Ford River Rouge plant in nearby Dearborn in 1936. Like the Italian Hall disaster, his story never made the standard textbooks, but it survived in the family lore of Steve Jones, Bradford's great-nephew by marriage.
"I had heard about Bradford ever since I was young," Jones said, "My brother, Peter, who directs the AFL-CIO Labor Heritage Foundation, had written a song about his life. But I wanted to learn more, so I went to Detroit." After months of searching, Jones found the autopsy report for his great-uncle in 2001 and took it to the local medical examiner, who read the report and declared that Bradford's death could not have been accidental, as Ford claimed at the time, but should probably have been labeled homicide.
This discovery led Jones, who lives in suburban Washington, D.C., to compose 25 songs based on Bradford's life and the struggles of Depression-era workers. His songs include "Battle of the Overpass," "We Speak Louder Than Machines," "The Ford Hunger March," and a show-stopping number, "Radio, Guns, and Money," sung by the actors who play Henry Ford, his chief enforcer Harry Bennett, and his friend, the anti-Semitic Fr. Charles Coughlin. The three are nicknamed the "bee-gees" (for "bad guys').
Jones is a member of AFM Local 161-710 (Washington, D.C.).
"Forgotten" was previewed in 2002 at the AFL-CIO George Meany Center in Maryland, and was produced in 2004 in Detroit, with AFM Local 5 members Bill Meyer as musical director and Mark Moultrup in the role of Henry Ford. They joined a cast and crew of Actors Equity members and rank-and-file members of several unions. The production returned to the stage last year in Detroit, has been produced by Macalester College students, and was performed before the Machinists Union convention in Cincinnati. Jones, director Elise Bryant, and cast members showcased some of the musical's songs at Local 802 last year. A cast album has recently been released.
For further information on the Italian Hall film, go to www.1913massacre.com. For information on "Forgotten," go to www.ForgottenShow.net, where you can also order a CD featuring the Detroit cast and AFM Local 5 member Bill Meyer.
ONE WHO SURVIVED
I never knew my Uncle Ted Taipalus well, but sometime in the early 1980's, after playing him a recording of Woody Guthrie singing "1913 Massacre," I learned something about him that stunned me.
After listening to Guthrie sing about the scores of children crushed to death in the Italian Hall after someone yelled "fire" at a Calumet, Michigan Christmas party for striking copper miners, he said, matter-of-factly, "I was there that day."
Ted, who was nine at the time, and his brother and two sisters were at the party because their father was a striking miner. He and his brother escaped out a second-story window, but both sisters died in the crush to get out.
"I had never seen my father cry before," Ted told me. "He was so bitter that after the strike, he never went back into the mines."
Five years ago, I was in Michigan's Upper Peninsula with a friend, researching labor history sites for a Michigan Labor History Society wall map. After visiting the Italian Hall site — now a memorial park built with the help of local unions — we went to a local bar, where we heard a couple of men talking about the tragedy. We invited them to our table, and one said he was a singer who had just performed in the premiere of "Children of the Keweenaw," an opera about the disaster. I recounted my uncle's story to him, and he asked me for Ted's last name. When I replied, "Taipalus," he started to sing an aria that included the names of each child killed in the disaster. As he sang the names of Elena and Sandra Taipalus, I had to fight back tears. Had they lived into adulthood, I would have known these two young girls as part of my uncle's family. Instead, they have become a virtual, almost mystical connection for me, spanning more than 90 years — from the events that so profoundly affected my uncle's family in 1913 to all those workers who are on the front lines today still defending the rights of labor.
Dave Elsila is a 30-year veteran of labor journalism; he was editor of UAW's Solidarity magazine for 22 years, and before that AFT's American Teacher. He volunteered this story for Allegro based on his current projects, which include producing the union musical "Forgotten" in Detroit and raising awareness for the labor history movie "1913 Massacre."