Latina Poeticians Rebel Through Music
Women's History Month
Volume 117, No. 3
March, 2017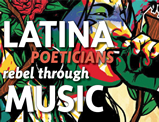 In the era of cheesy love songs, scorned lovers' tunes and branded songwriting with unashamed product placement, a few select and daring artists have raised the loudspeaker to say what they have to say. These artists use their music and lyrics to express anti-establishment sentiments and protest themes. Many delve in their current political environment, singing anti-war songs, explaining feminism, denouncing injustice, and even getting involved in political campaigns. In understanding the political context, it's important to learn the history and events that inspired the music, particularly that of Latin America.
Contemporary music has often boxed women – particularly Latinas – in the "saleable themes" structure: sex, beauty, love, parties and branded entertainment. As fulfilling as it is to sing a jealous rant for being stood up over a younger version of one's self, there are more pressing and important matters affecting all equally.  Some Latinas have taken their craftswomanship and musical ability to shake the political needle of the world's turntable. Unafraid, untamed, uncensored and strong, the following Latinas are a sample of many recording artists who've burst the pop bubble and used their voice for activism. These poeticians are true Latina rebels.
Joan Baez: Joan Chandos Baez is a Mexican-American folk singer, songwriter, musician and activist whose contemporary folk music often includes songs of protest and social justice. She's best known for her covers of "The Night They Drove Old Dixie Down" and "There But for Fortune," while serving as a voice for protest movements around the world. Joan dedicated her first Spanish album to Chilenos suffering under the rule of Augusto Pinochet. Public performances of one of Joan's songs, "No Nos Moverán," was banned in Spain for more than 40 years under Franco's rule. Joan became the first major artist to perform the song in public on a controversial Madrid television appearance in 1977, three years after the dictator's death. In "Diamonds and Rust," she gives her spin to a love song:
Well I'll be damned
Here comes your ghost again
But that's not unusual
It's just that the moon is full
And you happened to call
And here I sit
Hand on the telephone
Hearing a voice I'd known
A couple of light years ago
Heading straight for a fall
As I remember your eyes
Were bluer than robin's eggs
My poetry was lousy you said
Where are you calling from?
A booth in the midwest
Ten years ago
I bought you some cufflinks
You brought me something
We both know
what memories can bring
They bring diamonds and rust
Ana Tijoux: Chilean hip-hop artist and musician Ana Tijoux was born in France in 1977 to parents who were jailed and later fled Chile under Pinochet. "Hip-hop is the land of the people that don't have a land," she told Democracy Now. Her work explores Latin American social justice and political issues – particularly decolonization of mental slavery and indigenous rights. She wrote about the secretive Trans-Pacific Partnership trade deal:
No al TPP y no a la letra chica
que no se ve
Por la libertad y la salud de conocer
la real etiqueta de lo que no se ve
Corre la voz y cuéntale
a tu hermana y tu vecino
Que se viene un huracán silencioso
a decidir nuestro destino
(Translation: "No to the TPP, and no to the fine print that is unseen. Spread the word, and tell your sister and your neighbor that there is a silent hurricane coming to decide our fate.")
Her critically acclaimed and equally controversial album "Vengo" came blasting with her political approach to Latina feminism. Her hit "Somos Sur" features Shadia Mansour, also known as "the first lady of Arabic hip hop," a Palestinian rapper focused on Middle East politics and well-known for criticizing Israel's occupation of Palestine as well as Israel's role in the Gaza War:
Tu nos dices que debemos sentarnos,
pero las ideas
solo pueden levantarnos
caminar, recorrer,
no rendirse ni retroceder,
ver, aprender como esponja absorbe
nadie sobra, todos faltan,
todos suman
todos para todos, todo para nosotros.
Soñamos en grande
que se caiga el imperio,
lo gritamos alto,
no queda más remedio
esto no es utopía, es alegre rebeldía
del baile de los que sobran,
de la danza tuya y mía,
levantarnos para decir "ya basta"
Ni África, ni América Latina
se subasta,
con barro, con casco, con lápiz,
zapatear el fiasco
provocar un social terremoto
en este charco.
(Translation: "You tell us we should sit down. But ideas can only rise us. Walk, march, don't surrender or retreat. See, learn like a sponge absorbs. No one is surplus, all fall short, all add up. All for all, all for us. We dream big that the empire may fall. We shout out loud, there is no other remedy left. This is not utopia, this is a joyful dancing rebellion. Of those who are overrun, this dance is yours and mine. Let's rise to say 'enough is enough.' Neither Africa or Latin America are for auction. With mud, with a helmet, with a pencil, drum the fiasco. To provoke a social earthquake in this puddle.")
Lila Downs: For two decades, Mexican-American Lila Downs has traveled throughout the world reinterpreting the roots of music, from blues, jazz and soul to cumbia, rock, even rap and klezmer music. She weaves various musical forms with traditional Mexican and native Mesoamerican music, singing in Spanish, English, and the languages of the Mixtec, Zapotec, Maya and Nahuatl cultures. Her latest award-winning album, "Balas y Chocolate," spotlights Downs' concerns over the erosion of civil rights and justice, the still escalating threats to the country's journalists, the excess in modern life, lost love and more. The title track is dedicated to migrant children, while the single "La Patria Madrina" is a duet with Colombian superstar Juanes that pledges to passionately fight for the values of one's land and society. In 2016 she recorded the anti-Trump hit "The Demagogue":
At the edge of the world
Where the factories are
There's a burning of hatred
That's crossing the lines
There's a blue eyed devil man,
Thinks he's king of the world
He's a bully, a salesman
Selling fear and hate
Who do you think you are?
He plays us with his hate
Turns man against man
But it's really not a game
And I pray to the ancestors' love
Do not be fooled
by this man's foolish talk
The serpent woke again
In different times and places
There's a burning cross,
Leading the mob
People in chains
He's a Quak circus act
creeping from the past
He's the symbol of the monster
we no longer want to be
(what we used to be…)
The earth trembles with these names
Mussolini, Adolph Hitler, Pinochet
No respect for woman,
no respect for race,
No respect for anything that lives,
the human race
But he cannot buy our soul
Snow Tha Product: Claudia Alexandra Feliciano, a Mexican-American hip hop artist, is known for her rapid fire style of rapping. She is bilingual, speaking fluent English and Spanish, and frequently intertwines in both languages. She brings the Gen-Z perspective to Latin urbanism while maintaining a politically charged tongue. Her latest collaboration was in the critically acclaimed "Hamilton Mixtape" where she spoke her mind in the iconic song "Immigrants, We Get The Job Done":
It's a hard line
when you're an import
Baby boy, it's hard times
When you ain't sent for
Racists feed the belly of the beast
With the pitchforks, rich chores
Done by the people that get ignored
Ya se armó
Ya se despertaron
It's a whole awakening
La alarma ya sonó hace rato
Los que quieren buscan
Pero nos apodan como vagos
We are the same ones
Hustling on every level
Ten los datos
Walk a mile in our shoes
Abróchense los zapatos
And it started
And they awoke
The alarm went off a while ago
Those who want, search
But they label us hoodlums
Here's the details
Better buckle your shoes
I been scoping ya dudes,
ya'll ain't been working like I do
I'll outwork you, it hurts you
You claim I'm stealing jobs though
Peter Piper claimed
he picked them, he just
underpaid Pablo
But there ain't a paper trail
when you living in the shadows
We're America's ghost writers,
the credit's only borrowed
It's a matter of time
before the checks all come
But…Immigrants,
we get the job done
Caridad "La Bruja" De La Luz: Spoken word poet, actor, singer-songwriter, and community activist Caridad de la Luz, or "La Bruja," was born and raised in the Bronx. The musical theater performer has appeared Off Broadway at the Producers Club, La Téa Theater, Puerto Rican Traveling Theater/ Pregones and the famed Nuyorican Poets Café. She's been a featured spoken-word poet on HBO's Russell Simmons Presents Def Poetry and HBO Latino. She leads her "How can I change the world?" writing workshops at the East Harlem Tutorial Program, and is a frequent performer at schools, universities, jails, hospitals, and community centers nationwide and proudly represents "Voices unBroken." She was recently honored as one of the "Top 50 Latinas" in the Art and Business world by El Diario. De la Luz's performance and poetry explore social justice and 'Nuyorican' identity. She evokes Puerto Rican literary icons such as Julia De Burgos, Pedro Pietri and Miguel Piñero, among many others. She's critical of gentrification, patriarchal power and injustice against marginalized communities. In "Keep It Movin' Like" she tackles drugs and feminism:
Super size the world
Super size your girl
Super size your Duke of Earl
Diet pills
Cheap thrills
Medicines for every ill
Marketing campaigns
That Pressure your brain
To do what they say
Souls get shoplifted
The horse was not gifted
Details I missed it
Except yesterday
The cop's face turned grey
At a little baby wrapped in duct tape
Crazy world, Stepford wives
Man-made slender thighs
Wrong is made right in their eyes
We read the gossip
So and so got accosted
Solid case but the judge tossed it
Walkin' away actin' like
Poof, there's no proof
What I did I didn't do
And you help me and I'll help you
That's just how we do,
Parlez-vous?
Finally, Alynda Segarra is a Puerto Rican woman planting her Boricua flag on the American folk tradition. She is the lead singer of the band Hurray for the Riff Raff. In her album "Small Town Heroes," Segarra's musical explorations surpass pop's recycled themes. These are deep songs that abhor violence, touch on feminism and seek to celebrate freedom of expression and political activism. Her song "The Body Electric" was named "Political Song of the Year" by American Songwriter magazine:
Oh, and tell me, what's a man
with a rifle in his hand
Gonna do for a world
that's so sick and sad?
Tell me, what's a man
with a rifle in his hand
Gonna do for a world
that's so gone mad?
He's gonna shoot me down,
put my body in the river
Cover me up
with the leaves of September
Like an old sad song,
you heard it all before
Well, Delia's gone,
but I'm settling the score
Oh, and tell me, what's a man
with a rifle in his hand
Gonna do for a world
that's just dying slow?
Tell me, what's a man
with a rifle in his hand
Gonna do for his daughter
when it's her turn to go?
Recognizing March as Women's History Month, these musical Frida Kahlos highlight the contributions of outspoken Latinas. Their music reflects resistance anthems that empower movements seeking justice for all.