Legacy of Leadership
Volume CVII, No. 11
November, 2007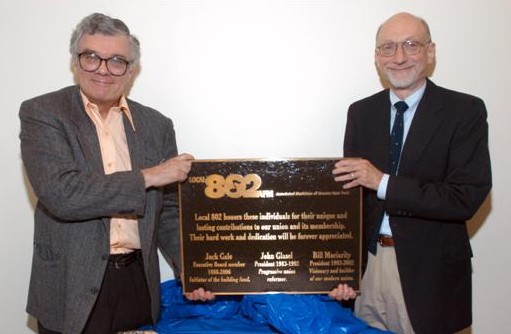 Jack Gale (left) and Bill Moriarity. Photo (and additional photos below) by Walter Karling.
They made the union strong. On Sept. 19, members and friends honored three leaders who are an integral part of Local 802's history. Jack Gale, John Glasel and Bill Moriarity were held up as the highest examples of union leadership. In their honor, a plaque was unveiled with tributes to each of them. Below are excerpts from the evening's remarks.
JACK GALE was introduced by Bob Haley as being a brilliant musician, composer, arranger and music educator. Gale helped the Members Party win the 1982 elections, which heralded a new era for the union. Gale served on numerous committees, was president of the New York RMA, and was elected to the Executive Board for 18 years. Against the odds, he convinced the union to buy its present building, a decision that many felt saved the union financially. Jack Gale, Haley concluded, is a humble man who thinks outside the box.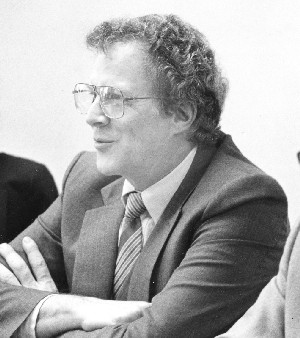 John Glasel in his first term in 1984. Photo by Laurie Peek.
JOHN GLASEL was introduced by Ethan Fein as making an unforgettable sacrifice by leading Local 802 for a decade, as president. He led the Members Party in a clean sweep, beating the entrenched administration of Max Arons. "Glasel never betrayed his core beliefs," said Fein. "His personality is such that he seems sometimes to be impatient with others' points of view, but he never used the power of his office to prevent others from being free to express and act on their own beliefs. John would argue with you, but you would always get a chance to argue again, and again." Freedom of speech is one of Glasel's greatest values, Fein concluded.
BILL MORIARITY was introduced by Bill Dennison, who quoted from the commemorative plaque that says Moriarity was a "visionary founder of our modern union." Moriarity, president of Local 802 from 1993 to 2003, led two different Broadway negotiations and defended musicians against heavy attacks from the producers, winning contracts that sustained live music. Moriarity is a "real working class leader," said Dennison. He saw Local 802 as part of a the bigger movement for social justice. His humility and ability to grasp the future is part of his enduring legacy.