HOW THE LAW SEES THE CORONAVIRUS AS AN "ACT OF GOD"
Legal corner
Volume 120, No. 5
May, 2020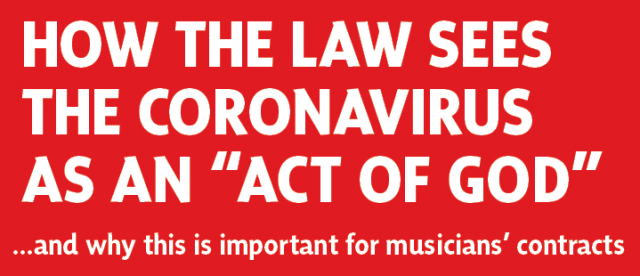 The coronavirus pandemic put the arts community in uncharted territory. However, the law actually anticipated something like this. Many Local 802 contracts contain a provision called "force majeure" or "Act of God." While force majeure clauses come in many difference shapes and sizes their intent is the same. Contractual obligations are excused if performance becomes impossible because of unforeseen events over which no one has control.
The term force majeure has Latin roots meaning "superior force" and "chance occurrence, unavoidable accident." If a force majeure event is triggered in a musical setting, and if the contract has the right language, it typically will excuse both parties from performance. Thus, musicians are not required to perform when an Act of God occurs. Likewise, employers are not required to pay. Such clauses guide and establish the mutually acceptable circumstances when contractual terms need not be complied with. They in effect are an outgrowth of the common law concept known as "impossibility of performance." Under contract law, a breach of contract will sometimes be excused if performance becomes impossible. For instance, a performance may be excused if the featured performer is incapacitated due to illness or accident.
As can be imagined, force majeure provisions can be extremely detailed and exhaustive since the list of events that might qualify for non-performance is almost immeasurable. In years past, a cancellation clause might have been limited only to traditional natural events such as storms, floods or fire. After the terror attacks of Sept. 11, 2001 and natural disasters such as Hurricane Katrina and Superstorm Sandy, more and more employers successfully negotiated force majeure provisions into our contracts.
Limited clauses are no longer the norm, as the universe of acceptable reasons why a performance must be canceled without penalty has rapidly expanded. This is particularly true for collective bargaining agreements such as the ones covering the New York Pops and the American Symphony Orchestra, which contain strict cancellation terms that require payment in the event a service is not canceled or rescheduled within a particular time frame. These agreements now detail specific events that would suspend operation of the cancellation notification terms. Many collective bargaining agreements that Local 802 has entered into have broad force majeure terms that potentially would cover a pandemic. If the collective bargaining agreement has neither a force majeure clause, or a cancellation provision, then basic contractual principles may apply: if the job doesn't happen then no payment is required. Conversely, if an employer has a cancellation provision that they haven't complied with and no force majeure clause then payment would be required.
However, as a practical matter if a performance doesn't occur then the employer will most likely not have the funds available to pay the musicians. Whether or not an employer has an obligation to reschedule a performance will be based upon the contractual terms of the agreement that covers the performance. Hopefully this will be a possibility for many canceled services.
There is always the option to negotiate terms for compensation, no matter what the contract says. Local 802 was able to negotiate with Broadway and Lincoln Center to pay at least some wages and benefits during the shutdown.
Finally, as a practical matter, the question arises: should musicians and the union be in favor of force majeure clauses? Well, put it this way. Let's say that the union is negotiating a contract and we propose a strict cancellation clause that says the employer is required to pay musicians for any canceled performance if the employer doesn't cancel within a specific period of time. Let's say the employer balks at this. The union could counter-propose a force majeure clause, where we can list certain circumstances where cancellation is acceptable, meaning any other circumstances require payment to musicians. Without anything in the contract, the employer may be at liberty to do what it wishes in the event services are canceled.
ANOTHER EFFECT OF THE CORONAVIRUS
It's generally true that once you have a union contract in place, employers are obliged to bargain in good faith. Can the coronavirus pandemic change this? Unfortunately, the NLRB general counsel has said that there can be an "economic exigency exception" to this general rule. Because of this, we may see our orchestras and other union employers try to change working conditions unilaterally, including terms of the contract, pay and benefits. Will the law be on their side? Time will tell.
Nonetheless, all is not entirely bleak. Trillions of dollars in federal aid are being dispersed. Section 4003 of the Coronavirus Aid, Relief, and Economic Security Act (CARES Act) offers loans to employers who employ between 500 and 10,000 employees. But they must promise to do the following:
Not outsource or offshore jobs for the duration of the loan plus two years after completing repayment.
Utilize the funds received to retain at least 90 percent of their workforce at full compensation and benefits until September 30, 2020.
Intend to restore 90 percent of their workforce that existed as of February 1, 2020 within four months after the health emergency ceases.
Even more significant is that the loans will also be conditioned on the employers' agreement to remain neutral in any union organizing campaign during the term of the loan and that the employer will not "abrogate" (repeal) the terms of existing collective bargaining agreements for the term of the loan and an additional two years.
There are a host of legal issues raised by the CARES Act's labor related provisions that need to be answered, such as what precisely does neutrality mean? And what constitutes abrogation of a collective bargaining agreement?
Furthermore, it is unknown what role the NLRB will play in the implementation of these provisions. Hopefully none. Time will tell how this pans out. In my opinion it is inexcusable that it took a global emergency the likes of which have never been seen in over 100 years for Congress to finally enact labor-friendly legislation. Proponents of organized labor should keep abreast of how this statute is interpreted and applied.
Since most of the employers Local 802 negotiates with have less than 500 employees, the CARES Act also has provisions such as the Payroll Protection Program that will supply potentially forgivable loans to smaller employers These provisions do not contain the robust labor protective terms of Section 4003. However, they provide significant financial relief for the benefit of employees of smaller employers.
Additionally, employers (including self-employed individuals and all forms of not-for-profit organizations) who employ less than 500 employees may also obtain Emergency Economic Injury Disaster Loans. Under CARES Act Section 1110, up to a $10,000 advance will be made available immediately to an applicant that will be forgivable if used to satisfy payroll and sick leave obligations. The advance is available even if the applicant is not approved for additional funds. However, the EEID loan advance will be deducted from the amount forgiven from any loan provided through the Paycheck Protection Program.
While it is not a large amount, it could be used to pay substitute musicians and extras. I believe that EEID loans provided by the Small Business Association are available for up to $2 million at a rate of 2.75 percent, with the first payment deferred for a full year.
Finally, federal legislation now provides enhanced unemployment benefits and sick leave even for 1099 gig workers. Thus, some economic relief has been made available to both employers and employees adversely affected by the pandemic, which for all intents and purposes is all of us.
One thing we must all recognize is that we are all effected by this regardless of who we are. As cliched as this may sound, we are all in this together. By the time this article is published, we will know how employers have reacted to this crisis. Some employers, such as New York City Ballet, have recognized a moral obligation and have provided for their employees until the end of the season despite not having a legal obligation to do so. Some, like the National Symphony Orchestra, have not. Employers who have acted heroically must be acknowledged and lauded. Those who have not should be exposed.
It will take a great deal of time to recover from this horrible crisis and the world we live in may never be the same, but we will come through this. Until then, please be safe and stay healthy.
Please contact me at HsmLaborLaw@HarveyMarsAttorney.com with any of your questions, and I'll try to put you in touch with the answers.