The Musicians' Voice
Letters to the editor
Volume 122, No. 8
September, 2022
re: U.S. Army Band Alumni Concert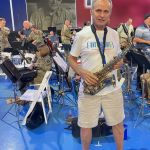 To the Editor:
On June 24, I performed in Washington, D.C., with the U.S. Army Band (TUSAB) Alumni Concert. The program featured Paul Hindemith's Symphony in B Flat for Wind Instruments, which was written for TUSAB, and premiered by the group in 1952, with Hindemith conducting.
The concert celebrated the 100th anniversary of TUSAB's founding. I was in TUSAB (oboe) in 1972, when the 50th anniversary was celebrated. Time flies!
Here's a video of the whole concert.
Here in NYC, I perform with Patriot Brass and The Big Apple Corps Gay and Lesbian Marching Band. The Big Apple Corps expects to have more than 100 musicians (including 18 saxophones!) marching in the Macy's Thanksgiving Parade in November. This is the first time that an LGBTQ group has been invited to march.
— Steve McLure
---
Re: New Political Party in New York City for Arts & Culture
To the Editor:
As a musician and someone who does not like politicians, I need to make an exception in telling fellow members about one candidate.
This candidate has placed the arts as one of his three cornerstone platforms. As a candidate for the 75th Assembly District, Joe Maffia has created the Arts & Culture Party for the November 8 general election. He believes that arts, performing arts, music, culture, and tourism are essential to New York City and New York State and will help revitalize the community.
Arts and music benefit both those who admire and those who create. Arts and culture inspires, stimulates, boosts self-esteem, and offers life alternatives to disadvantaged youth. Establishing arts and culture districts will address quality of life issues and improve public safety. His proposed platform will support local non-profits, provide tax and investment incentives, eliminate commercial rent tax on Broadway billboards, and offer tax credits to commercial tenants and landlords with excess space.
Joe Maffia believes that "The district includes some of the more significant arts  and cultural Institutions in the world, such as the Chelsea Arts Gallery district, Times Square, Radio City, Carnegie Hall, and Lincoln Center. And, as Broadway goes, so does New York. Broadway alone brings nearly 100,000 jobs and $15 billion of economic activity to the region. "
But quality of life and crime is out of hand, especially near Times Square, which impacts Broadway. We are in a looming crisis with excess office space and an inability to convert to much-needed residential housing. I support Maffia's belief that arts and culture are critical to the revitalization of this district. His efforts will incentivize landlords and commercial tenants to provide rehearsal space for musicians and gallery and studio space for artists.
I strongly urge you to learn more and support his efforts which will benefit our community. Visit his website at http://www.MaffiaforNY.com.
— Shell Zimet