Life in Balance
The Many Moods of Geri Allen
Volume CVI, No. 2
February, 2006
Geri Allen is one of the many important musicians to emerge from Detroit. After graduating with a degree in jazz studies from Howard University, the pianist attended the University of Pittsburgh, where she earned a master's degree in ethnomusicology before moving to New York City.
She has recorded with Charles Lloyd, Ornette Coleman, Tony Williams, Ron Carter, Charlie Haden, Paul Motian, Betty Carter, Oliver Lake, Dave Holland, Jack DeJohnette, Wallace Roney and many others.
In 2004, she arranged the music and was featured on Andy Bey's CD "American Song," which was nominated for a Grammy. She co-wrote music for the film "Beah: A Black Woman Speaks" by Lisa Gay Hamilton, which won a Peabody Award. She was recently honored by the National Alumnae Association of Spelman College with its African American Classical Music Award.
Allen is presently writing a work called "For the Healing of a Nation," commissioned by Meet the Composer and the Walt Whitman Arts Center.
She won the Danish JazzPar Prize, the world's only international award presented and managed by people from the jazz world, and the Lady of Soul Award from Soul Train.
She is currently a professor of jazz at the University of Michigan. Her Web site is www.GeriAllen.com.
Geri Allen was interviewed by Matt Weiers, a composer, pianist and music educator in Portland, Oregon, whose previous interviews in Allegro were with Toshiko Akiyoshi, Fred Hersch, Kenny Garrett and Jane Ira Bloom.
Matt Weiers: What do you feel are some of the most important aspects of music, what it has to have to be vital and at its utmost?
Geri Allen: There is a basic symmetry that I'm trying to achieve as a player, a balance between the physical, emotional, and spiritual. I try to find that place where all of them meet and morph into one. For me, that's one of the greatest challenges. The physical part means my ability to express myself technically on the instrument, the emotional means being balanced when coming to the process itself, being able to make the proper judgments from moment to moment, emotional clarity of the moment. And, for me, the spiritual part is required for the life and the breath of the music.
MW: How do you go about achieving this state when practicing?
GA: Practicing is different. Everything I just described is about performance. Practicing is about a different set of goals, things I emphasize based on the desire to close up holes or strengthen weaknesses. Practice is like therapy in that sense. Technique or learning repertoire, building physical endurance, mental agility, reading, getting around harmony – these are many aspects of practicing that are an ongoing process of trying to become as comfortable as possible on the instrument. As a pianist, there are certain places I'll go and look for technical possibilities that the instrument can offer. I love Bach for its clarity and pristine nature, so maybe I'll go to that and deal with preludes and fugues for working something out with my left hand. Or I may want to transcribe some Bud Powell in order to work on something else.
MW: How has your music – your compositions – changed over the years?
GA: I hope they've gotten clearer. They're more melody-driven perhaps. It's about bringing elements into focus. My compositions now have similar elements that I've always had in my writing, but the more you do a thing, the clearer it can be. My editing has become more frequent and specific. The things that would have gotten by me before are not so acceptable now. It's like you have a piece of wood and you start sculpting, and the process doesn't stop or change, but you become more detail oriented so it becomes more refined as you evolve. I think that's kind of what has happened.
MW: Is it more melody-driven now because you feel differently about melody?
GA: I do think melody is a huge part of the expression for me, maybe more so than in the past. The ability to improvise melody is a huge challenge, whereas maybe before I was more comfortable just allowing things to happen, stepping on the wave and riding it. I still enjoy that, but I like to use that energy in a more specific way. Melody is a big part of what drives the flow and motion for me in improvising. The rhythm and the harmony are still there and I'm not abandoning those, but I think melody in a way is a key for me, to open musical doors. A melody that's really authentic and that communicates, that you can feel, is a very deep thing.
MW: You have a master's degree in ethnomusicology. How has ethnomusicology influenced your composing and performing?
GA: A lot, in huge ways. I have been working with Charles Lloyd for the last five years, and except for my husband, Wallace Roney's band, he's the band that I've spent the most time with. I remember working on a couple of occasions with Zakir Hussein because Charles uses him and Eric Harland in a trio. I was thinking how cool it was to have had some experience listening to musics from different parts of the world and that that has affected me a lot as a player and composer, which for me are really a part of the same thing. But it gave me a sense of the power of jazz, from a worldview. Each of these cultures has such clearly self-defined approaches to music, whether it's East Indian music or music from China or Western European music. All these things are defined from their own worldview. The expression of these musics and how they impact the listeners are part of the culture, those are huge kinds of experiences that ethnomusicology afforded me. It has also given me a clarity as to what jazz has done for the world and how it has impacted other cultures. I think it's a very exciting global experience that's happening now. Jazz has had a huge impact on how people make music today.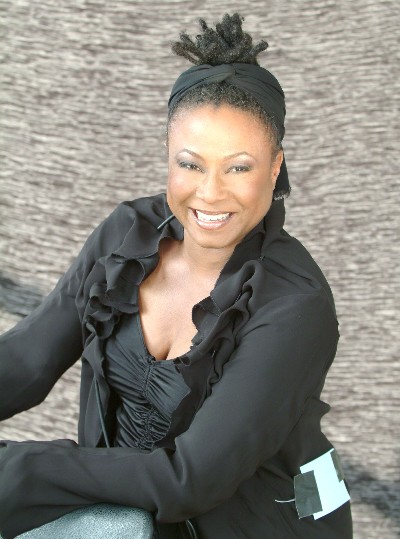 MW: How do you manage to fit in life with your three children and husband, be a university professor, and tour the world playing jazz?
GA: I'm excited to have just started teaching at the University of Michigan. I'm really excited to be here. It's a great program that represents open-mindedness and creativity with the discipline of study to be a jazz musician. It's a balanced environment. It's a wonderful full circle for me because I come from a family of educators. My father was a principal and my grandmother was a teacher who taught in a one-room schoolhouse. I was raised to know that education is the way for us as a group of people to succeed in life. To have the opportunity to come back and teach again is very fulfilling on a number of levels. It connects me back into that way of thinking of breaking things down and figuring things out. Being around students is giving me energy, and my family is my center of gravity. That's how I define myself- my children, my husband, my family life. Everything has to fit into what the family needs. It's an ongoing challenge. I'm not the only woman out here who has a career. The women in my family all had careers. I never looked at it as a hurdle. My mother and aunt had viable careers. I have always seen women in my life be great mothers and family people and very active in terms of their careers. I always felt that that was normal.
MW: How do you find the reception to your music overseas to be different from in the U.S.?
GA: I was just on tour in Europe as a trio with the drummer Jimmy Cobb and a very talented bassist named Daryl Hall, who is living now in Paris, but is from Philadelphia. We had a great tour and I feel very excited and grateful and satisfied for the music that we made each night. Mr. Cobb is an icon. He is such a great artist and it was such a wonderful experience for me to be able to play with him every night. The audiences were very responsive and were moved by the performances and we were moved, too. It was very fulfilling. Regarding the differences in response, that's a difficult question. I think music really does transcend culture. When you go from place to place, people respond in the ways that are organic to them. When we recently did a concert in Cleveland in the middle of the community there, and the response was overwhelming, we knew that they understood in a deep way because they were a part of the experience of that music. There is a certain kind of subtlety to the response because they were there when jazz was still in the black community in Cleveland and Detroit and Harlem. There are these pockets of people who are embracing and chasing the music. There's an electricity when you connect with that, you're connected to an experience that is part of a continuum that jazz has always been about in this country. In some ways we have been cut off from those people in the community. . .it's like "Oh, yeah these people were here when Miles came to the Bluebird in Detroit." And they all knew each other. You had the tap dancers and all these people who were converging, it was very rich. So when you ask me that question, I have to say there is something specific about that experience of African-American people in this country. I think the ways that those people respond is particular. Do you know what I'm saying? It comes from a particular self-lived experience. The music is connected to them and it's one organic thing. But, as you go throughout the world, like when we toured, we connected with each of these audiences, who feel very staunchly a part of this music as well. It's an experience for them that is very direct also.
MW: Can you say more about this getting cut off and how it happened?
GA: When you had bands like Art Blakey, they would tour and go from town to town. The music was band-driven. When I came to New York, that was still going on. Art was one of those who was always working and always on the road. There was a scene that was city-to-city here in the U.S. In Europe there was another whole thing. But in the U.S. there were pockets in all of these cities where musicians could depend on working. Like Baker's Keyboard Lounge in Detroit. I'll be playing there soon, which I'm really proud to say. This is one of the oldest clubs in the country. Musicians would come to clubs like this every week. There was this ongoing touring circuit. It was critical, and still is, although we don't have that in the same way today. But it is critical to keeping the music vibrant. Every year, Art Blakey's band or Miles' band would come through town and the audience would be aware of the record that that artist had out at the time. That experience of connecting with the band on a consistent basis was crucial. They got to watch the artists in the band develop. You had these personalities that audiences were connecting with, like Lee Morgan. Do you know what I mean? People would be talking about the new saxophone player that Art Blakey had. They had a direct connection to the music, and would talk about the players, like, "Red Garland was my favorite piano player, why did he have to go and hire someone else?" It's not like that so much anymore. You have a few guys who are backed by the record companies so it's more affordable for them to be able to go out, because they have the support of the label. But it's not as good for the holistic health of the scene where you have musicians who aren't necessarily label artists who are just as great or maybe greater but because of the logistics of being able to tour a band, it makes it very difficult for an audience to get a clear view of what's out there and their options. What you get is what the label projects, you don't get what's really available.
MW: Does that mean that today a band has to work less often and just skip from major city to major city?
GA: The way it is today there's not a touring circuit. That's what we need. If I were to give my diagnosis, I would say that we need that circuit, something that connects us back into the heart and soul of each of these cities. If we could find that, that would be significant. I don't think some of the younger musicians have an opportunity to mature in the way of the greats who had tenure in longstanding bands.
MW: Would new clubs need to be opened or are they already there?
GA: I just played in Kansas City and they have an amazing situation there, with the American Jazz Museum. It's bringing in artists internationally, and they have a really vibrant scene. Chicago has historically had a huge scene. So, in major cities, those things are pretty much in place and the people who really love the music are doing what they can already. John Conyers helped pass the "Jazz as a National Treasure" bill in Congress, and that's a great step. This is an art that is respected throughout the world and we need to find a way to acknowledge the importance of the music and be responsible for these artists that are representing the culture of our country.
MW: Do Europeans think of jazz as their own, that they've changed it to a world music?
GA: I think that's an interesting question. I was asking questions as I toured Europe because I'm doing some research for a group called Jazz Alliance International. Part of my interest was to find out what is it that each of these countries is doing for their artists and specifically their jazz artists? We have to acknowledge the origin of this music, that it does have an origin in African-American experience, our ancestors being brought here from Africa, the whole experience of slavery and the overcoming of that. Those things are deeply laced into each and every expression of this music. Jazz is looked at as a freedom music throughout the world because of that. People watched African-Americans evolve out of the most unbelievably, impossibly horrible experiences into a people who have made music that speaks to the whole world. People want to embrace the music and they can relate to it. Based on that you have to say that it is there for all of us to embrace and to find our voice to express ourselves through. For instance, European artists have long embraced this music in a very personal way. They have been touched by the emotional depth, the virtuosity and the innovative nature of jazz. The influence of Charlie Parker, John Coltrane, Miles Davis, along with the continuum of today's masters like Mulgrew Miller, Kenny Garrett and Wallace Roney – to name a few – who are direct participants in innovative bands, shows that jazz's pervasive spirit is more global today then ever before. It is the greatest of compliments when a culture embraces another culture's world view on music making and the experience of music itself.
MW: Has it been your goal to sound very different from other pianists, or is your unique sound something that just happens unconsciously?
GA: I don't think I approached playing to affect a style. I have influences, like Herbie Hancock, Mary Lou Williams, Bud Powell, Thelonius Monk, Hank Jones, who I listen to very, very closely. I wanted to find my voice but the way to find it was through a process of learning as much about music as I could. Whatever those explosions, moments of breakthrough are, they come from a very specific set of criteria. That's an ongoing process for me still. Jazz definitely has specific sets of criteria for how you learn. It has to do with studying the ones who came before. Familiarity with the innovators of the music. If you look at all the innovative artists, they all had that person who was a role model, or a combination of two or three. People that they were following directly. I read an article where Ornette Coleman was being interviewed and he was talking about his influences. In jazz, that's a big part of how you learn. He was talking about Charlie Parker. He wanted to dress like Charlie Parker and do everything like Charlie Parker. You can hear it in his sound, the horn he chose to play, and his playing. It's part of what this music is all about. It's a passing-the-baton kind of thing, an African sensibility.