Live Music Back at the Plaza
Volume CVIII, No. 7/8
July, 2008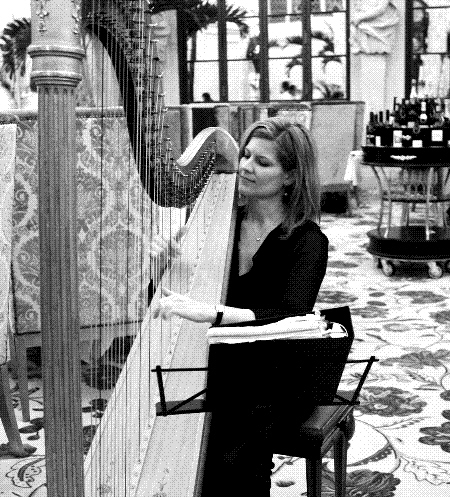 Kirsten Agresta (above) and fellow Local 802 harpist Anna Reinersman have brought back live music to the Plaza Hotel. They play at the Palm Court room seven days a week. Photo by Claire Houston.
The Plaza Hotel has live music again. For the past three years, the hotel's musical future was in limbo as the hotel underwent $400 million in renovations, but now guests can enjoy the sounds of a live harp playing at the Palm Court room seven days a week from 2 to 5 p.m. And, of course, the two alternating harpists, both members of Local 802, enjoy the protections of a union contract.
The harpists, Anna Reinersman and Kirsten Agresta, told Allegro in a joint statement, "The Palm Court is a beautiful room to perform in, and the harp adds the perfect ambience for afternoon tea. It is wonderful for the Plaza to be providing live music, not only for the patrons, but for the many visitors that come to see this newly-renovated landmark hotel."
"It's great to have live music back at the Plaza," agreed Jim Hannen, who supervises club dates and hotels for Local 802. "However, before the renovations, an additional four union musicians had worked regularly at the Plaza, so there is still some work to do convincing the new owners that more live music is better."
In 2005, the new owner of the Plaza Hotel and union workers reached a tentative deal with the hotel workers' union to preserve the landmark hotel's Grand Ballroom, Palm Court, Oak Bar and hundreds of guest rooms. The deal was reached after the hotel workers' union and Local 802 rallied outside of the hotel to save jobs.
The Plaza Hotel opened its doors to the world in 1907. Hundreds, if not thousands, of 802 members have played at the Plaza over the years in the hotel's bars and restaurants and for weddings and other celebrations in the Rose Room and the Grand Ballroom.
The exterior of the hotel was designated a National Historic Landmark in 1986.
Live music in the Plaza's Palm Court Room is just one of the traditions that tourists and New Yorkers alike have enjoyed. In times past, "palm courts" were found in all of the grandest hotels in cities across the globe. Composers created music specifically for these rooms.
The Plaza is located at Fifth Avenue at Central Park South.
DOWNSIZED
There won't be the sounds of voice and piano coming from the lobby of the Waldorf-Astoria anymore. The hotel, which was recently sold, has decided to let go Local 802 member Daryl Sherman, sho has sung and performed there for 14 years. The reason? Economics, according to the New York Times.