Living His Dream
A lifetime of music has kept Marvin Stamm's eyes and ears always open to new possibilities
Volume 114, No. 7
July, 2014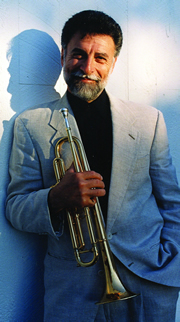 Marvin Stamm, a longtime member of Local 802, is a native of Memphis, and a graduate of the well-known North Texas State jazz program. He began his career as trumpet soloist with the Stan Kenton Orchestra, later touring with the Woody Herman Orchestra. Upon moving to NYC in 1966, Marvin gained considerable recognition for his playing with the Thad Jones/Mel Lewis Jazz Orchestra and the Duke Pearson Big Band and was a member of the Bob Mintzer Band and the American Jazz Orchestra, led by John Lewis. He also toured with Frank Sinatra and Benny Goodman's Sextet. For 25 years, he was one of the first-call trumpets in the NYC recording studios.
Currently, Marvin performs as a soloist with various jazz ensembles, works with his quartet, and plays with pianist Bill Mays. In 2006, Marvin and Bill formed the Inventions Trio with cellist Alisa Horn, playing a wide and eclectic repertoire
In addition to Marvin's performances and recordings, he has, for many years, invested a good deal of time touring colleges and universities, offering his talents as a jazz educator.
Local 802 recording rep Bob Pawlo recently sat down with Marvin Stamm to get his thoughts on a lifetime of music, right after the trumpeter had just celebrated his 75th birthday.
Bob Pawlo: What are your first memories of music and the trumpet?
Marvin Stamm: My earliest memories of the trumpet were on the radio comedy shows that my family listened to on Sunday evenings – Jack Benny, Fred Allen, Fibber McGee and Molly. All had radio orchestras, but I was more aware of the comedy than music. I first became aware of music through my older brother Gordon's interest listening to the excellent bands on the radio from the two hotels in Memphis. But my first real influence was the music from Gordon's record player. I picked the trumpet after being taken by Clyde MCoy's recording of "Sugar Blues" when I was 12.
Bob Pawlo: And what were your first memories of playing the trumpet, the challenges?
Marvin Stamm: Starting out, I was just trying to make a sound, but I took to the instrument immediately. I had a very fine junior high school band director and quickly made progress. Along with the lessons the director gave us, I was listening to my brother's record player, trying to play with his recordings.
Bob Pawlo: What were your jazz influences at that age?
Marvin Stamm: Gordon had recordings by Count Basie, Duke Ellington, Stan Kenton, Glenn Miller, Artie Shaw, Harry James, and others. He also had several Jazz of the Philharmonic recordings and quite a few by various East and West Coast players, among them Harry Edison, Roy Eldridge, Charlie Shavers, Howard McGee, Dizzy Gillespie, Miles Davis, Clifford Brown, Chet Baker, Conte Candoli and Clark Terry.
Bob Pawlo: Did you try to imitate what you heard on the records?
Marvin Stamm: Yes. After practicing my assigned fundamental studies and learning music for the junior high school band, my reward was going to my brother's room to try to play along with his records. I had no idea that I was attempting to learn to improvise; I was just having fun trying to play along with the various soloists. Initially, I found it very difficult to copy them. These were accomplished musicians, and I was just in my first year of playing. But as I continued, my ear, range and technique developed, and I was able to discern their lines as well as hear the movement from chord to chord. But the ear training was most important.
Bob Pawlo: So you learned through playing by ear?
Marvin Stamm: Yes, I learned by playing along with Sweets Edison, Roy Eldridge, and a lot of other players, among them saxophonists like Ben Webster, Coleman Hawkins, Benny Carter and Lester Young. It is easier for a person with an inexperienced ear to grasp what these musicians were doing because they didn't play so many notes; even at up tempos they weren't playing as many notes as John Coltrane or Charlie Parker would later play. These soloists grabbed my ear and made me want to run to pick up my trumpet, and try to play along with them – working within the framework of my abilities, of course.
Bob Pawlo: Memphis had a great music scene. When did you start to play the trumpet in clubs or activities?
Marvin Stamm: I was in high school. However, my mom and dad lived through the Depression, and most important to them was my getting an education. So I was not allowed to go out during the week to play until later, and then only on weekends. I joined the musicians' union at 16 and started working with local Memphis dance bands. Because Memphis was segregated during those years, I worked with only white musicians. Though I knew many African-American musicians who I copied from records, I wasn't aware of the wonderful African-American musicians living and playing in Memphis. Segregation prevented me from knowing of Booker Little, Harold Mabern, Frank Strozier, Garnett Brown, George Coleman, Charles Lloyd, and others until later on. This would change when I went off to college.
Bob Pawlo: After you graduated from high school, where did you go?
Marvin Stamm: I went to the University of North Texas in Denton, upon hearing a vinyl of the Lab Band and learning of the marvelous trumpet teacher John Haynie.
Bob Pawlo: And what skills were stressed to you there in your education?
Marvin Stamm: I wanted to be a player. That was always my dream. So I studied the trumpet. This involved a lot of fundamental work, learning the standard American literature as well as the newer French literature which was coming into the forefront at that time. I played in all of the performance groups, knowing that I wanted to become a professional. I involved myself fully in the Lab Band, the concert band and brass choir, and did my turns in the orchestra, which I loved.
Bob Pawlo: Were there also orchestral trumpet players who influenced you?
Marvin Stamm: Yes! I have always been taken by orchestral music and influenced by those recordings. I had recordings of Bud Herseth in Chicago, Roger Voison and Armando Ghitalla in Boston, and William Vachiano in New York. Later, I had the opportunity to meet all of them and also to develop friendships with many of the players that followed them. But without doubt, my favorite was Ray Crisara, who just passed away. His was the sound that I admired more than any player that I had the privilege of sitting next to. Ray was one of the finest trumpet players and most extraordinary gentlemen. Following Harry Glantz as principal in Toscanini's NBC Symphony, he later became the first call classical player in the studios. I was privileged and honored to play next to him many times. I have tremendous respect for all these players.
Bob Pawlo: Were you in the One O'clock Band during your North Texas days?
Marvin Stamm: Yes. But then the school was much smaller – only 5000 students – and we had only two bands unlike today's nine or ten bands. Because I worked in dance bands since I was 16, I also took whatever opportunities there were to meet and work with the musicians in the Dallas/Fort Worth area. There was a tremendous music community there, and I played society gigs, Dixieland gigs, rodeos, and even subbed once with the Dallas Symphony. They also had quite an active recording environment.
Bob Pawlo: What was your first record date at that age?
Marvin Stamm: I did a jingle or two at a recording company in Memphis, but didn't do much recording in Dallas until the middle of my junior year when I started getting calls for sessions. There were five or six trumpet players who were first call, and they were usually available for most dates. I was put somewhere down the list, and as the industry expanded, I started getting more calls, most being radio ID spots announcing the station call letters and various segments: sports, news, and weather. The recording groups were usually big bands of various sizes, and the musicians were absolutely top notch. It was a wonderful environment in which to grow and mature.
Bob Pawlo: You were immersed in school, studies, practicing, playing with tremendous professionals. And then when is it you got the call for Stan Kenton?
Marvin Stamm: The North Texas lab band won the 1960 Notre Dame Jazz Festival, the number one national festival at that time. Stan was on the judging panel at the festival. The band won top spot in the festival, and I was awarded best trumpet and outstanding instrumentalist. The band's prize for winning the top spot was a week at the Stan Kenton clinics that summer of 1960. That was a watershed summer for me for two reasons. First, I met Buddy Morrow when playing in a club in Dallas one night, and six weeks later he called me to join his band. I played with his band until the last week of August, when I rejoined the North Texas Band for the Stan Kenton clinics. At the clinics, our band served as Stan's band, and as I was playing a lot of the jazz solos, he heard me play every day. Toward the end of the week, he asked me to join the next tour, but I explained I had one more year of college and my parents wouldn't look lightly on my quitting school. He agreed, but said he would keep me in mind for the future. The following October, he asked if I could get a leave of absence for three-and-a-half weeks to replace his trumpet player who was leaving the band. My professors encouraged me to go, so I joined the band as the trumpet soloist and finished out the tour. The next tour would begin the following April, and Stan said he was going to hire someone until I graduated in May, when I would join the band.
Bob Pawlo: What was it like in that brass section?
Marvin Stamm: Very loud, but it was quite an experience! There were some marvelous players in the band. Bob Fitzpatrick, the lead trombonist, was fantastic, and listening to his musicality was like taking a lesson every evening. Saxophonist Charlie Mariano was also on the band for a while, and we became very good friends. I later recorded on one of his albums. Charlie was one of the most passionate saxophonists, a marvelous player. And there were other excellent players as well. One also had to learn to live with others in an enclosed environment – either on the bandstand or the bus most of the time. Everyone experienced some kind of pressure: from playing every night, or traveling hundreds of miles a day, sleeping on the bus one night as we traveled, then sleeping in a strange hotel bed the next night, and repeating this over and over for months at a time. And there were sometimes pressures from home too. It was not an easy way of life, but we were playing music, so everyone learned to deal with whatever the pressures.
Bob Pawlo: What is it in your training and background that enabled you to withstand the pressures and strain while playing such demanding brass parts?
Marvin Stamm: Working to master your instrument gives you a firm foundation but doesn't prepare you playing with a band like that night after night. I believe only the experience itself makes you that kind of player. No situation in a school or most local environments – except maybe Las Vegas, Los Angeles, Chicago, New York – prepares one for playing night after night, traveling every day on a band bus, and living with people in the "iron lung" as they called it, except to actually do it.
Bob Pawlo: How long did you stay with Stan's band?
Marvin Stamm: I stayed for two years, leaving in January 1963. I was fortunate that Stan recorded a great deal, making five albums while I was on the band. Since I was the only trumpet soloist, I was featured quite a bit. Stan was a good man to work for, a good leader and a fine person. I enjoyed working with him and thought highly of him.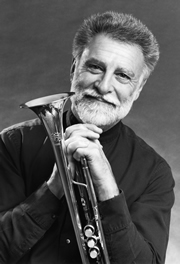 Bob Pawlo: Your solos on the "Adventures in Jazz" recordings are a classic. What was it like being immersed in that world at such a young age?
Marvin Stamm: It was very exciting. Anyone entering a new environment like this might feel out of place for a while, but there are usually people who will take you under their wing and bring you into the fold. I felt welcomed because of finishing out the last tour. I had Stan's confidence and knew many of the guys on the band, so it wasn't like walking into a foreign environment.
Bob Pawlo: After you left Stan's band what did you do?
Marvin Stamm: I worked between Memphis and Houston about a year, then in January 1964, a dear friend in Reno called to say there was a lot of work out there and that I should come check it out. I stayed in Reno for almost two years doing show work, and I enjoyed working with the many fine players. Playing on the relief band for nine months, then a year in a showroom orchestra doing two or three shows a night greatly improved my sight reading, consistency, and versatility.
Bob Pawlo: Did you transition from Reno to New York?
Marvin Stamm: No, from Reno I went to Woody Herman's band. I played with him for a year and traveled all over Africa, Europe, and behind the Iron Curtain as well as in the U.S. I spent a year playing under Bill Chase, the very fine lead trumpet player. Then, after leaving Woody's band, I came to New York.
Bob Pawlo: What was the recording studio scene like at that time?
Marvin Stamm: The music business in NYC was extremely active. There was a very busy recording scene, several hundred musicians working constantly. Each of the major networks had orchestras, including strings. Broadway was always very busy with tremendous shows, and most shows had large orchestras, especially compared with today. And there was a tremendous club date and freelance classical business as well as the established orchestras. Musicians in all genres were very busy.
Bob Pawlo: What were some of your more memorable jobs at that time?
Marvin Stamm: There were so many. My years and recordings with the Thad Jones/Mel Lewis Jazz Orchestra and Duke Pearson's band were special as were the years with the American Jazz Orchestra and the Bob Mintzer Band. Many of the jazz recordings were memorable: Bill Evan's "Symbiosis," Patrick Williams' "Threshold," several albums with Oliver Nelson, including "The Kennedy Years" and Johnny Hodges' last album. I did albums for Gary McFarland and Quincy Jones and many of the recordings for Creed Taylor's CTI label. And there was McCartney's "Ram" album too. I was lucky to be in New York at such a busy and creative period. And everyone seemed deeply involved in the music, concerned with every phrase, the blending of instruments, the texture of the harmonization, everything important to the music. It was never just a job; everyone went to work, making music as if completely invested in it.
Bob Pawlo: What skills did you need to thrive in that world?
Marvin Stamm: Most important was musicality. Without question, everyone could play their instruments, but these people went way beyond being instrumentalists; they were magnificent musicians. The music always came first! My heroes – Bernie Glow, Ernie Royal, and Snooky Young – were, in my opinion, the finest lead trumpet players in NYC. I had the opportunity of working with them many times, and if during a session, a certain part might be played best by one player more than another, he would get the part. The end result musically was what was most important. Among the section, a lot of emphasis was given each player's talents to get the best result
Bob Pawlo: Sounds like a magical time.
Marvin Stamm: It was! What a thrill to work with great and esteemed musicians such as these! And what stood out so starkly was the tremendous respect they all had for each other. This is what was truly impressive.
Bob Pawlo: Can you tell us about your experiences with Thad Jones and Mel Lewis?
Marvin Stamm: Arriving into NYC, I checked into a Midtown hotel and went over to Jim & Andy's. There was a gentleman at the bar, and he turned to me, asking if I was a musician. I said yes. He asked my instrument, and I told him I played the trumpet. He said, "Trumpet is my instrument too," then extended his hand, saying, "My name is Ernie Royal." He was between recording sessions, and as we sat talking, he advised me of many things pertaining to getting started in NYC. A week later, I got a call that Jimmy Nottingham had taken ill and wanted me to sub with Thad and Mel. I was out of the door immediately, headed to the Vanguard. After the gig, Thad and Mel asked me to become the swing man for the trumpet section, subbing for trumpet players who were absent for other engagements. This happened often, and I worked with the band maybe three quarters of the time, playing all the various books. Because this was at the end of the band's first year at the Vanguard, many musicians came to hear the band. On any Monday night, Quincy Jones, Oliver Nelson, Patrick Williams, Jack Cortner, Manny Albam, Gary McFarland – any number of people might be there. They knew most everyone in the band except the newcomer – me! Thad and Mel and the guys in the band were very generous about letting people know who I was and recommending me. This was my entree into the New York jazz and recording scene and from this point, things just happened very quickly. These musicians – along with players like Bernie Glow, Ernie Royal and Burt Collins – made my career.
Bob Pawlo: What in your individual routine as a musician allowed you to be so flexible in in the studios, enabling you to do so many things at such a high level?
Marvin Stamm: Several things were instrumental in a studio career, not all pertaining just to the music. From the beginning, I consciously worked to become a versatile musician. But beyond a certain point, it came down to my experiences and what I absorbed to become this kind of player. Everyone had to be at their peak readiness for a session because we never knew until we arrived what we had to play. We were only told what instruments to bring, the name of the studio, and the times to record. Everyone had to be ready to play anything, which for me meant a lot of practicing, something I've always done. Studying with Carmine Caruso my first six years in New York solidified a lot fundamentally. But many things can't be planned. It is important to remember that in a career or just living life, much of it is luck, being at the right place at the right time – something over which we've no control. Since many things are happenstance, being prepared to meet whatever the challenge when the opportunity presents itself is an important element. Also important is being able to work well with other people, thinking of community and knowing that making music and living life should be a "we" situation, not a "me" situation.
Bob Pawlo: How did you make the transition from the studios to being a soloist and jazz artist as the studio scene slowed and changed?
Marvin Stamm: I began to see where the recording scene was going and how technology was beginning to take over. The scene had changed. The quality of the music diminished, and – very importantly – a lot of the jingle and record sessions were being done "off the books" – no union contract, no health, no pension contributions. I was used to working under contract, but seeing what was happening, I thought it was time for me to get back to what was most important to me, performing as a jazz musician. The many recordings I made and my involvement with jazz education since 1961 were mitigating factors in my transition. Another important event was Lew Soloff's introducing me to George Gruntz, the Swiss pianist and composer who for years had a band comprised of European and American musicians. I played with George most of the next 23 years, traveling the world over, and that first tour with George got me immediately thinking about leaving the studios and getting back to my creative roots. So I started trying to put myself out more in the education field and taking whatever jazz performance opportunities came my way, making them my priority over working in New York. By 1990 or 1991, I was pretty much out of the New York scene, working on the "outside."
Bob Pawlo: While much in music has changed, what has stayed the same?
Marvin Stamm: If the goal is to be a professional musician, the player has to have a strong grasp of the fundamentals. He must also become versatile, steeped in numerous experiences in all kinds of music because he'll never know what he'll be called upon to play. It is important to know that for a musician, there is never an end to learning. The word "musician" must be synonymous with the word "student."
Bob Pawlo: What advice would you give to young trumpet players and musicians?
Marvin Stamm: There are certain things that will always remain true:
The fundamentals of your instrument will always remain important.
Go to hear as much music as you can – continue to learn and grow.
Try to meet as many people as possible, understanding that networking is a very important thing in keeping an active relationship with people.
When you go on the job be prepared; come with a professional attitude and be a nice person. There are a lot of terrific instrumentalists, but the great musicians who are also nice people will tend to get the most jobs and have a longer career.
Bob Pawlo: What was your involvement with Local 802 in those years?
Marvin Stamm: I've been a union musician since age 16. I belonged to and kept my Memphis local membership until way past my coming to New York. I was also a member of the Dallas/Ft. Worth local when I was at North Texas, and also joined the L.A. local for the five or six years I spent summers there. I've been a member of Local 802 since 1966, so that's 48 years. I've worked as a union musician my entire career. Working under union contracts and being protected by the union has been a very important element in my career, and I am now reaping the rewards. The AFM pension fund is a key element to my life today and allows me the privilege of being able to choose whatever quality work I desire. I also think it's very important that each member examine and understand his or her relationship with Local 802, knowing that each member is the union. Musicians must participate in the union if the union is to protect them. Otherwise, they are putting themselves – and others – at risk of not receiving all of the benefits the union has to offer.
Bob Pawlo: Any final words?
Marvin Stamm: I have been most fortunate to live my dream playing music. I have worked with my heroes, fulfilled my musical fantasies, and continue to do so. There is much to consider and think upon outside of music, including many things in our wonderful country that I find alarming. Among them are: a non-functioning government, where many place "party" above citizenry and country; a feeling among many people that education, knowledge and science are elitist; that our social safety net – the government helping our less fortunate citizens in need – does them more harm than good; that women are second-class citizens; the myth that racism has been eliminated; that immigrants – from which all of us at some point are descended – should not be allowed citizenship. It saddens me that we send young people to war, yet refuse to care for them when they return injured; that so many refuse to recognize how we are damaging our environment and affecting climate change, something that will seriously impact us all. And like our Founding Fathers, I believe intensely in their concept of the separation of church and state. I want a country where we don't hear every day of a new tragic gun incident; where we don't have to drive over ever-worsening infrastructure; where we honor workers for their efforts and share the wealth rather than promote ever-widening income inequality – where some just can't get enough, while others have so little. I would hope these are things at the heart of what we all want for each other. Naïve? Maybe! But wasn't this the dream upon which this country was built?