Local 802 Honors Maestro James Levine
President's Report
Volume 116, No. 5
May, 2016
In mid-April, we learned that one of the great musical luminaries of our time is stepping down. Maestro James Levine will end his role as music director at the Metropolitan Opera at the end of this season. He will remain with the opera as music director emeritus and continue to have a conducting role. Maestro Levine has been a visionary and transformative leader of the Metropolitan Opera for four decades. He will long be remembered not only for his supreme artistic vision, but also for his unshakable respect and support for the talented musicians that helped bring his vision and artistry to life. The orchestra and American music have benefitted from his many contributions, and it has been an honor to work with him.
We'll do a tribute to Maestro Levine in a future issue of Allegro. For the moment, let me share with you the words of Jessica Phillips, chair of the MET Orchestra Committee and clarinetist in the orchestra: "Through 45 years of unwavering devotion, Maestro Levine has shaped the MET Orchestra into the world-class ensemble it is today. He has a unique ability to inspire those around him to perform to the best of their abilities and beyond. We eagerly anticipate his upcoming projects as Music Director Emeritus, which promise to add to an already incomparable legacy of tireless dedication and artistic integrity. It is an honor to carry the values Maestro Levine has instilled in us into this new era at the Metropolitan Opera – the house that Jimmy built."
FINANCIAL STATE OF THE UNION
This issue of Allegro contains the recently audited financial statements of Local 802 for the period Jan. 1, 2015 to Dec. 31, 2015. Last year, Local 802 sustained a loss of $24,671. Both Financial Vice President Tom Olcott and Controller Cathy Camiolo see this loss as minor and nothing to be concerned about. Our revenue and regular expenses actually remained about the same as 2014, so the reason for our loss in 2015 includes some special one-time expenses, including hosting the AFM Eastern Conference, which was a highly worthy endeavor and one that put our union in a strong leadership role. Our total assets are more than $10 million, so I concur with my colleagues that this small loss last year was not significant. Also, as reported earlier, the union experienced a gain of over $400,000 in 2014, which more than offsets the loss in 2015. In any case, I want members to know that we pay careful attention to every expense and take the responsibility of stewarding your money quite seriously. For more detail, please read Tom and Cathy's columns.
DANCE AND MUSIC
In this issue of Allegro, we are proud to feature some behind-the-scenes photos of the Paul Taylor American Modern Dance company rehearsing with the Orchestra of St. Luke's. Live dance definitely deserves live music. Unfortunately, there was a misguided review by Alastair Macaulay of this ensemble in the New York Times on March 24 that took a dig at our musicians. I posted my response on the Local 802 Facebook page, and I'd also like to share it here for those who didn't see it online.
I am left profoundly disappointed by Mr. Macaulay's lack of appreciation for the vital artistic and collaborative role live music plays in live performance. By remarking that "some Taylor aficionados are missing the taped scores that were the norm until last year," Mr. Macaulay finds himself calling into question whether live performance has a place in Paul Taylor's performances, a shocking suggestion to make, given the fact that there is almost universal belief – including among Mr. Macaulay's fellow critics of this particular performance – that live music is vital to the audience's experience. The implication that canned music can possibly replace the artistic power of live performance is ridiculous, anathematic to the artistic and professional standards that have made New York City an international center for the arts.
George Balanchine, co-founder of the New York City Ballet, was famously known to say "see the music, hear the dance," and no truer sentiment can be expressed. Live music makes performances feel alive, with color, depth, complexity and a level of creative spontaneity and collaboration that makes each performance truly unique. But once we begin to accept the separation of live music from live performance, we begin to codify the deterioration of the artistic standards that make New York City a cultural capital of the world. Once we begin to accept this separation, we strip the mantle of collaborator from each of the enormously talented artists involved in a live performance, and replace it with something less: facilitator of entertainment.
I, like so many others across New York City and the world, attend dance performances in this great cultural center in order to experience the thrill that can only come from the energy, passion and depth created by the collaboration of live dancers and live music. In other words, we go to "see the music and hear the dance." Our audiences expect nothing less, and Paul Taylor's ensemble should be commended for its artful collaboration with the Orchestra of St. Luke's.
LABOR HISTORY MONTH
May is Labor History Month, chosen to commemorate the marches for the eight-hour day that took place on May 1, 1886, chiefly in Chicago. Download our annual calendar of Labor History events in NYC. Please also see an update by Marvin Moschel about the Central Labor Council's efforts to combat anti-union legislation. We also have a terrific history of the original Broadway musical about the labor movement, "Pins and Needles," which you may never have heard of. The show recently had a revival at NYU. Finally, an important part of labor history in NYC is the infamous (and misguided) cabaret card law, which affected musicians in a profound way.

JAZZ UPDATE
Our jazz department, under Andy Schwartz, has been busy and productive. As Allegro goes to press, we were about to present our second Jazz Mentors program. The business side of music is often something young and emerging musicians ignore and fear, but the Jazz Mentors series connects up-and-coming musicians with preeminent members of the jazz community to discuss how to build and maintain a successful music career. This forum was led by Rufus Reid, Rachel Z., Matt Wilson and Su Terry, who guided participants through a discussion of some of the most vital aspects of launching a career, including representation, touring, protecting recordings in digital format, the impact of streaming services and building a secure financial future. We'll have photos and a report in the next issue, and you can also check out http://www.local802afm.org/about/benefits-services/jazz-mentors.
Separately, we've been hosting a series at Local 802 called Jazz in the Afternoon. Each concert is a benefit for our Emergency Relief Fund, which helps musicians in need. You can see photos from recent sessions here. The next event is the New York Jazzharmonic on May 12. I encourage everyone to attend these events and donate to the ERF at www.local802erf.org.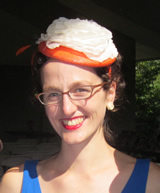 INTRODUCING LILY PAULINA
Lily Paulina, our newest organizer, has been organizing in NYC for the past 10 years to support workers, immigrants and communities on the front lines of climate change. Contact her at Lpaulina@Local802afm.org or (212) 245-4802, ext. 193.
UNION BUSINESS ROUNDUP
Last year, Cirque du Soleil announced the creation of a resident show called "Paramour" at the Lyric Theatre on Broadway. The show, which uses live music, is set to open this month. We recently negotiated an agreement with Cirque management covering our musicians. The agreement mirrors the Broadway agreement in wages and working conditions with one exception. Because of the interaction with some of the musicians and the acrobats of the stage action, it was evident that in order to preserve the safety of the musicians the substitution rule needed to be adjusted. Subs need to be trained prior to coming into the show. The company agreed to pay the substitute musicians to attend performances in order to ensure that safety is maintained. This will only apply to those musicians who actually perform on stage and it does not apply to those musicians whose duty is that of a regular pit musician.
I recently attended a meeting of the AFM International Executive Board. The business of the board was to prepare for the upcoming 100th AFM Convention. This includes the logistics of the venue but more importantly the review of the submitted recommendations and resolutions to be brought before the delegation both from the delegates as well as those that are being submitted by the IEB. These resolutions and recommendations will be made available to the members after they are vetted and published. Minutes of the IEB meetings are available online by logging into the AFM web site at www.afm.org.
We just achieved an agreement covering musicians in a reading of a new musical called "FREED." Remember, any time you're called to play musical theatre of any kind – even a reading – please make a confidential call to our theatre department at (212) 245-4802. We can help you make sure you're getting the pay and benefits you deserve.
The AFM has officially recognized Local 802's important work with the international musicians' union, the International Federation of Musicians (FIM). As readers know, I have been honored to visit and consult with FIM several times over the past few years. It's been an exchange that has given us more knowledge and solidarity with our world musician colleagues. I plan to meet with FIM again in June to participate in the next FIM Congress. I will report on that in the July/August issue of Allegro.
I'm still assisting the AFM with the Sound Recording Labor Agreement negotiations and we continue to meet with management. This is an arduous process and we have meetings scheduled in late May and early June. As of yet there is nothing of consequence to report.
PLAY BALL!
It's spring, and it's ball season. Thanks to increased interest, Local 802 is now sponsoring two softball teams. You can watch our teams in action Mondays at noon and 2 p.m. at the Heckscher ballfields in Central Park (enter at 62nd Street and Central Park West). Come out, enjoy the beautiful weather, and support our teams! For more information, contact Clint Sharman at Clint@TromboneMan.com or Louis Crocco at LBCrocco@aol.com.