LOCAL 802'S ENDORSEMENTS
Volume 116, No. 11
November, 2016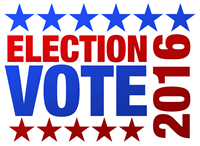 PRESIDENT OF THE UNITED STATES
The Local 802 Executive Board is proud to endorse former secretary of state, senator and first lady Hillary Rodham Clinton for president of the United States of America. Secretary Clinton has demonstrated an awareness and ability to advocate for the priorities and needs of America's working families throughout her career in public service, championing the importance of healthcare reform, raising the federal minimum wage and strengthening the rights and protections of America's middle class by protecting collective bargaining rights and supporting immigrants, minorities and our diverse community fabric.
"Hillary Clinton is not only the most experienced and qualified candidate running for president of the United States, she shares the ideals, vision and priorities that millions of working-class Americans and musicians hold dear," said Local 802 President Tino Gagliardi. "With her support for raising the wage floor across the country, her long-time devotion to healthcare reform, her support for the rights of minorities and immigrants, as well as her vitally important commitment to protecting collective bargaining rights in our legal and legislative systems, Secretary Clinton has demonstrated the ability to build upon our country's greatest strengths and support the ability of hard-working Americans in every sector to live and work while raising a family."
---
UNITED STATES CONGRESS
Anna Throne-Holst (NY-1)
Representative Jerrold Nadler (NY-10)
Representative Carolyn Maloney (NY-12)
State Senator Adriano Espaillat (NY-13)
"New York City and the surrounding area is home to the most talented, inspiring and creative musicians in the world, and the officials we elect to represent us have the responsibility of advocating for the unique needs of the entire industry," said Local 802 Political Director Christopher Carroll. "Representatives Nadler and Maloney have shown that they are exceptional partners, advocating for the labor movement and supporting our federal legislative agenda in Washington D.C. Ms. Throne-Holst and State Senator Espaillat will be strong additions to New York's congressional delegation, strengthening efforts to advocate for strong intellectual property protections, as well as protecting the important role that the labor movement and the arts play in our society."
Anna Throne-Holst, who is running to represent a district that covers the towns of Brookhaven, Riverhead, Southold, Southampton, East Hampton and Shelter Island, has established herself as a strong advocate for working-class New Yorkers in Eastern Suffolk County, championing support for pre-K education and immigration reform, while also showing that she understands the need to fight for intellectual property amendments that protect copyright, immigration reform and the labor movement.
As a longtime advocate for the protection of artists' rights and the promotion of artistic institutions, Congressman Nadler has led the fight on behalf of music creators with his authorship of the Fair Play Fair Pay Act, his support for the National Endowment for the Arts, and his relentless backing of New York's institutions of art, music and culture – including his exceptional support of Local 802 members during the Metropolitan Opera contract negotiations in 2015.
Congresswoman Maloney has championed the importance of supporting working families in New York throughout her career, making the advance of worker protections, raising the federal minimum wage and combating economic inequality priorities of her legislative agenda. As a long-time advocate of increased arts funding, investing in K-12 schools and fighting to ensure that the economy works for all people regardless of industry, Congresswoman Maloney has been a strong advocate for musicians in her district, which includes some of the most important and storied cultural institutions in the city.
State Senator Adriano Espaillat, who currently represents the 31st State Senate district covering Upper Manhattan, the Upper West Side and portions of West Manhattan, has fought on behalf of the labor community and New York's working families throughout his career in Albany. He has helped pass legislation to support access to affordable education, reform our criminal justice system, protect tenants facing the affordability crises in New York City, and he authored the New York Farm Workers Fair Labor Practices Act.
---
NEW YORK STATE LEGISLATURE
John De Vito, State Senate, District 3
Adam Haber, State Senate, District 7
Todd Kaminsky, State Senate, District 9
Joseph Addabbo Jr., State Senate, District 15
Brad Hoylman, State Senate, District 27
Liz Krueger, State Senate, District 28
Marisol Alcantara, State Senate, District 31
Robert Carroll, State Assembly, District 44
Yuh-Line Niou, State Assembly, District 65
Linda Rosenthal, State Assembly, District 67
Carmen De La Rosa, State Assembly, District 72
"Legislation in Albany touches the lives and careers of every musician in the state, and musicians must be sure to vote for candidates who understand the important role the arts play in the vibrancy of our neighborhoods," said Local 802 Political Director Christopher Carroll. "New York is a music capital of the world, and these candidates have shown that they understand that live performance, music and the arts have the power to bridge cultural, economic and social divides. Our artist community has a profound impact on our economy as well as the cultural heritage we pass down for generations and I'm confident that all these candidates will bring their energy and passion for their communities to Albany, fighting to ensure that the needs of musicians are supported – from smart tax policy to addressing affordability, protecting employment status and ensuring that musicians can live, work and raise a family."
John De Vito combines a commitment to ethics reform, strong labor values and an appreciation for the arts with new energy and vision in his efforts to support hardworking New Yorkers on Long Island. Mr. De Vito has proven that he is extraordinarily familiar with the challenges that face musicians and understands the role the arts play in the vibrancy of our communities.
Adam Haber has distinguished himself as a smart, innovative and success-driven champion of public education and middle class New Yorkers throughout his career in both the public and private sectors. His strong commitment to music programs in our public schools demonstrates his understanding that the arts are essential for the well-rounded education our children deserve, and is a vitally important part of ensuring that our communities, towns and cities are vibrant and healthy.
Senator Kaminsky received the support and endorsement of Local 802's Executive Board in the Spring 2016 special election to replace Dean Skelos. During his time in the State Assembly, Senator Kaminsky has shown that he is an extremely hard worker and an effective legislator who fights for the interests of Long Island residents and workers, as well as for the integrity of our legislative process.
Senator Addabbo Jr. who has represented portions of the Ozone Park, Middle Village and Howard Beach communities in the State Senate since 2009, has been a strong partner for the labor movement in Albany, advocating for investments in city infrastructure and increased funding for education. Senator Addabbo voted against attacks on workers' compensation this spring, standing alongside Local 802 and our sister unions against the exploitation of New York's world-class musicians.
Senator Hoylman, who currently represents Chelsea and portions of the Midtown, Greenwich Village, West Village and East Village neighborhoods of Manhattan, has been a strong advocate for environmental protection, ethics reform and the strengthening of art, music and culture in our communities. Since taking office in 2014, Senator Hoylman has supported musicians on Broadway and in our recording studios, voted against legislation that would destroy employee status protections, and been an exemplary partner for New York City's world-class musicians and their families.
Since her election to the State Senate in 2002, Senator Krueger has been a strong advocate for the labor movement, working hard to address affordable housing challenges, improve access to health care, and ensure equitable funding for our public education system.
Marisol Alcantara, a longtime labor organizer who most recently served as an organizer for the New York State Nurses Association, has established herself as a strong community advocate and champion of workers' rights, immigration reform, increased affordable housing and access to healthcare.
Robert Carroll, who currently practices law and serves as the Development Director for a theater company in Brooklyn, will bring his support for the labor movement, commitment to expanding the role the arts play in our children's education and his extensive arts industry background in theater to the legislature in Albany. Mr. Carroll's experience in theater and law provide him with awareness of the very unique challenges musicians and performers face every day, and enable him to fully appreciate the power of live music and culture in our communities.
Yuh-Line Niou successfully unseated the short-term Democratic incumbent, Alice Cancel, who had won a special election to replace former Speaker Sheldon Silver this Spring. Ms. Niou, a recent immigrant who previously worked in Albany as chief of staff for Assemblyman Ron Kim, knows first-hand the vital role that state legislation, our government, and the labor movement can play in the lives of all New Yorkers, especially those who are traditionally under-represented or exploited.
Assemblywoman Rosenthal, a five-term incumbent, has established herself as a champion of the labor movement and has been a strong ally for Local 802 members and our efforts to preserve live music in venues across the city. In her tenure in Albany, Assemblywoman Rosenthal has advocated for affordable housing and tenants' rights, as well as been a strong advocate for animal rights and protections against wage theft.
Carmen De La Rosa most recently served as chief of staff for New York City Councilmember Ydanis Rodriguez, where she managed the legislative and community relations offices and established herself as an advocate for the community, aware of the needs and priorities of New Yorkers throughout Inwood and Upper Manhattan. In this role, she has fought for tenants' rights, improving public education and ensuring that New Yorkers have the protections and support they need to raise a family and build a career.
Do you have questions about the union's endorsements? Do you want to volunteer to strengthen Local 802's political efforts? Do you need help knowing where to vote? Contact Local 802 political director Christopher Carroll at (212) 245-4802, ext. 176.