President's Report
Long Term Thinking
Volume 111, No. 7/8
July, 2011
Our live music campaign is more than "Priscilla" – it's the big picture


UNIONS COME TOGETHER! Above, Local 802 and AGMA join forces in the first-ever combined negotiating session with the New York City Opera. In the front row, from left, Bruce Levine (union counsel), Alan Gordon (executive director of AGMA), Tino Gagliardi, Bruce Simon (union counsel) and James Odom (president of AGMA). Behind them are members of the chorus and the orchestra including Local 802 member Gail Kruvand (chair of the NYC Opera Orchestra committee) as well as other committee members.
Our live music campaign is in its second month and we've already staged two high-profile events and received tons of play in the media. Any campaign has its ebbs and flows, and I want members to realize that this effort is not just about "Priscilla" nor is it a short-term struggle. This is a big campaign with a big focus on keeping the music live. Please see Marshall Coid's article on page 20 for his take on this campaign from a member's point of view. Also, K.C. Boyle wrote an interesting article on page 23 about how disco plus live strings is historically a perfect fit, despite what the producers of "Priscilla" are telling us.
The arbitration date for "Priscilla" will be in September. Until then, we will still be putting the pressure on producers. We will need your help; please call the Local 802 Theatre Department at (212) 245-4802 and ask what you can do. And check www.SaveLiveMusicOnBroadway.com for updates. There you can also see all of the high-profile supporters who have publicly signed onto our campaign, including Stephen Sondheim, John Corigliano, Joseph Polisi and many others.
Also, when it comes to live music, we are putting our money where our mouth is. Local 802 is making a very significant investment to co-sponsor "Piano in the Park" at Bryant Park this summer, which lets passersby enjoy the sounds of live music. See the complete schedule at www.BryantPark.org/plan-your-visit/piano.html.
Live music campaigns are as old as the union itself. Michael Donovan recently looked through a treasure trove of old Allegros and uncovered some exciting history, just in time for Local 802's 90th birthday. See his article on page 8.
Finally, you may not have heard that Macy's department store is trying to cut workers' pay, cut staff positions, undermine seniority and reduce pensions. Sound familiar? I'm pleased to let you know that Local 802 musicians provided music for Macy's workers at a recent action in front of the store called by their union, Local 1-S of the RWDSU/UFCW. This, too, is live music in action.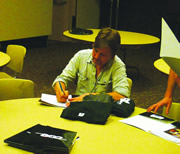 A UNION FOR CIRQUE MUSICIANS!
As we wrote in this space last month, we are happy to announce that Local 802 is the first AFM local in the United States to reach an agreement with Cirque du Soleil. This was a collaborative effort with AFM Local 406 (Quebec). Cirque's current show is called "Zarkana" and is playing at Radio City Music Hall through Oct. 8. At right, Cirque musician Aaron Guidry fills out a membership application to join Local 802. We welcome all of the Cirque musicians to the union.
CONTRACT AT THE APOLLO
The Apollo Theatre Foundation and Local 802 have reached a new agreement covering performers who provide music for the theatre's historic "Amateur Night at the Apollo" series, which has been running continuously since the 1930's.
Until earlier this year, the four-piece band had been working under the leadership of Ray Chew, who helped negotiate the first union contract over a decade ago. Chew, who recently won the position of music director of "American Idol," worked closely with union officials during the transition.
The new agreement, which secures wage increases, new music prep language, and establishes precedential language regarding electronic media and new use, is a distinct improvement on earlier contracts. This CBA was negotiated by John O'Connor, Harvey Mars, Steve Danenberg and myself, with invaluable input from original band members Ralph Rolle, Artie Reynolds and Russell Graham. Pat Variale and Dick Gabriel of the AFM provided additional support and Local 802 Jazz Rep Todd Weeks facilitated the talks.
NEW YORK CITY OPERA
The fact that the New York City Opera is threatening to leave Lincoln Center is on everyone's mind. First and foremost, let me say that we want NYCO to survive and thrive. Naturally, we wish the company success. But what does this move mean for our members? Our collective bargaining agreement with NYCO requires that the orchestra be partners in any decision regarding a change of venue, and to date no communication from the executive director of the City Opera has been forthcoming.
Also disturbing to me has been an apparent disregard of the collective bargaining agreement by the company with regard to both venue and guaranteed weeks of employment and in the executive director's pronouncements on changes in matters which are mandatory subjects of bargaining.
In a real show of solidarity, Alan Gordon, the executive director of the American Guild of Musical Artists (AGMA), recently invited me and members of the orchestra to join him at a negotiating meeting with the City Opera (see top photo). More to come.
NEW MEMBER PORTAL
For the past several years, the union has invested in a major overhaul of our internal computer database system. Now we are pleased to offer a new kind of online access to members. For the first time, you will be able to see what union contracts you played on, check your dues balances and monitor your health plan status. We gave a preview of the new system at our June 15 membership meeting and are now in the process of testing with a small pool of members. Once testing is completed, we will let you know how to log in to the new system.
OFF BROADWAY ROUNDUP
We recently renegotiated several new agreements in the Off Broadway field. The good news is that we are saying no to across-the-board wage freezes and are helping theatre musicians achieve fair increases in wages and benefits.
New agreements include the Roundabout Theatre Company, the Westbury Music Fair and our master nonprofit theatre contract that covers Playwrights Horizons (Mainstage and Peter J. Sharp Theatres), the New York Shakespeare Festival (Anspacher, Luesther Hall, Martinson, Newman, Shiva and Delacorte Theatres), the New York Theatre Workshop and Second Stage Theatre (the Tony Kiser Theatre).
Also, "Rent" is coming back to New York City, but this time it will be Off Broadway. We were able to get producers to sign our Off Broadway Commercial Area Standards CBA for this production. The show will begin previews on July 14 and open on Aug. 11 at New World Stages.
Finally, we secured an agreement with the Charlotte Wilcox Company for a developmental production called "Josephine" that was recently being staged. Members may not know that even for minor workshops or readings, we are still able to achieve fair wages and benefits for musicians. If you get called for a workshop or reading, please contact the Local 802 Theatre Department at (212) 245-4802. For this contract, we were also able to win "identity with the product," which means that if this show moves up to Off Broadway or even Broadway, the musicians will have right of first refusal. Identity with the product is a special benefit that the union is able to negotiate for members and we try to get it in all of our Off Broadway or smaller contracts.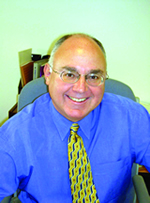 Jay Blumenthal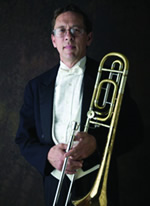 Tom Olcott
GOODBYE, JAY – WELCOME, TOM
It is with mixed emotions that I must report that Jay Blumenthal is leaving Local 802 this summer. The good news is that the AFM has realized what a valuable resource Jay is and has recruited him to become the next director of the AFM Symphonic Services Division as well as assistant treasurer to AFM Secretary Treasurer Sam Folio. The bad news is that Local 802 will be losing a fine officer.
As president of this local, I have to say that saying goodbye to our chief financial officer was not something I could take very lightly.
Jay has been an outstanding gatekeeper of the finances of Local 802 and his experience and acumen cannot be easily replaced.
As an executive officer of the AFM however, it was a no-brainer to ask that Jay help us out in what can only be described as one of the most challenging times the Federation has experienced in decades.
The attack we currently face on the symphonic community is unprecedented and we need to gather all of our most talented resources to combat forces that wish to devalue our art and eliminate protections and benefits in our collective bargaining agreements that have taken years of negotiations to establish. Additionally, the Federation will absolutely benefit from Jay's experience as financial vice president of the largest local of professional musicians in the United States and Canada for all the reasons I stated earlier.
Jay first became a member of Local 802's Executive Board in 1998. He was elected as financial vice president in 2004 and won both of his bids for re-election. Jay is an extraordinarily hard-working union officer. He is also a personal friend of mine whom I value and respect deeply. We are all lucky that he will be representing symphonic musicians at the highest level, at a time when we need his talents the most. Please see Jay's good-bye column on page 6.
Per our bylaws, the Executive Board appointed a replacement to take over Jay's position at Local 802. After careful deliberation, it was unanimously agreed that board member Thomas Olcott fill the position of financial vice president. Some of you may be familiar with Tom and his dedication to serve our union both on committees and as part of this administration. He graduated from Yale, Juilliard and Cardozo Law School and is a trombonist with American Ballet Theatre, the Radio City Music Hall Orchestra as well as other freelance organizations. Tom is a licensed attorney, with extensive negotiation experience in the orchestral field that will prove invaluable as he takes the reins of the Concert Department in administration and negotiation of all the freelance concert agreements. Tom will serve the remainder of Jay's term until the next Local 802 general election in 2012, at which time I hope he will pursue the position in order to continue his service to our union.
OFFICIAL NOTICE
The union's LS-1 or Music Services contracts can be a handy way to make your gig union. We've covered these contracts before in Allegro and we'll do so again in the near future. If you use them, you already know how useful they are. Now we need to tell you that starting in the next health benefit period, LS-1 or Music Services contracts will not be processed unless you also accompany the contract with a check for proper work dues.