Making a Wish Come True
Volume CVIII, No. 4
April, 2008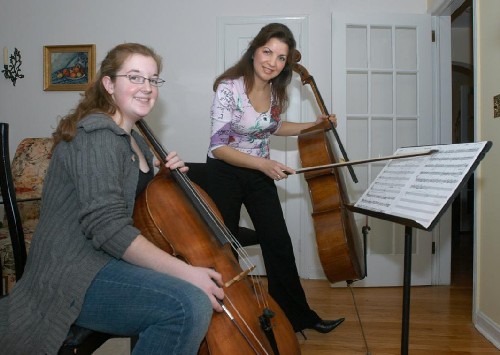 Caitlin Case (left) brushes up on her "Lion King" part with principal cellist Eliana Mendoza. Photo by Walter Karling.
If you were a 17-year-old musician and were granted a wish, what would you choose? How about performing in a Broadway show?
That's what Caitlin Case chose in February when she played the second cello part during the first three numbers of a matinee performance of "The Lion King."
"It was a really amazing experience," Caitlin told Allegro. "I've done a lot shows in school, but none of them really came close to this. It was really fun."
Caitlin has a rare condition that causes recurrent growths on her vocal cords. She has to go in for surgery every three months to get them removed. She had her first surgery when she was six months old and since then she's had over 60.
When she was in the hospital recently, Caitlin met a fellow patient who was granted a favor from the Make-A-Wish Foundation. The organization's mission is to grant the requests of children and young adults who have life-threatening medical conditions
Caitlin's mom found that Caitlin was eligible to apply. That's how she ended up on Broadway.
Karl Jurman, the music director for "Lion King," liked making the wish come true.
"I enjoy supporting the growth of young musicians," Jurman told Allegro. "'The Lion King' has worked with the Make-A-Wish Foundation before and I wanted to support a worthy cause. It was easy and fun to do. It became a very proud and satisfying musical endeavor."
Before her performance, Caitlin rehearsed with "Lion King" principal cellist Eliana Mendoza.
Mendoza feels that it was "a very rewarding and moving experience to see a dream come true for a young and talented musician. Caitlin was wonderful to work with and her performance was definitely outstanding."
A BACKGROUND IN MUSIC
Caitlin has music in her soul. She's only been playing cello for three years, but she started violin in fifth grade and ever since then has been picking up more instruments, like viola, piano, guitar and electric bass.
Why did she take on the cello?
"Because violinists are mean," she says with a laugh. "I don't know: I just always liked the sound of it."
Caitlin's dad plays guitar, and he and his daughter jam together.
"My family is very musical," Caitlin notes. "I think everybody plays at least two instruments." So becoming a musician herself was a given.
Caitlin's iPod has opera on it — "'cause I'm a nerd" — but also alternative metal music like the band System of a Down.
She hasn't had any training in improvisation, but hopes to get into that in college. She plans on attending a liberal arts school and is currently thinking of majoring in biochemistry or music education.
Caitlin attends Central Dauphin High School in Harrisburg, Penn., where she lives with her family. She's played in community ensembles as well as musicals and her school's upper-level orchestra. As an "intern," she gets to teach students and occasionally conduct the first-year orchestra.
Caitlin's "Lion King" performance was the first time she had played behind a microphone. It's also the first time she had worked with professional actors.
"Most of the singers in high school do their own thing and don't worry about the pit," she said. "On Broadway, you can tell that the actors were trying to be with the musicians."
Caitlin said that her fellow musicians — all Local 802 members — seemed relaxed and professional. "They were very comfortable with the music," she said. "They have all the music memorized. They weren't nervous at all and very prepared."
Thinking back, Caitlin says that she didn't have stage fright. "You can't really see the audience from the pit…it was kind of like there wasn't an audience," she remembers. "I wasn't nervous — just excited to be there."
For more information on the New York City chapter of the Make-A-Wish Foundation, see www.MetroNY.wish.org or call (212) 505-WISH.