Making Music a Social Investment
Volume CVII, No. 3
March, 2007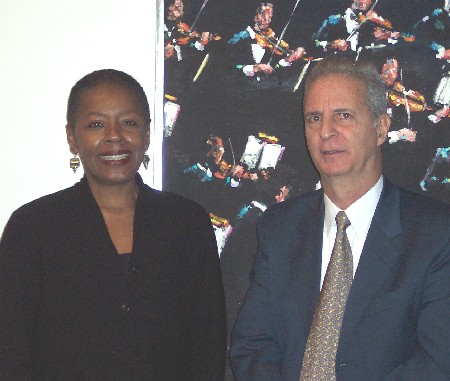 Barbara Murray, director of music of the New York City Department of Education, with Local 802 member Jose Bergher, at a screening of "Tocar y Luchar."
There is no more important work being done in music than what is being done in Venezuela," Simon Rattle, the current principal conductor of the Berlin Philharmonic Orchestra, said in a recent interview.
Rattle was speaking about the National System of Youth and Children's Orchestras of Venezuela, popularly referred to as El Sistema.
And Mark Churchill, dean of New England Conservatory of Music's preparatory and continuing education, recently said about the Venezuelan music system: "This is a message to the world. This is the future of music."
In late January in the 802 Club Room, 54 attendees were spellbound as we watched a DVD about the Venezuelan music system called "Tocar y Luchar" ("To Play and To Fight"). This very moving documentary was made by award-winning director Alberto Arvelo and will be shown next month at the Miami Film Festival.
We were able to screen this movie courtesy of Venezuelan cellist and Local 802 member Jose Bergher, who brought the movie from Venezuela.
Bergher had loaned the movie to his friend, 802 member Jaime Austria. After viewing the movie himself, Austria felt as many people as possible should also get to see it. He organized the viewing with Financial Vice President Jay Blumenthal and myself.
The Venezuelan music education system was created in 1975 by Jose Antonio Abreu, a conductor and petroleum economics professor who would later become Venezuela's minister of culture. El Sistema was always intended to transcend music itself, and is actually under the supervision of the Ministry of Popular Participation and Social Development.
This music education program exists in the poorest communities of the country where even the very youngest and poorest are given free instruments and training.
More than being just a music program, El Sistema is intended to be a social program that offers a meaningful alternative for Venezuela's youth to a life of gangs and crime.
It was evident from the movie that the program inspires joy and pride for the individuals participating, as well as the entire communities where they reside.
Jose Bergher told us that because of its success, El Sistema has been left untouched by the government, no matter who has been in the highest office at the time over the last 30 years.
We were also honored to have as our guest at this screening Barbara Murray, the director of music of the New York City Department of Education.
Murray told me, "I wish every music teacher in New York City could see this movie. In fact, I wish every music teacher in the world could see this movie!"
I was so moved by the movie, and the achievements of El Sistema, I couldn't help but wish that every member of Local 802 could see the movie too.
So as director of 802's MIME Initiative — fostering music education being one of the initiative's purposes — I set about to see how best to make viewing "Tocar y Luchar" possible for every Local 802 member.
I contacted the U.S. distributor of the movie and am very pleased to report an agreement we reached that will not only make the movie available to our members, but it will be done in a way so as to benefit our very worthwhile Emergency Relief Fund.
Local 802 members can make a $25 tax-deductible contribution to the Emergency Relief Fund to receive a DVD of the film.
Because we would like as many people as possible to see this movie, you can make a contribution of $37 — just $12 more — and you will be sent two copies so you can give one away to a teacher, a school board member, or a colleague in another city.
If you would like to save the Emergency Relief Fund several dollars in mailing and packaging, you can offer to pick up your order at Local 802 instead of having it mailed to you.
To receive your DVD(s), write a check to the Emergency Relief Fund and mail it to: MIME Initiative, Attention: Larry Rawdon, Fifth Floor, Local 802, 322 West 48th Street, New York, NY 10036.
Please allow some time, as we will be attempting to accumulate numerous contributions before placing an order with the distributor for DVD's. (The Emergency Relief Fund will further benefit from your patience as we will get a break on the rate from the distributor for a larger order.)
For more information, contact me at (212) 245-4802, ext. 186 or RawdonHall@aol.com.