President's Report
Making Progress
Volume 111, No. 3
March, 2011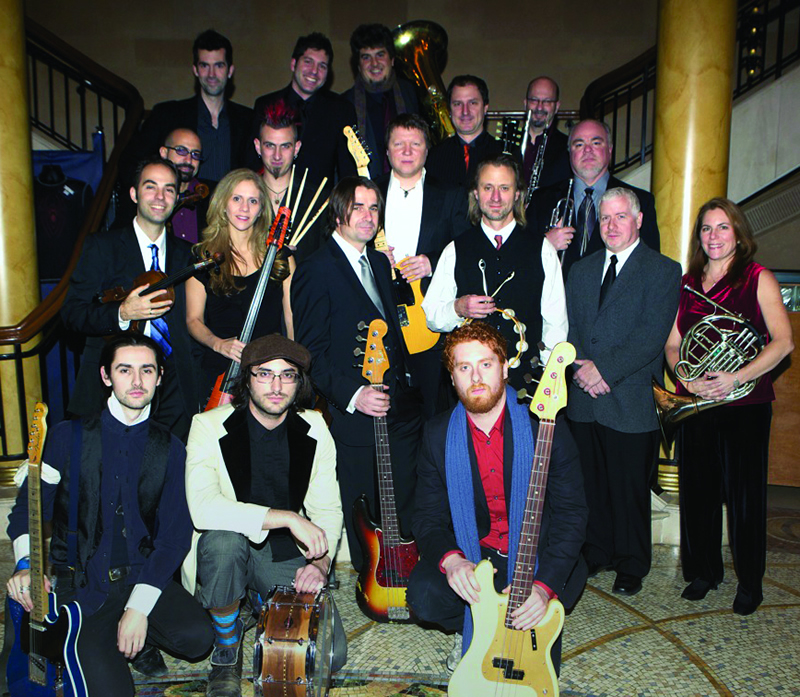 "Spiderman: Turn Off the Dark" is set to open this month. Above, the orchestra is ready for opening night. Broadway musicians will soon be covered by a new agreement.
A Broadway agreement is reached in principle – and it's looking good. We're also working hard on videogames and we're meeting a challenge at 'Priscilla'…
I am happy to report that an agreement in principle has been reached between Local 802 and the Broadway League. The agreement was a result of a cooperative and pragmatic approach to these talks from both sides of the table. It represents a stable, five-year agreement with increases in every year of the cycle. Additionally, the contractual minimums remain unchanged through the expiration of the agreement in 2016. I would like to thank both Keith Halpern and Herschel Waxman of the League for their contribution in helping make this possible in the amicable and efficient way that they did.
A memorandum of understanding is being prepared. As soon as the Broadway negotiating committee has a chance to review and approve it, Local 802 will schedule and announce a ratification meeting.
QUEEN OF THE RECORDED TRACK
As I have reported previously, the Broadway production of "Priscilla, Queen of the Desert" has applied for Special Situation status. That is, they are asking for a waiver of the contractual minimum number of musicians for the Palace Theatre, which is currently 18. Local 802 has officially rejected the request and will be continuing the process with a next step being a hearing before a panel of neutrals.
Local 802, the Broadway Theatre Committee and the Broadway community are unified in this position. At the root of the conflict is the use of recorded tracks of strings and winds during the live performance. One has to ask the question, what is the purpose of these tracks if the special situation request states that the show needs to be done with fewer than 18 musicians? What could possibly be the artistic consideration in cutting musicians and using recorded tracks instead?
On Feb. 19, the Broadway League, with the help of Local 802, put together a demonstration to hear the recorded tracks versus a live section of strings. Not surprisingly, this only solidified our collective opinion that there was absolutely nothing special about this show's "situation."
UNIONS UNDER ATTACK
As I write this, unions are under attack like I've never seen before. States are using the economic crisis to attack not just union pensions but the very existence of unions.
To me and many others, it's pretty clear that the main culprits behind the economic crisis were unregulated speculators and banks. However, some irresponsible politicians are saying that the very people who were hurt most by the crisis – working people – are also to blame for the crisis simply because they have decent pensions and collectively bargained agreements.
This is so twisted that my head hurts. But the dangerous thing is that some of the public buys into this. Instead of supporting good pensions and wages, we have been encouraged to be jealous of workers who have union contracts. A good metaphor is crabs in a bucket. If one crab starts to claw its way to a higher living standard, the other crabs pull it back. It's divide and conquer – and the anti-union politicians are laughing at the conflict and egging it on.
We should all be in favor of good pensions, fair wages and union contracts. Unions did not cause the financial crisis. If you hear friends, family members or colleagues badmouth unions and pensions, you can remind them that you are a member of a union and that you will be relying on your pension to retire with dignity and that everyone deserves this right. It's up to all of us to defend unions at this time when we are all under attack.
WOMEN'S HISTORY MONTH
March is Women's History Month and there are several features in this issue of Allegro that readers will find interesting, including interviews with New York Philharmonic Orchestra Committee chair Fiona Simon and New School teaching artist Janet Lawson, as well as a provocative story by member Sue Terry about all-female jazz ensembles.
Women's History Month has its roots in the textile industry, where women historically endured terrible working conditions. It's the month in which we remember the 146 victims of the Triangle Shirtwaist Fire, which was the largest industrial disaster in the history of New York City. Most of the victims were immigrant women. The fire led to legislation requiring improved factory safety standards and helped spur the growth of the textile workers' union (the ILGWU). This year's commemoration, which is the 100th anniversary of the tragedy, will be on Thursday, March 25 from 11 a.m. to 1:30 p.m. at the corner of Washington Place and Greene Street at the site of the original building. For more information, go to www.RememberTheTriangleFire.org.
March is also the month in which Cesar Chavez, the founder of the farm-workers' union and a defender of human rights, was born. He would have been 84 on March 31. For information about activities and how to get involved, see www.ChavezFoundation.org or www.ufw.org.
CIRQUE DU SOLEIL
On Feb. 2, AFM President Ray Hair and I flew to Montreal to discuss possible talks with Cirque du Soleil, a Montreal-based company that intends to have an annual presence at the historic Radio City Music Hall. With the help of Local 406 in Montreal and the AFM, Local 802 aims to reach an amicable agreement with Cirque that will guarantee that New York standards for theatre are preserved with appropriate economics and working conditions.
VIDEOGAME UPDATE
I am writing this from San Francisco where the latest meeting on videogames has just taken place. I am happy to report that all parties worked together and were all committed to coming up with an agreement that will be beneficial to all AFM musicians. The following is the statement released regarding our meeting:
"A meeting was held on Feb. 20, 2011 in San Francisco between members of the IEB and representatives of the Recording Musicians Association and San Francisco's Local 6 Recording Committee. This meeting was a follow-up to the previous meeting of Nov. 29 and 30, 2010, held in Los Angeles regarding videogames. The discussion was wide ranging and frank, and all parties were able to freely express their perspectives and valuable information was exchanged, including a number of new developments. A variety of approaches and plans for the future were discussed.
"Keeping the previously stated goal of a unified AFM videogame policy in mind, significant progress was made in creating a strategy going forward that will create a level playing field and increased opportunities for AFM musicians. This includes outreach to videogame publishers with a view towards collective bargaining, revision of the current AFM Videogame Agreement and continued dialogue within the AFM and the videogame industry.
"Work will continue in conjunction with the AFM's International Executive Board, the Electronic Media Services Division Oversight Committee, RMA International, the Local 6 Recording Committee, and Locals 47, 257 and 802. As our research and exploration continues, we will keep AFM members posted on new developments. For the present, the IEB is extending the terms of the existing AFM Videogame Agreement."
WE'RE GROWING
In December, I reported that Local 802 had absorbed the jurisdiction of AFM Local 809, in Middletown, New York. Now I'm pleased to tell you that we have also been given the jurisdiction of AFM Local 52-626 (Norwalk, Conn.), which includes the Stamford Symphony. It has become increasingly difficult for the smaller locals to survive economically and still meet the minimum obligations that AFM locals must maintain in order to comply with our Federation bylaws. It has become increasingly incumbent upon the larger locals to provide the resources required to represent musicians by servicing the jurisdictions these smaller locals no longer can. We are proud to represent the members of both Local 809 and Local 52-626 and our representatives will visit both locations frequently to make sure that we do the best job of representing them that we can.
UPDATE FROM THE DETROIT MUSICIANS
After suspending the remainder of the Detroit Symphony Orchestra season, DSO management has announced plans to create a new orchestra in Detroit. Current members of the orchestra will be able to play in the new orchestra providing they accept even more onerous terms than those already rejected by the orchestra. Professional orchestral musicians throughout the AFM continue to support and stand in solidarity with the musicians of the DSO. Because of this, it seems to me that management's plan is to create an orchestra made up of amateur musicians.
This is an insult to all professional musicians as well as the community that supports the DSO. The Detroit community deserves to enjoy the quality and standard of a professional, world-class orchestra as it has in the past.
We need to take a nationwide stand and make it clear to the DSO management that this type of union busting will not be tolerated. This attempt to devalue the worth of professional musicians and our art needs to be stopped dead in its tracks. We can all help in this struggle by supporting the musicians of the DSO and enabling them to continue to take a stand by donating to the DSO Members Fund.
Checks can be made out and mailed to: DSO Members Fund; c/o Susan Barna Ayoub, Secretary-Treasurer; Detroit Federation of Musicians; 20833 Southfield Rd.; Detroit, MI 48075. More information on the DSO strike is available at www.DetroitSymphonyMusicians.org.