May Day Roars Back
Labor History Month
Volume CVII, No. 5
May, 2007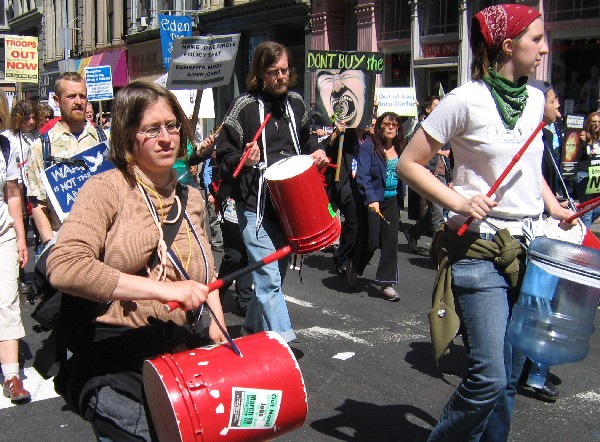 Drummers performing at an anti-war rally last year show that music of any kind adds emphasis to politics. Photo by Joy Portugal.
Last year saw a resurgence of May Day activism around the issue of immigration reform with actions taking place throughout the five boroughs and record numbers converging on Union Square. Will this revival of the May Day tradition also mean a return to the golden age of May Day music?
Throughout much of the early 20th century, music was an important weapon in the struggle for American workers' rights and May Day was the day to flex our muscle and sing our song for all the world to hear.
But by the 1960's, mass May Day spectacles were rare and the observance of a "Workers' Holiday" on May 1 was replaced by a day at the beach in the beginning of September.
For the most part, this coincided with a more conservative attitude towards the labor-management relationship throughout America, not only among labor's leadership but its rank and file as well.
Even as the McCarthy-era red-baiting of the progressive labor movement subsided much of the mainstream labor establishment held on to its mistrust of the arts and artists in general.
As a result the art and music were no longer the vehicle for labors values they had been in decades past.
On May 1, 2006 a new wave of marches, rallies and job actions swept across the country.
Here in New York City, Union Square was once again overflowing and the police were forced to close off adjacent streets as far downtown as Foley Square.
People came from all over the greater New York area bearing signs, props and occasionally musical instruments.
Local press estimated the crowd spilling out from Union Square to be in the tens of thousands, while organizers claimed hundreds of thousands.
In her coverage of the event in the Village Voice, Sarah Ferguson explained, "The radical part was just how grassroots this 'Day Without Immigrants' was . . .The bulk of the crowd was brought in by word of mouth and flyers printed up by neighborhood activists in Spanish, Korean, Chinese, Russian, French, Creole, and Urdu."
For the most part, the massive crowd that flowed from Foley Square downtown to Union Square at 14th Street was animated but peaceful.
Amid a day-long program of speakers that included Jesse Jackson and TWU Local 100 President Roger Toussant, there were no formal musical presentations planned.
What music there was came from the street, not the podium.
As the Voice reported, "All down Broadway they drummed, blew whistles, and chanted."
May Day protesters have traditionally been a noisy bunch capable of adding whatever music, muscle or movement was required.
But the absence of recognized or professional music is a stark contrast to the appearances over the years of legendary artists known as much for their pro-labor politics as for their professional accomplishments.
In the years from 1947 to 1954, Pete Seeger (a lifelong member of Local 802) performed regularly in the annual May Day rally at Union Square, solo or with the Almanac Singers. So did actor, singer and civil rights activist Paul Robeson.
Angela Lee of the New York Immigration Coalition, who helped organize a human chain through the streets of New York as part of an early May Day action last year, recalls an unannounced marching band showing up.
According to Lee, this is more typical of how she has seen music employed at the events she has helped organize, with "people coming together without any organizational affiliation."
Unions with a significant percentage of immigrant members, such as UNITE HERE!, and advocacy groups like the New York Immigration Coalition are planning another day of actions for May 1. Most organizers stated that their groups were looking to include some sort of formal musical component this year.
Several such groups work together under an umbrella organization known as the May First Coalition and anyone wishing to participate in this year's actions can go to www.May1.info for the schedule of events.
(Also see the calendar in this issue of Allegro, or download a printable copy.)
In this time of increasingly centralized control of entertainment media it is important to understand the potential impact of grassroots events of this magnitude.
When planning such events we should remember the work of those who so effectively used their art to give working people a voice.
For those of us who might not carry this information around in our head, there is a wealth of readily available resources online through projects such as www.LaborArts.org.
This collection of online exhibits includes poster art and photos – and for anyone who wants to start learning some of those old labor anthems, there's even some sheet music available from the old "People's Songs" series.
Perhaps the role music will play in this and future May Day actions depends on you.
So this May Day grab your ax, head to Union Square, make some music and make history.
Kirk Kelly is a musician and activist. He can be reached at KirkPKelly@peoplepc.com.